For National Avocado Day, we're planting 4,000 fruit trees in El Salvador in partnership with The Fruit Tree Planting Foundation.
It's early July. Leanna Pohevitz, project manager for the Fruit Tree Planting Foundation, an international nonprofit dedicated to planting fruit, nut, and medicinal trees in vulnerable communities, just landed in Chilanguera, El Salvador. Located in Zona Central, or the dry corridor, this community is in one of the most impoverished regions of the country and is among the hardest hit by climate change. Pohevitz flew to the country to check the progress of a project the organization began eleven years ago. What she sees is astounding.
Once desolate and ravished by deforestation and climate change, this pocket of El Salvador is now teeming with native and cultivated fruit trees. Avocado, cacao, mango, mamones, cashew, and ojushte — or breadnut, an endangered Mayan staple — line the streets and tower high in backyards as chickens peck at the nutrient-rich soil underneath. For rural areas like Chilanguera, which often struggle with food insecurity and economic stability, fruit trees offer a reliable source of food, income, and cultural connection.
Avocado is proud to be a long-term sponsor of the Fruit Tree Planting Foundation and support initiatives like the one in Chilanguera, El Salvador — which, this year, is solely funded by our partnership. This National Avocado Day — celebrated every July 31 — marks five years of working together. During that time, we've planted 14,500 trees for schools, municipalities, small farmers, and low-income households.
Read more: 7 Ways to Celebrate National Avocado Day
"You can see the shift of having fruit trees be part of their lives again. There's this rebuild and animals returning," says Pohevitz. "Now that the community has safe shade and safe spaces, chickens run free. Before they didn't know what chemicals were around, they didn't know what could be introduced into their family's diet if the chickens were allowed to roam free — and this change just happened in three years."
During her visit, Pohevitz and the FTPF team also met with local schoolchildren to talk about the importance of fruit trees and teach them about tree care — she and her team helped them plant six trees, and distributed 144 more in the community.
"Fruit trees give food and life, just like trees give shelter to us and our ecosystem, that's why it's important to have them here in the community," says one of the students involved in the planting.
Meanwhile, with the help of FTPF, members at a nearby farmers collective known as Potosí Salvado planted trees at a local school and were provided additional fruit trees to plant at home. Nine students volunteered to help plant a 34-tree schoolyard orchard that will be a community resource. "We plant all the trees with love, believing that the fruit will grow big. The trees are life-giving and good for our systems and the environment," says a leader of the cooperative.
Of course, none of this transformative work would be possible without FTPF's on-the-ground partners. By teaming up with nonprofits like SHARE El Salvador and CONFRAS — the national organization of agricultural co-ops — the nonprofit ensures its projects are led by and benefit the community and the environment. This ethos extends to all FTPF initiatives, no matter the location.
"We have local partners for all our projects," says Lizzy Rainey, development manager for the Fruit Tree Planting Foundation. "We come in with our expertise and partner with a group that knows the community and knows the needs, what trees will do well — we're there to support their initiatives and goals."
And whether a project is in the U.S. or abroad, the seeds used to grow saplings are always local. In El Salvador, for example, FTPF works with CIETTA, a research facility and nursery. The partnership is mutually beneficial — it provides financial support for the nursery and an additional layer of local knowledge for FTPF's projects. CIETTA experts know which fertilizers and compost provide the best nutrition for different tree varieties and how to ward off common plant diseases and destructive insects. As a result, the fruit trees in El Salvador have a higher-than-average survival rate and grow high-quality produce for the community.
During FTPF's latest visit to El Salvador, Pohevitz and the team hosted 19 distributions and six plantings, engaging 205 volunteers and hundreds more orchard recipients over one week. Avocado is honored to support the FTPF and its mission to provide sustainable, healthy food, economic stability, and environmental restoration so communities in need can thrive today and for generations to come.
"Working with Avocado has been a joy, allowing our shared visions of a greener and fairer future to come to fruition — quite literally!" says Rainey. "And even though we have planted thousands of trees together, it's important to remember that every single tree planted is important, providing generations of people and environments with tangible benefits — including shade, healthier soils, cleaner waterways, increased biodiversity, and food and income for hardworking families."
Read more: We're Supporting Communities in Peru With Avocado Trees
Have feedback on our story? Email [email protected] to let us know what you think!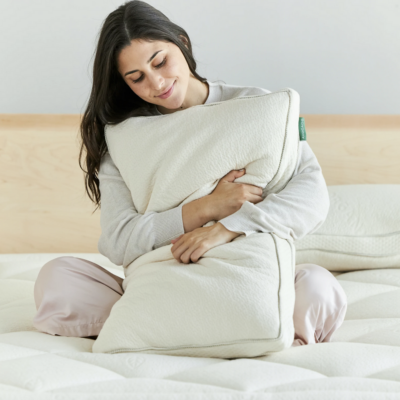 Shop Pillows
The Essential Organic Pillow Collection
Gentle, breathable, non-toxic support.
Buy Now