Finding healthy snacks and meals on the road is difficult. Here's how to eat plant-based while traveling and maintain a balanced vegetarian diet.
For many, exploring new restaurants is a major perk of travel — it's an opportunity to engage with a different culture, savor unique flavors, and connect with others. But if you're prioritizing a plant-based diet — or simply traveling in a group with different dietary preferences — finding food you can eat can be challenging. Still, it's possible.
Whether you're road-tripping through mountain towns or jet-setting with friends, these go-to hacks will ensure you don't have to live off chips and peanuts during your next excursion. Here's how to eat plant-based while traveling.
Read more: 7 Sustainable Travel Tips For Conscious Adventurers
Keep It Simple
Just because you're on the road or in the air doesn't mean you're limited to packaged food. There are plenty of easy, on-the-go snacks you can pack that require little prep. Our favorite: an avocado with a pinch of sea salt. Avocados are full of healthy fats that provide lasting energy and satiating power, so they'll help keep you going on a long trip. Just halve your 'cado, pit it, and sprinkle with a bit of sea salt. Store the seasoning in a reusable baggy, then grab a spoon and munch away. If you're flying, make sure you halve the avocado before you leave the house and store it in a food-safe container.
Our other favorites: a carton of berries, a handful of easy-to-peel oranges, or a bag of your favorite dried fruit.
Create Your Own Dish
It can be a lot of work finding restaurants that offer plant-forward dishes. An easy fix: find an eatery that offers a create-your-own option. For instance, if you find a bowl spot at an airport, load up on greens as your base, top them with tofu or beans for a dose of protein, and dress it up with fun toppings. Even fast-casual spots like Chipotle offer a satiating meal of tofu-based sofritas, beans, vegetables, and salsa.
Satisfy your cravings
Have a sweet tooth? Love salt? Select your plant-based travel snacks based on these cravings. If you love gummies, reach for a low-sugar option like Smart Sweets (many of their candies are plant-based). If salt is your jam, pack on-the-go bags of plant-based snacks like Hippeas — better-for-you puffs made from chickpeas. The bottom line: If you pack snacks you know you'll love, you won't be hard-pressed to find a plant-based option at an airport bodega or from a road stop's limited selection.
Read more: DIY Beautifying Superfood Energy Balls
Book a Kitchen
Gone are the days of being relegated to a tiny hotel room while traveling. Thanks to app-based booking sites for lodging, there are tons of options for tailoring your stays. You can even book homes with fully-equipped kitchens — which is perhaps one of the easiest ways to eat plant-based while away. Book a place with a stove, oven, and a few basic cooking tools, then grab your favorite ingredients at your local grocer and whip up some delicious meals from scratch. If you're low on energy and time, grab a vegan frozen pizza — you can find the brand Caulipower at most grocery stores.
DIY Your Snacks
Stocking up on healthy snack bars from a grocer is a great option for plant-based travelers. But have you ever tried making your own? Whipping up granola and fruit bars from scratch allows you to tailor these treats to your tastes and nutritional preferences. A quick web search will yield plenty of recipes, whether you're looking for a sweet bite or something savory. Vegan protein powders, chia seeds, and nut butters are great for adding a bit of protein. Depending on your tastes, you can zhuzh them up with dates, coconut shavings, and even chocolate chips.
Check The Menu Online
Traveling with friends? If so, you'll likely be making restaurant decisions as a group, and your plant-based preferences may not be a priority. That's okay. These days, many restaurants upload a version of their menus to their websites. Take a peek ahead of time to see what your options are. Perhaps the restaurant can tailor a dish or two to your liking. Or maybe they have a great selection of veg-forward apps and sides that, when ordered together, make a filling meal.
Read more: Our Favorite No-Cook Summer Recipes
Have feedback on our story? Email [email protected] to let us know what you think!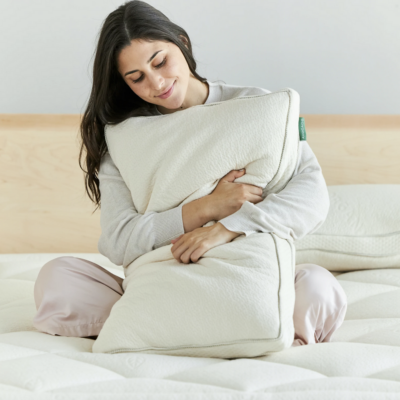 Shop Pillows
The Essential Organic Pillow Collection
Gentle, breathable, non-toxic support.
Buy Now