Kids who spend time outdoors benefit mentally, emotionally, and developmentally. Here's how to connect your child with nature.
I grew up surrounded by nature. As a young child, I lived steps away from one of the largest parks in the city and a short drive to my family's favorite trails. My weekends were filled with impromptu bicycle races around the park with the neighborhood kids and invigorating hiking adventures with my parents. Now, as a mom of two, I want to share my love of nature with my children and create lasting, joyful memories.
We're innately drawn to the outdoors. Not only does nature provide us with resources essential for our survival, it also improves our overall health and well-being. Exposure to nature, as well as feeling connected to the natural world, is linked to a plethora of physical, mental, and cognitive benefits, especially for young children. From reducing stress and enhancing sleep to cultivating creativity and confidence, nature has a significant part to play in a child's developmental journey.
Research shows that children, from birth to age five, who lived in spaces with lots of greenery — including parks, trees, and gardens — achieved better overall developmental outcomes compared to peers with access to less green space. The main reason? The abundance of vegetation reduces air pollution and noise — the culprits behind stress, sleep disturbances, and central nervous system damage — which allows young minds to grow and thrive. The benefits don't end there. Living in proximity to greenery within the first 10 years of a child's life can also lower their risk of psychiatric disorders in adolescence and adulthood.
Beyond setting your child up for success, these early experiences can shape their attitudes toward life. Kids who are connected to nature are more likely to care for nature when they become adults. They also score higher on the happiness scale and are more altruistic. As the world faces a major climate crisis, these are important values to pass on to the next generation.
If you're a parent or a caretaker, it's never too early to start nurturing your child's passion for the outdoors. Here are six play-based activities that will deepen your little sapling's connection with nature so they can grow up happy and healthy while taking care of the beautiful Earth that helped raise them.
Read more: How "Adventure Time" Is Saving One Mom and Her Kids This Year
1.
Go On a Hike or a Walk
Hiking is a great way to spend quality time together and get some exercise. Start with an easy, kid-friendly hike, or opt for a walk at a community park or along a beach. Take this time to meditate and breathe in the fresh forest air, or play some games along the way. A game of "I Spy" or a scavenger hunt encourages kids to observe and learn about the plants and creatures in their natural habitat.
2.
Grow a Garden
If you are looking for a hands-on activity, look no further than your own backyard (or balcony). Gardening is a fully-loaded sensory activity that also teaches responsibility and patience. Enlist your child's help in creating and maintaining your garden, including seeding, watering, and — the best part — harvesting! My daughter and I enjoy preparing a dish together using vegetables from our garden. Not only does she learn about the labor behind her food, watching her beam with pride is a heartwarming treat!
3.
Read Books About Nature
You don't need to go outside to cultivate your child's curiosity about nature. On days spent indoors, a storybook can ignite their imagination. Books add to their tactile experience through storytelling and interesting facts. Get started with 13 of the Best Green Books for Kids, as well as book recommendations for each age range. My favorite is We Are Water Protectors, a beautiful tale about a young Indigenous protector who defends Earth's vital water source.
Read more: A Nomad's Guide to Traveling With Kids
5.
Turn Nature Into Art
Do you often find leaves in your child's pockets, or receive gifts of rocks? If so, why not use them to create nature-inspired art projects? The flower suncatchers and bird nests use elements that you can easily find outside. These crafts also make vibrant displays for your home, so you and your child can admire them while reminiscing about the fun you had making them together.
6.
Build a Mud Kitchen
If you're handy and looking for a fun DIY project, consider building your own mud kitchen by upcycling an old chest or making one from scratch. It can get a little messy, but mud play is excellent for helping kids learn and develop their tactile skills. Involve your child by getting them to accessorize the kitchen with their favorite cooking sets and gadgets, which you can gather from around the house or from thrift stores. Then, it's time to get muddy!
Read more: 3 Amazing Environmental-Science Activities to Do With Your Kids
Have feedback on our story? Email [email protected] to let us know what you think!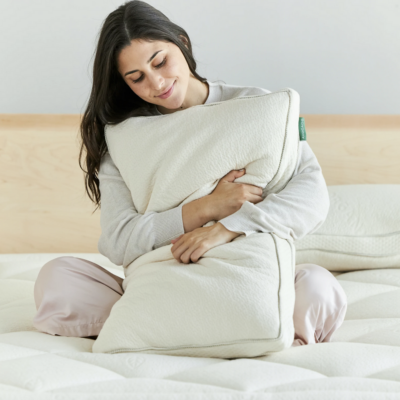 Shop Pillows
The Essential Organic Pillow Collection
Gentle, breathable, non-toxic support.
Buy Now