These chewy, easy-to-make protein muffins will curb your sweets craving and give you energy without the sugar crash.
In my household, I'm the queen of remixing comfort food recipes to make them healthier. Because while I love fried chicken, mac n' cheese, and pizza, I also want to fuel my body with nutritious meals. Usually, my approach to healthifying a recipe is to add protein or micronutrients or to swap out cheese or milk for lactose-free options (I'm intolerant). But the result has to be as flavorful, creamy, and satisfying as the original. Otherwise, what's the point?
Still, it felt like a big ask when I went searching online for a protein-packed, no-added-sugar muffin recipe that could satiate my sweet tooth. I have a soft spot for pastries and baked goods, and for exactly that reason, I wanted an alternative that could satisfy my craving and help me avoid a sugar crash. But I have high standards for flavor, and the recipe had to be easy and quick to make.
Then I stumbled upon these banana protein muffins from The Clean Eating Couple. The recipe checked all my boxes. The muffins are sweetened with mashed banana and honey. The savory taste comes from a combination of cinnamon, ground ginger, and flavored protein powder. And depending on how much protein powder you use — you can add a whopping 20 grams of protein to the recipe, not including what you get from the egg — which makes 12 muffins. It calls for dark chocolate chips, but I decided to sub these for chips sweetened with monk fruit, a sweetener alternative. Don't worry — they're just as good as those sweetened with sugar.
So, did the muffins pass the taste test? Let's just say that between my husband and I, the first batch lasted less than a week. The muffins are sweet, but not too sweet. The texture is chewy, especially with the addition of chocolate chips. While the recipe calls for vanilla protein powder, I used a vegan chocolate maca protein powder by Epic Protein (it's what I had on hand), which gave the muffins a rich chocolatey taste that I loved.
Read more: The Essential Guide to Plant-Based Protein Powders 
Ultimately, this muffin recipe is a perfect snack for people like me who crave sweets throughout the week but want something that offers more than a blood-sugar spike. And thanks to the protein, they have staying power.
The best part? This is a recipe you can continue to reimagine. For example, you can add vanilla extract to boost the taste, switch up the flavor of the protein powder (I think a peanut butter- or cake batter-flavored powder would work great), or add berries in lieu of chocolate chips. If you're vegan, swap the egg for a flax egg. The options are endless.
Here's how to make my new-favorite Protein Muffins Recipe.
Prep Time: 5 minutes
Cook Time: 15 minutes
Servings: 12 muffins
Ingredients:
1 cup mashed banana (approximately two large bananas)
1 egg
4 tablespoons honey
3 tablespoons coconut oil, melted and cooled
3/4 cup oat flour
1/2 cup protein powder (The recipe calls for whey protein powder, but my vegan protein powder worked just fine.)
1 teaspoon baking powder
1 teaspoon baking soda
1 teaspoon cinnamon
1/2 teaspoon ground ginger
1/4 cup dark chocolate chips, optional (You can also swap these for berries, peanut butter chips, raisins, or carob chips)
Instructions:
Preheat the oven to 350º. While it warms, prepare a lined or greased muffin tin.

In a bowl, mash bananas until smooth. Stir in egg, honey, and coconut oil until combined.
Add in oat flour, protein powder, baking powder, baking soda, cinnamon, and ginger. Stir until combined.
Fold chocolate chips into the batter.

Pour batter into cups, filling each cup 3/4 of the way. 

Bake muffins for 15 minutes, or until the tops are golden brown and a toothpick comes out clean when inserted in the center of the muffin.

Enjoy!
Read more: Chocolate Cherry Energy Bites Recipe 
Did you try out our Healthy Protein Muffins Recipe? Share it with us by tagging @avocado.green on Instagram or Facebook.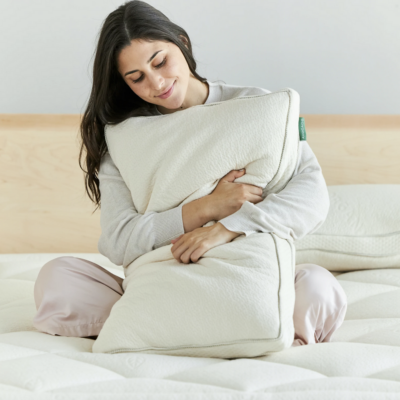 Shop Pillows
The Essential Organic Pillow Collection
Gentle, breathable, non-toxic support.
Buy Now