Keep a stash of these no-bake Chocolate Cherry Energy Bites on hand at all times and never miss a beat.
It's one of those days when you're sluggish, tired, and could really use an energy boost, but the thought of another cup of coffee makes your stomach turn. Enter: Our Chocolate Cherry Energy Bites Recipe. Loaded with natural, good-for-you ingredients, these chocolatey treats will give you the spark you need to get through that afternoon (or all-day) slump without the caffeine crash.
Why You'll Love These Chocolate Cherry Energy Bites
Wholesome ingredients. This recipe features primarily whole foods and doesn't include refined sugar. Whole foods are packed with essential vitamins and minerals, keep you fuller longer, and stabilize blood sugar.
A no-guilt treat. Go ahead and eat a few of these energy bites in one sitting. Unlike ultra-processed, store-bought chocolate bars and balls, these snacks are nutrient-rich and free of artificial sweeteners, flavors, colors, high fructose corn syrup, and hydrogenated oils.
Quick and easy to make. No baking required! Simply blitz all your ingredients in a food processor, roll the dough into bite-sized balls, and indulge!
Read more: Our Favorite No-Cook Summer Recipes
What Makes Energy Bites Energizing? 
Consider these chocolate cherry energy bites a sweet treat you can feel good about. That's because these snacks are full of healthy ingredients that'll give you back that pep in your step and sustain your energy when you need it. Here's how.
Whole grains. Not all carbs behave the same. The benefit of using whole grains like oats is that this carbohydrate also contains fiber. Fiber helps slow the rate at which you absorb and use energy, resulting in a more stable energy.
Whole fats. Healthy fats — like the ones that come from the raw almonds in this recipe — digest slowly, which helps control blood sugar and maintain your energy levels.
No refined sugar. While these bites do have sugar in them, the majority comes from natural sources that are attached to fiber, which is also good for blood sugar control and long-lasting get-up-and-go. That's why, for example, the sugar in a cherry doesn't automatically spike your blood sugar compared to a candy bar.
Read more: The Tiny Seed That's a Nutritional Powerhouse
Chocolate Cherry Energy Bites (Makes 16 bites)
Ingredients
1 cup raw almonds
½ cup rolled oats
½ cup dried cherries
½ cup medjool dates, pitted (about 8-9)
3 tbsp maple syrup
2 tbsp cocoa powder
¼ tsp kosher salt
Instructions
Place almonds and oats in a food processor and blitz on high until the mixture is uniform and crumbly in texture.
Add dried fruit, cocoa powder, maple syrup and salt to the dry ingredients, then continue to blitz and pulse until the mixture starts to come together. You know it is ready to use when you can grab a portion and form it easily into a ball. If the mixture isn't combining, add an additional tablespoon of maple syrup and pulse again.
Using a small cookie scoop or tablespoon measure, scoop out a portion of the dough and form it into a round ball.
Place the dough ball on a plate lined with parchment paper. Repeat with the remaining dough.
Place the dough balls in the freezer for about 20-30 minutes or until firm.
Transfer to a freezer-safe container and store in the freezer.
When ready to eat, remove the bites, and allow to thaw for 5-10 minutes before snacking.
Read more: Chocolate Peanut Butter Chia Seed Pudding Recipe
Did you try out our Chocolate Cherry Energy Bites recipe? Share it with us by tagging @avocado.green on Instagram or Facebook. You can also follow Catherine @plantbasedrd for more delicious, nutritious recipes.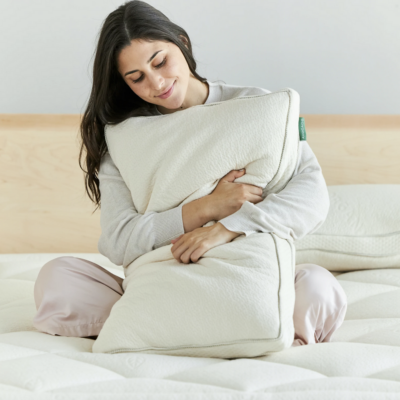 Shop Pillows
The Essential Organic Pillow Collection
Gentle, breathable, non-toxic support.
Buy Now