We're sharing our favorite environmental wins to help stay optimistic about the fight against climate change.
Climate anxiety is real. Feeling hopeless in the face of increasingly intense wildfires, droughts, hurricanes, and other devastating climate change-related disasters is a normal emotional response. However, if we take substantial action now, there's still time to reverse the damage we've done to our Earth.
The upside is companies, legislators, and larger swaths of the population are starting to wake up to the notion that we're in the midst of a dire climate crisis — and we don't have time to waste. Environmental activists are ensuring they follow through on their climate action promises.
We'd love to see progress happening at a more rapid rate, but it's reassuring to know that change is happening. So we're kicking off a quarterly series highlighting environmental wins in the U.S. and around the world. Here are 10 of the latest bright spots.
1.
U.S. Rejoins Paris Climate Agreement
Admittedly, this news is a "gimmie," but rejoining the Paris Climate Agreement is a significant move for the U.S. if we're going to be a leader in the climate crisis. It's also nice to know that science — not conjecture — will be a guiding force in our country's policy and environmental agenda. When the U.S. first joined the Paris Climate Agreement, it pledged to reduce greenhouse gas emissions by 25 to 28 percent of 2005 levels by 2025. However, at this year's virtual climate summit on April 22, the Biden administration announced that the U.S. is taking a more aggressive stance — working to cut greenhouse gas emissions by 50 percent of 2005 levels by 2030.

In late February, governors of New Jersey, Pennsylvania, Delaware, and New York — which make up the Delaware River Basin Commission (DRBC) — voted unanimously to ban fracking within the Delaware River Basin region, an area that covers 13,539 square miles. This is huge because the environmental impacts of fracking are pretty terrible. Fracking consumes incredible amounts of water — anywhere from 1.5 million to 16 million gallons of water for a single well — puts drinking water resources at risk as a result of leaks from damaged wells, is a significant contributor to air pollution, is linked to an increase number of earthquakes in fracking areas, and degrades forests, rural landscapes, and local wildlife. The Delaware River Basin provides drinking water for about five percent of the U.S. population and is home to hundreds of species of fish and wildlife.

Willow, a crude oil project spearheaded by multinational corporation ConocoPhillips and located on federal land in the National Petroleum Reserve of Alaska, was temporarily halted in February following a ruling by the 9th Circuit of Appeals. Opponents of the over $2 billion oilfield construction — which include environmentalists and Indigenous groups — argue that the environmental and climate impacts were not properly analyzed by the Interior Department's Bureau of Land Management under the Trump Administration, and the project would cause irreparable harm to wildlife including caribou and polar bears. For now, the courts agree.
4.
Ramping Up Carbon Capture
In the coming years, oak, sycamore, birch, and rowan trees will be thriving in lower Wensleydale, a village on the edge of the Yorkshire Dales in the U.K. The community forest project is getting local landowners involved — asking for support to help cover tree costs — and has reported a better response than expected. Trees are known for their incredible carbon capture capabilities and planting them is one of the easiest ways to combat climate change and improve air quality.

5.
Widespread Fossil Fuel Divestment
Thanks to the work of young environmental activists, Pembroke College in the U.K. and the University of South Carolina in the U.S. have both committed to fully divesting from fossil fuels. For USC in particular, that means selling $277 million of stated investments. But, it's not just colleges that are investing more heavily in clean energy. A March 2021 report from the green policy network REN1 shows that the U.S. has more cities enacting fossil fuel bans than any other country worldwide.

A plan by Resolution Copper — a joint venture of mining companies Rio Tinto and BHP — to turn Oak Flat, a 6.7-square-mile forest east of Phoenix into one of the largest copper mines in the country has been thwarted by the U.S. Forest Service. The land is considered sacred by the local Apache people, and, had the project moved forward, it would have decimated the lush, mountainous area, leaving massive craters in its wake.
7.
The Beginning of the End for Gasoline-Powered Vehicles
Electric vehicles are about to have their moment. The European arm of major automaker Ford has said it's going all in on electric — phasing out gas-powered vehicles by 2026, at which time it will only offer electric and plug-in hybrids. In the U.S., California is putting a stop to the construction of new gas stations and Montgomery County Public Schools in Maryland — which operates over 200 schools — is switching to an all-electric school bus fleet. The move is expected to reduce carbon emissions by 25,000 tons per year.
8.
Wildlife That's Fighting Back
In 1963, only 417 known nesting pairs of Bald Eagles remained. But government scientists have recently reported that their numbers are now more than 300,000 (!). North Atlantic right whales are also attempting a comeback. While there's still a ways to go until this whale species is considered stable, scientists are encouraged by recent calf count births, which this winter equaled combined totals for the last three years.

9.
This Is What Environmental Justice Looks Like
For the first time in U.S. history, a Native American has been appointed to head the Department of Interior — an arm of the government tasked with protecting and conserving our country's land, natural resources, and cultural heritage. Secretary of the Interior Deb Haaland, a former congresswoman from New Mexico and a member of the Pueblo of Laguna, has made it abundantly clear she will prioritize climate change, environmental justice, and land preservation. This is an incredible step forward for representation and advocacy for minority and Indigenous groups.
More than 500,000 hectares of land in Kenya will be restored over five years thanks to a massive $34 million project launched by the country in early February. The area makes up 80 percent of East Africa's landmass and would help 620,000 people grappling with the effects of drought in the region caused by climate change.
Honorable Mentions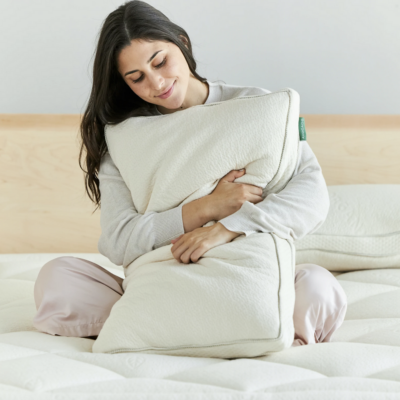 Shop Pillows
The Essential Organic Pillow Collection
Gentle, breathable, non-toxic support.
Buy Now