Limit your environmental impact — and create the most spine-chilling haunted house in the neighborhood — with these eco-friendly, DIY Halloween decorations. 
The leaves have turned. The scent of fall is in the air. It's officially sweater weather. And you have corn mazes, pumpkin patch visits, and scary movie marathons on the calendar. Spooky season has arrived and with it, the most frightening holiday of the year — Halloween.
But the scariest part of Halloween isn't the ghosts, ghouls, and goblins, it's how much waste the celebration creates. Between the 7 million synthetic costumes that get thrown out after one night (the equivalent of 83 million plastic bottles) to the millions of pounds of pumpkins that end up in landfills, the festivities have a significant impact on the environment.
One way you can reduce your footprint this holiday? Ditch the plastic decorations for zero-waste alternatives you can reuse, compost, or upcycle. Here are our favorite eco-friendly, DIY Halloween decorations for the ultimate haunted house.     
Jack-O-Lanterns
Carving a few jack-o-lanterns is the perfect way to get into the Halloween spirit — they make great decorations, too. Whether you go with a creepy or cute design, be sure to add a reusable LED tealight at the bottom for an ominous ambiance. Don't let your pumpkin's guts and seeds go to waste, either. Separate the seeds and roast them with a few spices for a crunchy snack, and puree the guts to make a delicious pumpkin pie. Once Halloween is over, remember to put your jack-o-lantern in the compost.
Read more: 3 Easy No-Carve Jack-O-Lantern Ideas
Yarn Spider Webs
Most yarn is made with petroleum-based nylon, polyester, and acrylic. The key to making these DIY Halloween decorations planet-friendly is purchasing a non-toxic compostable alternative. Wool and The Gang is one of our go-tos. The sustainable brand offers natural, ethically-sourced wool yarn as well as plant-based Tencel options made from renewable energy. Once you've secured your yarn, check out this spiderweb tutorial, and start crafting. 
Tin Can Luminaries
Upcycle tins from canned goods and transform them into Halloween luminaries for your driveway, porch, or living room display. After you've removed the label, give your cans a thorough wash, and drill a few holes on the outside. If you want to get extra creative, cut out a ghost, bat, or pumpkin shape out of paper, tape it to the sides, and use a hammer and nail to puncture holes around the outside of the design. Remove the stencil and place an LED tealight inside. Voila!
Construction Paper Bats
Speaking of stencils, that's one of the only things you'll need for this hair-raising paper bat decoration. All you have to do is download this silhouette template, cut it out, and trace it on black construction paper to your heart's delight. Once you've created a handful of bats, place a piece of rolled tape on the back and stick them on the wall in a frightening configuration.
Read more: Clean Treats You Can Live With This Halloween
Chicken Wire Ghosts
Feeling ambitious? Try out these DIY chicken wire ghosts. They take a little patience (and a good amount of time), but we're willing to bet they'll be the creepiest lawn decoration your neighbors will ever see. For added effect, coat them with glow-in-the-dark spray paint.
Spooky Garland
Dress up your mantle, doorway, or porch with a Halloween-themed garland. Witch hats, pumpkins, ghosts, bats, candy corn — they're all game. Like with the construction paper bats, simply download your favorite stencil, choose your construction paper color, and get to work. Or, cut out a few circles, string them together, and use a marker to spell out Happy Halloween. Either way, make sure you're using compostable yarn!
Spice Jar Potion Bottles
This decoration takes a little planning ahead but it's totally worth it. Once you've used up the contents of a spice jar, set it aside for Halloween. When you've collected three to five, clean them out and replace their usual labels for eerie substitutions you can make from construction paper. Think snake oil, poison ivy potpourri, witch's brew, and oil of boil. Feel free to add spine-chilling designs, too!
Read more: Do This With Your Halloween Pumpkins
Have feedback on our story? Email [email protected] to let us know what you think!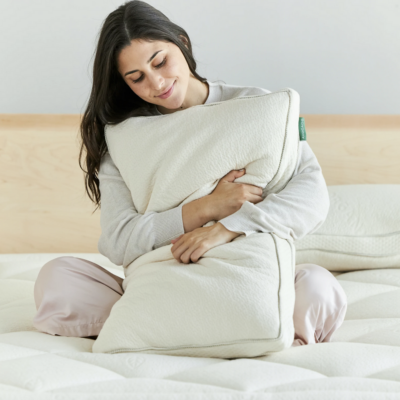 Shop Pillows
The Essential Organic Pillow Collection
Gentle, breathable, non-toxic support.
Buy Now