Every holiday comes with its own share of waste and sugary temptations, and Halloween's a doozy. Check out our clean candy recommendations and a cool company that will recycle your candy wrappers FOR you.
I know how to make a keto peanut butter cup, TOTALLY. I do sugar detoxes. I drink black coffee. I buy in bulk whenever possible. But on Halloween, you can bet that I'm on the floor with my kids, swiping Reese's cups when they're not looking.
Sustainability isn't about perfection, it's about meeting people where they are with realistic solutions they can actually get on board with. Giving up Halloween candy, for some, crosses a line. And that's fine — I get that.
By all means, eat the Reese's cups, but if you're buying for other trick or treaters, consider putting some lesser known, much healthier options out there into the candy for circulation.
As parents like you sift through their kids' piles for the good stuff, you might just inspire what THEY buy next year.
First — Let's Talk About Wrappers
Before we get into this AMAZING list of clean and natural Halloween candies, let's make one thing perfectly clear: all of those freaking candy wrappers are NOT accepted by your typical recycling program.
They are made with petroleum, they will wind up in the trash, and they will take hundreds of years to decompose.
And that sucks.
But thankfully, Terracycle has been hard at work over the past several years creating recycling programs for pretty much EVERYTHING, from cigarette butts to candy wrappers.
Before you shop Halloween candy this year, pick up one of their candy wrapper recycling boxes.
One of their small boxes has more than enough space for all of your Halloween candy wrappers, and maybe even a few neighbors'.
RECYCLE HALLOWEEN CANDY WRAPPERS
The Best Clean and Natural Halloween Candy
#1 — Organic Lollipops by YumEarth
YumEarth makes a whole SLEW of awesome natural snacks and candies, but these lollipops are my kids' favorites. They're made with organic ingredients and natural flavors, and best of all, contain no artificial colors (lookin' at you Red #40).
#2 — Spooky Shapes Gummies by Surf Sweets
Kids love fruit snacks and gummy worms, but parents hate the artificial dyes and corn syrup. Seriously you guys, those things are barely food.
These Spooky Shapes gummies by Surf Sweets have plenty of sugar in them (because come on, it's Halloween), but none of the artificial colors and high fructose corn syrup that's so hard on digestive tracts and parent nerves.
#3 — Peanut Butter Cups by Justin's
Justin's makes amazing nut butters, but they also make BOMB nut butter cups. Made with natural ingredients and Justin's own nut butters, they're available in almond, cashew, AND peanut butter.
And you won't want to share.
#4 — Nectar Bars by Honey Mamas
Okay, so these might be a little bougie and indulgent for a Halloween candy lineup, but if mommy's a clean eater and still has a sweet tooth, this makes a GREAT reward for hand sewing another Halloween costume.
Honey Mamas makes incredible nectar bars made with superfood ingredients that taste amazing AND boost your immune system!
#5 — Allergy-Friendly Chocolate Bars by Amanda's Own
If you have kids with food allergies, you know how challenging this time of year for them can be. These allergy-friendly chocolate bars by Amanda's Own are a little big for Halloween, but are dairy-free, nut-free, peanut-free, gluten-free, wheat-free, soy-free, egg-free, corn-free, sesame-free, mustard-free, shellfish-free, crustacean-free, and vegan.
Did you get all of that?
SHOP ALLERGY-FRIENDLY CHOCOLATE BARS
So many kids suffer from food allergies that the Food Allergy Research and Education organization created a project to make these kids feel seen during Halloween. Learn more about food allergens, then buy only allergen-free candy this Halloween. You can let kids and parents know your bucket is allergy-friendly by putting a teal pumpkin on your porch.
LEARN MORE ABOUT THE TEAL PUMPKIN PROJECT
#6 — Clean Candy Corn by Yum Earth
You either love it or you hate it, but most people would probably love it a lot more if candy corn didn't taste like straight up plastic.
Look, I HATE candy corn, but this stuff is actually really good. Yum Earth's candy corn is devoid of the chemical nasties that make the other stuff unbearable, and is also made with natural flavors and colors.
#7 — Hard Candies by CleanCandy
Get this: these hard candies are FAIR-TRADE CERTIFIED, how crazy is that?? The Natural Candy Store produced their own line of natural hard candies, and they're awesome. Made only with natural flavors and colors, no high fructose corn syrup, and several organic ingredients, they might be the cleanest hard candies on the market.
#8 — Your Guilt-Free Snickers, by Ocho
I want to love Snickers bars, but I'm not crazy about ingredients like corn syrup and hydrogenated soybean oil — yuck.
Ocho makes AMAZING chocolates, and these Organic Caramel and Peanut candy bars are the perfect natural Snickers dupe. They're made with organic, non-GMO ingredients, and are definitely on my do-not-share list.
#9 — Candy-Coated Milk Chocolate Gems by UNREAL
These candy-coated chocolate gems are like what we all wish M&Ms were as grownups. Made with real, organic ingredients and containing approximately ZERO artificial colors, they're on my list of things to put on popcorn.
SHOP NATURAL CANDY-COATED CHOCOLATES
#10 — Dairy-Free Chocolate Bars by Mini Moos
Dairy is another big food allergy that so many kids (and grownups) are struggling with. Unfortunately, a lot of times a dairy allergy means that chocolate is off the table at Halloween. And that's like, the saddest thing that I've ever heard.
Mini Moos has made dairy-free chocolate bars for the dairy sensitive, and they're a must-have in your allergy-friendly Halloween bucket this year.
#11 — Pumpkin Spice Caramels by Cocomels
Make all the basic jokes you want about pumpkin spice — I AM WHO I AM, and who I am loooooves pumpkin spice.
Cocomels are caramels made with coconut milk instead of cow's milk, and the combination of the two is pretty much heaven. Add pumpkin spice, and you can bet this bag of candy is never making it to the bowl (sorry, not sorry).
Spill (because we all have a sweet tooth now) — what's your all-time favorite candy from this list? Post a pic of yours on Facebook or Instagram and tag @AvocadoMattress and your favorite candy brand in the post!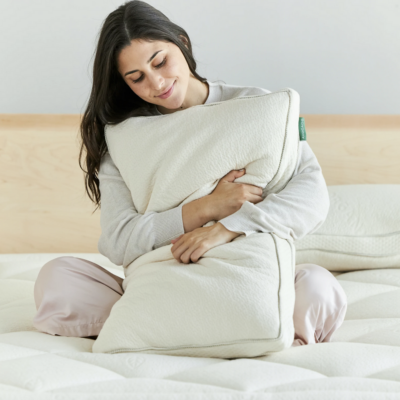 Shop Pillows
The Essential Organic Pillow Collection
Gentle, breathable, non-toxic support.
Buy Now