Disposable masks and gloves are wreaking havoc on our environment and harming wildlife. But there are simple ways we can all help curb Covid pollution to protect our planet.
The fish in the glove was a bleak warning sign. In August 2020, citizen scientists working in the Oude Vest, a canal in Leiden, the Netherlands, discovered a dead ​​perch sticking out of a hole in the thumb of a latex glove. The fish's tail was sticking out, prompting scientists to theorize that it couldn't have wriggled back out of the glove because its spiny dorsal fins got caught whenever it moved backward. The find was troubling evidence of a phenomenon more and more researchers have been investigating during the Covid-19 pandemic; a huge amount of litter from personal protective equipment (PPE), particularly masks and gloves, that has increasingly clogged waterways and found its way into ecosystems.
If you've left your house sometime between March 2020 and now, there is a very good chance you've seen a surgical mask dangling from a tree branch or tumbling down the sidewalk. Many scientists have now put numbers to the Covid pollution problem. A study published in December 2021 found that in 11 countries, including the U.S., the proportion of masks making up all litter increased by almost 9,000 percent. Researchers estimate that we now use 129 billion face masks and 65 billion gloves globally every month, and others estimate about 1.56 billion of those face masks ended up in the ocean last year. In 2021 alone, volunteers with the Ocean Conservancy's International Coastal Cleanup have reported picking up 107,219 pieces of PPE. 
Researchers have noted that much of this waste — about 87 percent — comes from hospitals instead of individuals. But regardless of where it comes from, efforts to extract Covid pollution from natural spaces are critical. Single-use items like gloves and masks are of course essential to protect everyone, especially healthcare workers, from contagious disease. They also wreak havoc in nature, breaking down into microplastics that sicken or kill wildlife when consumed, trapping animals, and contaminating water sources for humans and animals alike. Some scientists estimate that a single surgical mask can release more than 16 million microplastics into the environment.  
Read more: Why You Should Ditch Synthetic Loofahs For Good
Netherlands-based researchers Auke-Florian Hiemstra and Liselotte Rambonnet have both been studying wildlife interactions with pollution since before the pandemic and have been tracking recorded observations of animal-PPE interactions on their website. Some birds, they've found, have started using gloves and masks as nesting material. An octopus in France was once found hiding under a face mask. Many more animals, including hedgehogs and foxes, have been found carrying masks in their mouths or entangled in the materials. In some of the most horrifying examples, animals ingest masks and gloves; in Brazil, a Magellanic penguin died after eating a mask, and in the U.K., a dog was reported to have eaten 29 face masks. A mask was even found in the Philippines strangling coral. Hiemstra and Rambonnet invite people to continue reporting sightings of wildlife interacting with PPE litter, hoping to widen the geographic area where they're getting information. "We now have found, for example, quite a lot of examples from the Netherlands, yet our country is really small," they told Wired in April. "So there must be much more."
The solution to the huge uptick in single-use plastics that the pandemic introduced is, on an individual level, simple: stick to reusable masks with good filtration whenever possible. For healthcare workers and those who work in high-risk environments, wearing and often changing PPE all day, researchers are working on safe reusable options like silicon N95 masks. Some cities have also introduced specially-designed trash cans that have smaller openings, preventing masks from being whipped out by the wind, and other places have introduced steep fines for anyone found to be littering with PPE. (In Massachusetts, PPE litterers can be fined as much as $5,500.)
There are volunteer opportunities to help pick up PPE litter all over the world, and it's just as simple to organize one in your own community. It's an activity with a low barrier to entry but high stakes: It's estimated that almost all of the masks and gloves we don't pick up today will end up in the seabed or beaches by the end of the century.
Read more: How to Organize a Community Cleanup in Your Area
Have feedback on our story? Email us at [email protected] to let us know what you think!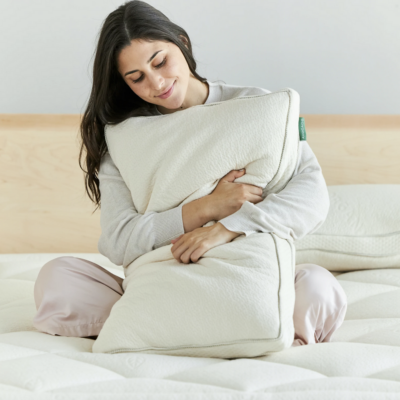 Shop Pillows
The Essential Organic Pillow Collection
Gentle, breathable, non-toxic support.
Buy Now