Have you ever taken a walk around your neighborhood and thought, "when did it get so messy around here?" You're not alone, between seasonal shifts, countless trash and recycling pickups, honest human error, and maybe a little carelessness, even the tidiest community can use some cleaning up every now and then (especially before the snow falls).
But whose job is it to keep your streets clean and flowers planted? In a lot of areas of the country where street cleaning isn't a regular ting— or doesn't exist at all— residents are surprised to learn it's their responsibility to clean up their neighborhood—yep, you and your neighbors'. Why clean up your neighborhood? Aside from the obvious aesthetic benefits (we don't think anyone will argue that clean sidewalks and healthy landscaping aren't nice to look at); keeping your town, city, borough or cul-de-sac clean and tidy can help keep you and the planet healthier.
How? By preventing trash and waste from making its way into waterways, you'll be supporting a healthier ecosystem for the plants and animals that depend on it to survive while ensuring your water is clean and drinkable. By removing waste from the sidewalks, you'll be reducing the chance of tracking something unsavory into your home and preventing the spread of germs and potential disease. And by cleaning up trash and other eyesores, you'll inherently be making your town a safer place to live by showing its residents care about where they live. Many communities experience a drop in crime after community organizations are formed and regular cleanups take place.
All that, plus you'll be fostering a sense of togetherness within your community by bringing people together under a shared cause. Time and again it's been found that uniting under a cause, organization, or charity can create a sense of unity and who wouldn't want that for their neighbors. But as easy it is to grab a bag and start picking up trash yourself, actually organizing a community cleanup or beautification effort takes, well, organization. Today we're sharing our tips for organizing a neighborhood cleanup so you and your neighbors can make your town shine:
Step 1: Choose your project
Could your 'hood use some cleaning up? Or has the landscaping suffered a few too many harsh winters? Not all communities need the same looking after, so before you dive into planning a cleanup, it's important to determine what needs tidying. If community organizations already exist in your area, it may be worth reaching out to determine whether you can join forces for your project. Then, choose a project that isn't already being addressed so you can really make an impact. This could be:

Planting flowers and greenery in empty beds or beautifying roundabouts or roadway berms.
Cleaning up your local beach or lakeside.
Trash and litter cleanups.
Playground or park cleanup and repair.
Step 2: Choose your site
Once you've determined what you'll be working on, next you'll have to decide where you'll be doing it. For small communities; this could be easy, but for larger neighborhoods; it might be best to divide and conquer. Choose a project that you can finish in a day with the number of volunteers you hope to recruit—you can always adjust later to accommodate more or fewer volunteers.
Step 3: Advertise and recruit!
A great community cleanup doesn't happen without its people! Advertise your cleanup as early as possible so residents can plan to attend. Along with creating fliers and posting at local libraries, markets, and community boards, see if you can work with local papers, radio stations, and schools to get people signed up. Here are some things to consider during your sign-up process:
Be sure to have a place where people can physically sign up with their names and contact info so you're able to determine exactly how many volunteers you have to work with.
Check with your local police or town office to determine whether safety waivers are required.
Aim for more volunteers than you think you'll actually need to cover for no-shows on the day-of.
If you're expecting a high volume of volunteers, you'll want to break up the larger group into sub-groups and appoint leaders to keep everyone organized. You may also have to delegate certain areas or tasks for your groups to tackle.
Step 4: Gather supplies
You'll need different supplies for different activities—you wouldn't bring hedge trimmers to a beach cleanup, would you? (Most beach cleanups, anyway). Poll your volunteers to see who can bring extra tools like shovels, rakes, etc., and create a list of things you'll need to gather to ensure there are enough supplies for everyone to accomplish the task at hand.
You could even see if you can work with local vendors to donate extra trash bags, paint, wheelbarrows, or any other supply that may be required. Your local market might even want to donate granola bars and water to keep your volunteers energized and hydrated. If not, you'll want to provide these—big box or wholesale stores are an affordable option for this.
Step 5: Plan for trash or debris removal
Many cities and towns have strict rules when it comes to trash disposal. Before your cleanup, inquire with your town office or waste disposal facility to arrange for pickup or other accommodations day-of. No one wants to be left with hundreds of trash bags at the end of a long day!

Step 6: Send your thanks – and schedule the next event!
If you gathered email addresses during the sign-up process, send a quick note thanking your volunteers for their time and effort (the BCC function works great for this). This is also a great time to let them know of the next event—consider holding quarterly cleanups to ensure your streets, sidewalks, and beaches stay tidy!
Do you have tips for organizing a neighborhood cleanup? Have your organized one of your own? Share your tips with us by tagging us on social @AvocadoMattress and #AvocadoGreenMagazine!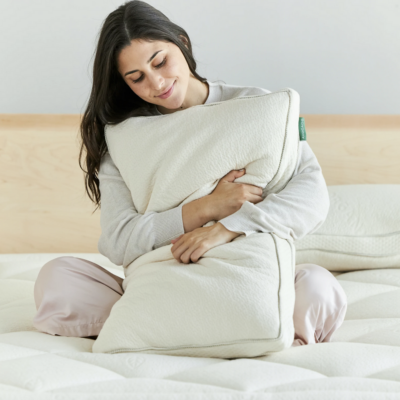 Shop Pillows
The Essential Organic Pillow Collection
Gentle, breathable, non-toxic support.
Buy Now