There's no buyer's remorse — or environmental impact — when you shop at a clothing swap.
My friend Diane lives on a big plot of land near the Santa Fe River with a broad patio and a bunch of outdoor seating. When she bought her house, she knew she wanted it to be a community space. She let her circus performer friends install rigs in the yard to practice their aerial routines. Her spacious shed has served as an art studio, massage space, and an incubation room for newborn chicks. If your body is aching, she'll let you come by to soak in her hot tub. And four times a year, she hosts incredible clothing swaps.
A group of mostly women and femmes gathers their castoffs from the last few months: beloved t-shirts, suede jackets, silk nightgowns, vintage jeans, leather sandals, knitted hats. We pile everything on tarps, loosely organized by category, and get to sifting. We try pieces on, modeling them to approving coos or passing them along to the friends they'd suit better. We leave with armfuls of free, new-to-us clothing and accessories, maybe a dinner invite or two, and a few new connections to an ever-expanding community. She's not the only one in my town who has caught on to the practice; I've been to several other swaps hosted by friends from different communities, some co-ed, some kid-friendly.
Diane gets it right for a few reasons. Consistency is key. Since there's always a swap on the books, I look at my wardrobe with an eye toward what I could bring to the next event. She also lets her friends store their bags of apparel in her shed in-between swaps, so if you need to clear out some space in your closet immediately, you can still avoid the trip to the thrift store.
Read more: How to Plan a Clothing Swap
According to journalist Oliver Franklin-Wallis, whose book Wasteland looks at what happens to discarded goods around the world, about 62 million tons of clothing are manufactured each year. That accounts for somewhere between 80 and 150 billion garments, despite our planet only housing eight billion people. The fashion industry is responsible for somewhere between eight and 10 percent of global carbon emissions annually. And our efforts at recycling our clothing don't always work out like we might hope — not everything you bring to Goodwill ends up in someone else's closet. The average American gets rid of over 81 pounds of clothing a year — and somewhere around 84 percent of clothing eventually ends up in a landfill. 
The strong culture of clothing swaps in Santa Fe naturally makes the process of acquiring new things easier. I've found dresses to wear to weddings, basics that fold seamlessly into my everyday wear, and party-ready costume pieces. When I feel like I need something new, I've learned to wait patiently. Odds are high that the new tank top I'm coveting — or one very similar — will fall into my lap.
Importantly, I've also found that swaps make it easier to let go of things. I have a hard time getting rid of pieces that I think are special — well-constructed, interesting, or meaningful to me at some previous point in my life. Dropping those items off at Goodwill feels tough, from a sentimental and an environmental standpoint. Will they wind up in a landfill? But passing them along to a friend, knowing they'll get a second life is easy and rewarding. On a recent camping trip, I joyfully noticed four friends of mine were wearing my hand-me-downs. Sometimes pieces cycle in and out of the swaps for years, living second, third, and fourth lives.
Read more: An Ode to My Grandparents' Clothes
This should be our hope for all of our belongings — that when they are no longer useful to us, they become useful to someone else. Swaps make that circularity visible and concrete. I don't have hard statistics about my community, but it's safe to say that the swaps have both limited the amount we're spending on new clothing and the amount of clothing that gets sent to secondhand stores.
I've never believed that clothing is purely functional. We are the only animal on the planet with the option of changing our plumage day to day. There is real value and joy in that. We can be playful and mutable in how we present, and continually construct an external self that feels true to the internal one. But if you want to develop and continually update a fun and diverse wardrobe, you don't have to buy new clothing on a regular basis. Clothing swaps are just one off-ramp from the fast-fashion cycle. Try hosting one in your community — see what happens.
Read more: What Is Circular Fashion?
Have feedback on our story? Email [email protected] to let us know what you think!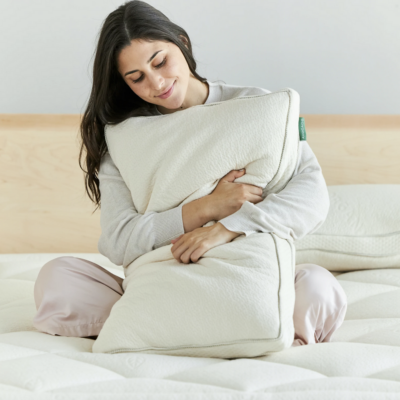 Shop Pillows
The Essential Organic Pillow Collection
Gentle, breathable, non-toxic support.
Buy Now