Our favorite Black climate and sustainability influencers fighting for change and a more equitable world for all.
Sustainability is about progress, not perfection — and making a difference through individual actions. Reducing food waste by composting and reusing scraps. Buying from sustainable, ethical businesses, thrifting, and mending clothes instead of throwing them out. Recycling, upcycling, and DIYing. Holding those in power accountable for their climate pledges.
But we can't talk about sustainability without also talking about racism. Across the country, in cities, small communities, and rural areas, Black and minority groups are disproportionately affected by climate change.
That's why it's our collective responsibility to ensure the environmental movement is more inclusive. One way we can do that is by lifting up the Black voices fighting for change and a more equitable and sustainable world for all.
This Black History Month, we're spotlighting the eight Black climate and sustainability influencers who inspire us.
Read More: Black Activists Fighting For Environmental Justice
As the founder of Intersectional Environmentalism, an online climate justice community and resource hub centered on BIPOC voices, we'd be remiss not to include Leah Thomas on our list of Black sustainability influencers. On her personal page, she discusses everything from the pros and cons of vegan leather and how to host a sustainable gathering to why prioritizing rest is so important. In addition to her Instagram, check out her new six-episode podcast Means + Matters, featuring interviews with women changemakers in the sustainability, wellness, and culture space, including head of the world's first B Corp winery. Oh, and she also has a book coming out, which you can preorder here.
Read more: Being an Ally Means Facing Some Hard Truths
Sustainability and energy professional Doria Brown is the queen of at-home sustainability hacks. Recently named one of Harvard C-Change's 16 eco-creators to watch, she also has ecoTikTok on lock. Want to know how to create a DIY hydroponic garden, make your own hair gel, or indulge in an upcycled beer flight? She's got you. And Brown always has the low-down on the latest energy news — like California's plan to ban the sale of gas leaf blowers by 2024 because they emit 300 times the pollutants of pickup trucks. Did we mention she was also vital in creating Community Power Coalition, a nonprofit that helps communities implement clean energy infrastructure?
A Ugandan climate and sustainability activist, Nyombi Morris uses his platform to bring the climate conversation to schools and young people in Africa. In 2021, he planted 7,500 trees and visited 13 schools to spread the word about the importance of both reforestation and restoring vital ecosystems. For Morris, it's all about teaching others that everyday actions — like biking to work, switching off lights, planting trees, and shopping sustainably — can help reverse the climate crisis. Currently, he's raising money to copy and distribute the kids' book Our Changing Climate, as well as plant 100,000 trees, and distribute 500 textbooks and 50 trashcans in his community.
Read more: What is Intersectional Environmentalism?
Attorney, environmental justice advocate, Intersectional Environmentalist podcast host — there's nothing Arielle King can't do. You won't find composting tips or DIYs on her platform. What you will find are resources centered on environmental justice and ways to help advocate for Black and minority communities that are targets of environmental racism. For example, in December 2021, she partnered with the California Environmental Justice Alliance to spread awareness about the harm of existing oil and gas drills located near homes, schools, healthcare facilities, detention centers, and prisons in low-income and minority communities, and to provide ways each of us can help.
To follow her account is to love her. Spunky, innovative, and an encyclopedia of plant knowledge, Alexis Nikole is an environmental science enthusiast and foraging expert. She'll show you which mushrooms you should pick (and which to leave alone), how to make jelly out of foraged hawthorn berries, or how to transform acorns into cheese — and she'll probably do it while singing a fun little jingle she made up on the fly. But at the crux of her posts is the idea that foraging and living off the land is an essential piece of Black and Indigenous history and culture — and it's important that we keep those traditions alive.
Zanagee hasn't even graduated college yet and he's already making a huge impact in the climate and sustainability world. When he's not hitting the books, he's probably stocking local Little Free Libraries with A Kids Book About Climate Change — a book he co-wrote with Olivia Greenspan — talking about greenwashing on a global platform, or leading Zero Hour, the nonprofit he co-founded that empowers youth activists fighting for a liveable planet for all. Watch this space — Artis is only getting started.
Read more: Why Michael Regan's Nomination to the EPA Matters
If there's one thing Jazmine Rogers knows, it's how to put together the perfect ethical outfit of the day. Self-proclaimed sustainable baddie and slow fashion connoisseur, Rogers will help you finally break up with fast fashion (here's her five-step guide) and live a low-waste lifestyle. Thrifting tips? No problem. DIY clay chunky rings? You know it. Ethical undies review? Of course. Follow along on her Instagram, YouTube, and TikTok for all these gems, plus the occasional reminder about why fast fashion is so bad for people and the planet.
A veteran in the sustainable fashion space and an OG among Black sustainability influencers, UK-based Slade Edmondson has spent more than a decade spreading the message that it's 100 percent possible to love fashion without being wasteful. A Forbes100 Environmentalist and creative strategist behind mindful fashion campaigns like Love Not Landfill, which sought to bring awareness to the tons of clothing that end up in landfills each year, she's also a podcast host and author, among many other accomplishments. We highly recommend listening to her TEDtalk about why it's essential that fashion evolve to become more sustainable.
Read more: How 'Brown Girls Climb' Is Making the Outdoors More Inclusive
Have feedback on our story? Email us at [email protected] to let us know what you think!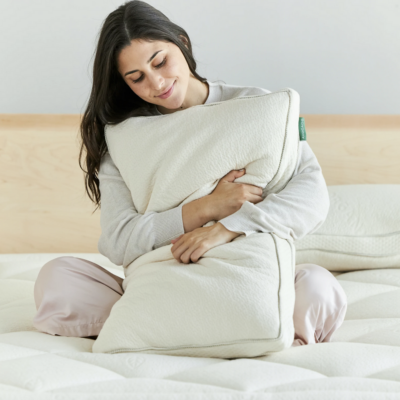 Shop Pillows
The Essential Organic Pillow Collection
Gentle, breathable, non-toxic support.
Buy Now