When it's too cold to go outside, bring the adventure inside and try something new with these online courses that cover everything from painting and dancing to houseplant care and happiness.
I have a friend who takes up a new hobby every winter. One year, she spent cold slushy Tuesdays studying poetry. Another, she and her husband took fencing lessons.
That friend was on to something: Learning is good for us. And winter, when days are short and we tend to spend more time inside, is an ideal time to try something new. These days, that's never been easier. Thanks to online classes, you can learn anything from coding to calligraphy — taught by a host of all-star teachers — from the comfort of our own homes.
Here are our favorite online courses guaranteed to brighten up your winter and enrich your lives.
Read more: How Creativity Makes Us Happier
1.
Happiness
In its 300-year history, Yale's most popular class isn't a high-level finance course or a fancy philosophy lecture — it's a class on happiness. Taught by psychology professor Laurie Santos, The Science of Well-Being was added to the university's offerings in 2018 and became immediately popular. When Covid-19 hit, Santos felt it was important to spread techniques for feeling happy and well, so she put the curriculum online via Coursera. The class is still available on the platform today. You can audit it for free or pay $49 to get feedback and a certificate of completion at the end. Who says money can't buy happiness?
2.
Writing
The benefit of online classes is that they give you access to masters of a craft who spill their secrets in a way that might be impossible in the non-digital space. For instance, when else would you be able to get lessons about creative writing from Margaret Atwood, as you can in her creative writing MasterClass? Learn how to develop the plot, structure, and point of view in fiction straight from the acclaimed literary authority herself. If you're more of a nonfiction writer, consider master essayist Roxane Gay's personal essay class on Skillshare.
3.
Art
Even if you don't think you have a creative bone in your body, taking an art class may just change your mind. Plus, it's always fun to try something new and get out of your comfort zone. Try your hand at drawing with lessons through Drawspace, or sign up for outdoor watercolorist Claire Giordano's Adventure Art Academy to learn plein air painting. Just remember, the key to tapping into your creative side is not taking yourself too seriously.
Read more: Using Art to Process Eco-Anxiety
4.
Art History
If you're more of an art researcher than a practitioner, the Museum of Modern Art has a wide range of art history classes to explore. Check out everything from Reimagining Blackness and Architecture, which asks the question "What does it mean to create and occupy space?," and What is Contemporary Art?, a retrospective of the last 40 years of art styles and practices, to Fashion as Design, which considers what we wear, why we wear it, how it's made, and what it means.
5.
Language
Always wanted to learn another language? Online platform Pimsleur makes it easy and gets high marks for its approach, which is based on the science of how we remember things. Choose from a catalog of 51 languages, including Ukrainian (free until the end of the year), Italian, Korean, and Arabic.
6.
Dance
Maybe you want to let loose and move your body. Or, you want to brush up on some dance moves before you go out in public. Either way, Steezy has a whole host of step-by-step programs that will teach you everything from intricate choreography to how to find the beat if you're rhythmless. Because the comfort of your own home is probably a good place to work that out.
7.
Yoga
Searching for a more mellow form of movement? Do Yoga With Me has a yoga for absolute beginners series that is a great place to start. You can also follow the innumerably popular Yoga With Adrienne Youtube channel, where Adrienne Mishler posts frequent videos of a variety of practices and often hosts 30-day progressive yoga series.
Read more: Our Favorite Online Yoga Classes
8.
Taking Care of Houseplants 
What better thing to do inside your house than to take care of the things that inhabit it with you? In this Skillshare class, hosted by Christopher Griffin, aka Plantkween, you'll get lessons on choosing the best plants for your space and tips on how to keep them happy and healthy. Plus, propagation recommendations for when you're ready to grow your plant family.
9.
Gardening
Spend your winter inside mentally prepping your outdoor garden beds. In her Gardening 101 class, herbalist and regenerative farmer Geraldine Lavin teaches garden planning, planting, and maintenance, as well as harvesting and storage. Learn everything you need to know about seed starting indoors, propagation, and laying the groundwork for healthy plants that will get you excited for gardening season.
10.
Cooking
When the weather outside is blustery, cold, and unwelcoming, cozy up inside with a comforting meal. And there's no better person to teach the art of cooking than Alice Waters, the chef who kickstarted the American farm-to-table movement. She's known for her Bay Area restaurant Chez Panisse, but in her MasterClass, she teaches relatable lessons about home cooking so you can make delicious, seasonal meals all year long.
Read more: 7 Virtual Cooking Classes We Love
Have feedback on our story? Email [email protected] to let us know what you think!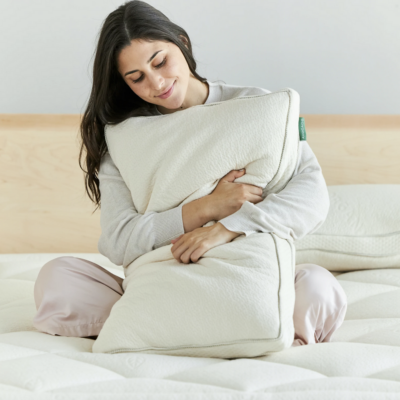 Shop Pillows
The Essential Organic Pillow Collection
Gentle, breathable, non-toxic support.
Buy Now