We all have a responsibility to create a better future for people and the planet. These are the Avocado Editors' sustainability resolutions for 2022.
Low-waste living and sustainability are always top of mind for the Avocado Team. But as the effects of climate change worsen, we know we can do more to lessen our environmental impact. So this year, we're making New Year's Resolutions centered around sustainability.
From taking fewer flights and buying less to being mindful of water consumption, simple changes to every day habits can have a meaningful impact on the health and future of our planet. We hope we inspire you to live a little more green this year — here are the Avocado Team's Sustainability Resolutions for 2022.
Read more: Introducing our New Podcast Series: "A Little Green"
Use Less Water
Americans use an average of 82 gallons of water per day. Multiply that by the 329 million people living in our country, and collectively, we use close to approximately 27 billion gallons of water a day. Yikes! Add to that intense drought (90 percent of the western U.S. is in a drought) and hotter temperatures caused by climate change, coupled with overpopulation, overuse, and water quality issues, and we're at risk of running out of freshwater by 2070. That's why in 2022, I plan to use less water. My first order of business: simple adjustments like turning off the faucet when I'm brushing my teeth or washing my hands and reusing boiled water that's cooled to water my plants or fill my pets' bowls. I also plan to take the #SkipTheRinse pledge to stop pre-rinsing dishes before putting them in the dishwasher, which can save an average of 20 gallons of water. Also on my list? Taking quicker, cooler, less frequent showers, and wearing clothes multiple times before throwing them in the wash. — Meredith O'Connor, Copywriter
Fly Less
Last year, I let go of eating meat. The meat and dairy industry is responsible for about 15 percent of global greenhouse gas emissions and plays a significant role in our biodiversity crisis. Collectively, we need to eat less meat if we want to solve the climate crisis. For me personally, though, the largest source of my emissions comes from flying. Though they make up just 3 percent of overall global emissions, and only 10 percent of the global population took a flight in 2018, I'm what they call a "super emitter" — someone who typically takes six or more flights a year. Naturally, my carbon-intensive travel habits took a (planet-friendly) nosedive in 2020 and 2021 as a result of the pandemic, but since I've become fully vaccinated, those trips are quickly accumulating again. A wedding in Oregon. A vacation to Oaxaca. A business trip to San Diego. The total is still way down from my pre-pandemic days, when I used to fly nearly once a month, but I still have a lot of room for improvement. The silver lining to traveling closer to home? We live in an absolutely beautiful country, and my house is within a half-day's drive to some of the most incredible mountains, National Parks, and hiking, biking, and skiing trails on the planet. By exploring more of my own backyard, I can do my small part to help protect the future of all these places, too. — John Davies, Brand Editorial Director
Stop Buying Packaged Items I Can Make Myself
I love a good pistachio-cashew-almond milk and I'm a total sucker for a fancy, organic, pasture-raised bone broth for making soup and other recipes. but the truth is, all of these packaged goods, even if they come in a recyclable bottle, have a big carbon footprint by the time they make it all the way to my little mountain town. So, this year, I plan to start making them at home. — Laura Scott, Brand Social Director
Read more: Easy DIY Vegetable, Beef, and Chicken Stock Recipes
Buy Less
In the past year, my husband and I have spent a lot of time outside of our home. Flexible, remote jobs allow us to spend summers up north and winters out west. Each time, we pack our car with what felt like our whole lives but really was just the essentials — things we couldn't live without. One thing I particularly loved about this exercise was the feeling of living with just what you need. There's something so zen about having a pared-down closet and only the kitchen gadgets you really use. As a result, I want to focus on buying less next year. If it wouldn't make it "into the car" for one of our months-long trips, then I probably don't really need it. — Jessica Hann, VP of Brand Marketing
Use Fewer Disposables
While I was a lot more mindful of bringing my reusable water bottle with me everywhere before the pandemic, I realized that I have fallen off this habit as life has returned back with more family functions. It has been nice to have these family events return, but the majority of these gatherings have plastic cups or water bottles. This year, I'm going to make sure I bring my reusable water cup with me anytime I leave the house to reduce my plastic consumption. — Adrianna Cisneros, Brand Social Specialist
Get Creative With My Food Scraps
I get a lot of inspiration from Kathryn Kellogg, the creator of Going Zero Waste. So, naturally, when I saw her "Scraptastic Recipe" for making chips from potato peels, I knew I had to try it. I gave it a go one night after making dinner and it is just as good as I thought (especially if you are a potato-lover like me). To help avoid food waste in my kitchen, my goal for next year is to start getting the most out of all the vegetables I buy before adding them to my compost. Whether it be making broths with the help of our easy DIY article, keeping seeds from my peppers to regrow in my garden, keeping tomato peels and cores to make my own sauce, or even creating a little tea blend with my orange and lemon peels. Less waste is the name of my game. — Christine Carpio, Social Engagement Manager
Read more: Your DIY Guide To Naturally Dyeing Your Clothes
Have feedback on our story? Email us at [email protected] to let us know what you think!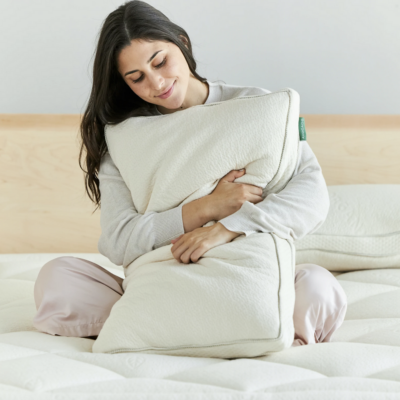 Shop Pillows
The Essential Organic Pillow Collection
Gentle, breathable, non-toxic support.
Buy Now