On the search for a new healthy snack or fun and festive holiday appetizer? You've come to the right place.
Introducing our Acorn Squash Fries Recipe, an easy and delicious way to enjoy winter squash — a highly underrated ingredient that packs in tons of health benefits.
Why You'll Love These Acorn Squash Fries
Budget-friendly: Acorn squash may look fancy, but it's actually inexpensive, so it won't break the bank if you want to start adding these fries to your weekly rotation.
Easy to make: All you need is an oven and baking sheet to prepare this flavor-filled snack, so you won't be left with a pile of dirty dishes when you're done.
Highly nutritious: When all you have is the same go-to healthy options, snacking can get a little dull. Our acorn squash fries not only elevate your snack game, they'll make it nutritious, too!
Benefits of Eating Winter Squash
All varieties of winter squash are incredibly healthy and help give your immune system a boost during the colder months. Here are a few reasons to love acorn squash.
Immunity: The beautiful yellow and orange hues of squash varieties are an indication of all the amazing carotenoids found inside. Carotenoids, such as beta-carotene, convert into vitamin A, which helps improve your body's defenses.
Gut benefits: Squash is also a great source of fiber — especially if you leave the skin on (yes, it's totally safe to eat!). Getting the right amount of fiber helps keep blood sugars in better balance and also supports a healthy gut, which is associated with reduced inflammation.

Blood pressure: Winter squash are high in potassium, an essential mineral that allows your body to maintain a healthy blood pressure. It's also shown to reduce the risk of cardiovascular disease.
Read more: Creamy Curried Butternut Squash Soup Recipe
Acorn Squash Fries (Serves 2)
Ingredients
1 acorn squash
1 ½ tbsp avocado oil, or more as needed
2 tsp cornstarch
1 tsp nutritional yeast, optional
½ tsp smoked paprika
½ tsp garlic powder
½ tsp dry thyme
¼ tsp kosher salt
¼ tsp black pepper
Instructions
Preheat oven to 425ºF and line a baking tray with parchment paper.
Cut the acorn squash in half lengthwise and remove seeds and stem.
Cut into wedges.
Add squash wedges to the tray and coat with the oil and spices. Toss wedges in the mixture until evenly coated. If using a larger squash, feel free to use a little more oil to coat as needed.
Place the tray in the oven and bake for 25 minutes.
Flip the wedges and roast for another 10 minutes or until brown on both sides.
Serve the fries immediately with your favorite dip and enjoy!
Read more: Healthy Carrot Cake Cookie Recipe
Did you try out our Acorn Squash Fries Recipe? Share it with us by tagging @avocadogreenbrands on Instagram or Facebook. You can also follow Catherine @plantbasedrd for more delicious, nutritious recipes.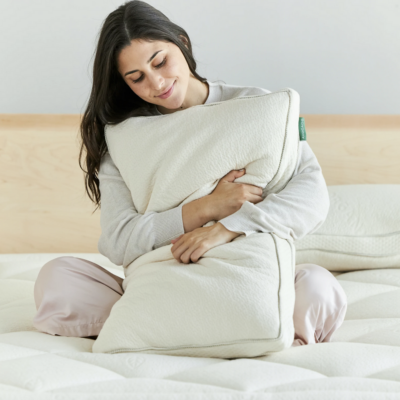 Shop Pillows
The Essential Organic Pillow Collection
Gentle, breathable, non-toxic support.
Buy Now