Earth Day is this coming Sunday, on April 22nd — have you decided how you're celebrating? While the day itself is relatively young — Earth Day was founded in 1970 — it has become more and more urgent that we observe it as a reminder to shift our focus to becoming stewards of this incredible planet we live on. As news of climate change, extinction and destruction of natural resources dominates the news, we as citizens must work to champion our planet and keep it top of mind as we go about our day to day lives. Need some fresh ideas for how to celebrate Earth Day? We've got you covered.
#1 — Organize a Beach Cleanup
Winter is finally, gloriously over, with nothing but lazy, beach-filled days stretched ahead. Why not make your local shoreline that much more inviting by gathering some friends and picking up the detritus that has washed ashore over the past several months? Organizing a beach cleanup is an incredibly simple and effective way to make a small dent in the overwhelming amount of plastic clogging our oceans. The World Economic Forum estimates that approximately eight million metric tons of plastic enter the ocean every year. Yes, you read that right. Eight million. A year.
This massive amount of plastic poses an enormous threat to wildlife and public health, causing immediate hard to fish and birds that ingest it and possibly contaminating our tap water (to name just a couple ways discarded plastic waste affects the earth) — removing at least some of the trash on your local beach, and recycling what you can from that, prevents that waste from causing further harm.
You'll need:
Protective gloves (choose reusable, washable gloves to minimize waste)
Trash bags (try grabbing two colors, one for trash and one for recycling, or assign people roles)
Yourself and/or a group of friends
Want to go the extra mile? Put up a flier at your local coffee shop or make an event page online to help spread the word and widen your network.
#2 —Go a Day without Waste
It may sound simple, but going a day without creating any waste is harder than it looks — which is what makes it so important. Challenge yourself to create zero waste in one day and your eyes will be opened to just how much garbage we each create, whether we're aware of it or not. Even the most virtuous Earth-lovers among us have areas that could be improved, and this simple challenge is a great way to raise your own awareness. Maybe you produce more food scraps that you realize (time to join a composting co-op!), perhaps your single use plastic consumption is a little… excessive (hello iced coffee habit!) — your zero waste day will serve as a lesson in changes to make year-round to reduce your personal footprint. Learn more about going zero waste from Earth 911.
#3 — Say 'Goodbye' to Plastic
Still relying on single-use plastic baggies and plastic storage containers in your kitchen? Been meaning to make the change to eco-friendly glass containers and reusable bags? There's nothing like Earth Day to provide the inspiration!
Take the day as designated time to finally bid those baggies adieu and send those plastic containers to recycling once and for all. Then, treat yourself and stock up on some glass storage jars for your fridge and pantry (like Weck jars which are both pretty and affordable), reusable sandwich bags (like (re)zip or Stasher bags), reusable produce bags, and a few totes for groceries if you don't use them already. Easy right? Also, bonus: No more disorganized Tupperware drawer of shame. Once you've said goodbye to single use baggies and containers, take a look at what else in your life you can replace to cut out single-use plastics:
Love sipping iced coffee or iced tea from a straw? Invest in a few stainless steel straws to keep at home and carry with you so you can say 'no' to plastic straws at takeout and coffee shops. A straw may seem harmless, but over 500,000,000 plastic straws are used daily in the United States alone – with the majority ending up in the trash. Visit the Plastic Pollution Coalition to learn more about straw pollution and more ways to help.
Once you've replaced your straw habit with a reusable option, it's time to find a reusable coffee cup. With so many options for hot and cold coffee – like those offered by  Hydro Flask, Keep Cup and Corkcicle – it's easy to find a cup that fits your coffee drinking habit. And saying 'no, thank you' to paper and styrofoam cups at your local cafe could benefit more than the Earth – many coffee shops offer a small discount to customers who bring their own.
Looking for more ways to green your grocery routine? Replace those one-and-done produce bags with a reusable option, like these from Flip & Tumble, or make your own from washable, see-through mesh. If you don't already own a million grocery totes, these totes from Baggu are a fun and washable option. With more and more US grocery stores hopping on the pay-per-bag bandwagon to cut costs and usage, you'll be saving your pennies and the planet while you shop.
Think you can't live without plastic wrap or tin foil for food storage? Think again! Along with your shiny new glass containers, there are plenty of ways to eschew plastic cling wrap and tin foil from your life. First, try going without it for a week or two after you've replaced your storage containers with glass to see if you really need an alternative.
Then, if you really, truly can't live without something to cover bowls and containers with, try a reusable wrap, like Bees Wrap. If you use tin foil for baking or cooking, replace it with biodegradable parchment paper (you can even bake a potato in parchment, so no excuses) or a reusable Silpat mat — once you say goodbye to these "essentials" you'll be surprised at how easy it is to live without them.
#4 — Plan a trail cleanup
If you can't get enough of the great outdoors and fresh air, why not combine your passions and plan a trail cleanup? Hiking, trail running and mountain biking are all incredible ways to take advantage of what the Earth has to offer, but unfortunately not everyone is as clued in to the "carry in, carry out"/"leave only footprints" philosophy. Trash and litter left on trails poses a threat to fellow hikers and wildlife, along with poisoning the planet.
Counteract the effects of litter while setting an example for other outdoor enthusiasts by planning an Earth Day hike with some friends, and bringing some bags along to collect what you find on the trails. Remember to recycle what you can, and make a mental note to always tote a trash bag with you when enjoying the outdoors to continue cleaning up long after Earth Day has come and gone.
#5 — Green Your Routine
Feeling like a homebody on Earth Day? Maybe you're just on a roll from overhauling your single use plastics and containers? Why not go the extra mile and green your entire routine? Replacing harmful chemicals in your home with eco-friendly options not only protects your health but protects the health of your neighbors, local wildlife, and the planet, too.
After all, that toxic cleaner doesn't just disappear when you wash it down the drain — it goes straight out into the world, often leaching into groundwater. Thankfully, replacing your cleaning products is simple — and fun — to do.
Start here: If you're not into DIY (hey, we get it, not everyone is), these tips for greening your routine are a great place to start.
Ready to go full Martha? Learn how to make your own cleaning products.
Want to take it one step further? Tackle the laundry room with this easy tutorial for making your own dryer sheets.
#6 — Get the Neighborhood Involved
It's a familiar sight to those who live where snow falls: the unsightly reality of what's left behind on city streets after the snow banks melt. Rather than simply stepping over bottles, cans and other trash, work with your local community organization to organize a neighborhood cleanup.
SImilar to the beach cleanup, above, most of what you need is pretty simple: gloves, bags, and wo/manpower. However, if a cleanup isn't already planned, it's a good idea to check with your local civic organization and/or waste disposal facility to plan where those bags of trash and recycling can be dropped off, especially if you have designated trash days.
#7 — Volunteer Your Time
If you're a pro at all of the above, why not share your skills and teach others what you know? Encouraging others to go green does take tact and gentle coaxing, but if you've got the gift of instruction – use it! Ask a friend or family member if they could use a little help sorting through their plastic storage containers or shopping for reusable storage alternatives (you can be really nice here and offer to organize their pantry for them, too).
Or plan a fun day of DIY to help someone make their own cleaning products to replace the chemicals under the sink. Love trees? Teach some young ones why trees and plants are important, or offer to help in your local community garden. Spreading the Earth Day love is a great way to extend the virtues of this one day a year that asks us to expressly focus on this one planet of ours.
#8 — Plant a Tree (or Ten)
Want to improve air quality and fight deforestation all in one fell swoop? Plant a tree! Even better, plant 10. Of course, planting a miniature forest is a little more complicated than simply visiting a nursery, buying a sapling and plopping that sapling in the ground. Visit the Earth Day Network to learn how, why and where to support reforestation and how to organize your own tree planting.
How are you celebrating Earth Day? Any tips to share? Let us know by tagging us with @AvocadoMattress or #AvocadoGreenMagazine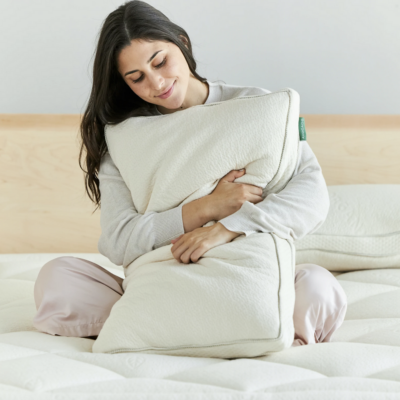 Shop Pillows
The Essential Organic Pillow Collection
Gentle, breathable, non-toxic support.
Buy Now