Laundry isn't the most glamorous of subjects, but it's often the elephant in the room when it comes to living a greener, more eco-conscious lifestyle. Even if you've thoroughly greened your beauty routine and your cleaning supplies, you recycle and belong to your local composting co-op, the laundry room is often the last on the list to make the big switch.
Why is it that laundry is the final frontier in going green? Is it due to our habits (many of us stick with the same detergent our mothers used when we were children)? Or perhaps because of our deep-seated ideas that harsh detergents and industrially-made dryer sheets are simply the status quo — that is, the only way to get good and clean.
The Not-So-Soft Side of Dryer Sheets
Unfortunately, while those store-bought necessities may leave our clothes smelling fresh, they often leave something far less pleasant behind: chemical residue. Dryer sheets especially. Invented after the rise in popularity of at-home washers and dryers, which brought our laundry indoors to be washed and dried (only the lucky few know the true joy of sun-dried sheets these days), dryer sheets were created to prevent static cling.
Eventually, along the way they picked up another use: to make our clothes smell even more fresh. Fresher than freshly washed. For many, dryer sheets also replaced fabric softener, which deposits a fine (chemical) film on clothes to make them feel soft. Modern dryer sheets took over for fabric softener, and now impart a softening film while they infuse our clothes with mountain fresh scents. The problem is, those chemicals are released into the air when the dryer is turned on, and even worse, they're worn right up against our skin when we get dressed every day.
Some of the chemicals used to make dryer sheets include:
Ethyl acetate — can irritate skin and respiratory function.
Dichlorobenzene — long-term exposure could affect the nervous system, known to irritate the eyes, nose and throat.
Chloroform — Yes, really. The same chloroform used in old-timey medicine that was often fatal. Can cause issues with the nervous system among other things.
And that's just the tip of the iceberg. It's enough to want to throw in the (staticky) towel. Luckily there is an alternative (can you guess what it might be?).
A Natural Alternative
So, store-bought dryer sheets are out. What to do? Make your own, of course! Making your own dryer sheets is super easy and remarkably cheap — not only can you customize the scent using all natural ingredients, but the project costs about a fraction of what you might might spend on name brand dryer sheets, especially if you work with recycled materials, like an old tee shirt and upcycled jar.
And don't let its scent fool you, white vinegar actually has softening effects, and can even freshen and further deodorize laundry even more (and don't worry, the vinegar smell is gone as soon as your laundry is dry, leaving only the light fragrance of your essential oils behind). Ready to transform your laundry room into an eco-friendly paradise? Learn how to make your own dryer sheets below.
DIY Reusable Dryer Sheets
Materials:
1 cup distilled white vinegar
20 drops essential oil of choice (not mixed with jojoba oil)

Lavender + Cedarwood
Bergamot + Ylang Ylang
Lemongrass + Peppermint
Orange + Bergamot

100% cotton fabric (about 1 yard – we recycled a men's large cotton t-shirt for this)
Large glass jar with tight-fitting lid (we used a recycled 32 oz. coconut oil jar)
Scissors
Step 1
Use scissors to cut the fabric into uniform squares roughly the size of a store-bought dryer sheet. No need to be perfect – remember, their destination is the dryer.
Step 2
Next, pour the white vinegar into the jar. Then add about 20 drops of your favorite essential oil combination. Seal the jar and shake to combine.
Step 3
Add the fabric to the jar and allow the sheets to soak up the essential oil mixture. Add the cap and store in your laundry room or under the sink until ready to use.
To Use
Take a sheet or two out of the jar and squeeze out any excess liquid. Add to your dryer with your wet laundry and dry as normal. When your clothes are dry, just add the dryer sheets back to the jar and shake to soak. Refill with vinegar and essential oils when needed.
Do you make your own laundry products? Share your DIYs with us on Instagram or Facebook with @AvocadoMattress or #AvocadoGreenMagazine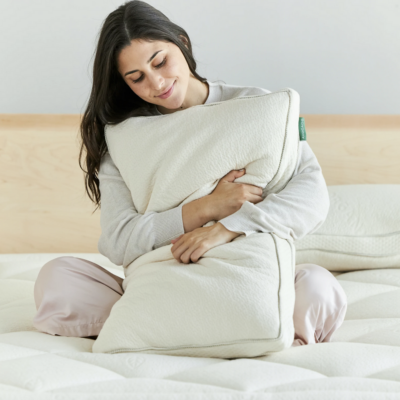 Shop Pillows
The Essential Organic Pillow Collection
Gentle, breathable, non-toxic support.
Buy Now