Last weekend's heatwave left much of the country turning up their air conditioners and suddenly wishing for the crisp weather of fall.
Humid and hot, it was the kind of weather you either love – if you're lucky enough to live close to a body of water and have plenty of shade close at hand – or loathe. Whether you hide from the heat waves of summer or are a certified sun-worshipper, there's one thing nearly everyone can agree on: an icy drink on a hot day is one of the joys of sticky-hot weather. Smooth, cooling, and the ultimate in summer refreshment, an iced latte beats the heat when nothing else can – but sometimes you don't want a traditional espresso-and-milk drink. Lucky for you, there are plenty of flavorful ways to cool off this summer. Whether you're looking for the balanced energy that matcha green tea can provide, love a creamy vanilla latte, or are looking for the anti-inflammatory support of turmeric, below we're offering three recipes for everyone's favorite summer beverage:
Matcha-Mint

Ingredients:
1 tsp fine matcha powder
8 oz almond milk
2-3 drops peppermint oil
2 drops organic liquid stevia
How to: Combine all ingredients in a blender and blend on high until frothy. Pour over ice. Enjoy!
Vanilla Café Creme
Ingredients:
8 oz cold brew
1 scoop Vital Proteins Vanilla Collagen Creamer
4 oz. canned full fat coconut milk
Optional: 2-3 drops organic liquid stevia or other sweetener
How to: Pour cold brew over ice. In a blender, combine coconut milk with collagen creamer and blend until well combined. Add to glass and stir. Taste, add sweetener if desired.
Ginger Turmeric
Ingredients:
8 oz. plant-based milk
1 Tbsp raw organic honey
½ tsp vanilla
½ tsp turmeric
¼ tsp freshly ground ginger
¼ tsp ground cinnamon
Pinch of cardamom
How to: Combine all ingredients in a high-speed blender and blend on high until smooth and frothy. Pour over ice. Enjoy!
What's your favorite iced drink for summer? Share with us on social by tagging @AvocadoMattress and #AvocadoGreenMagazine!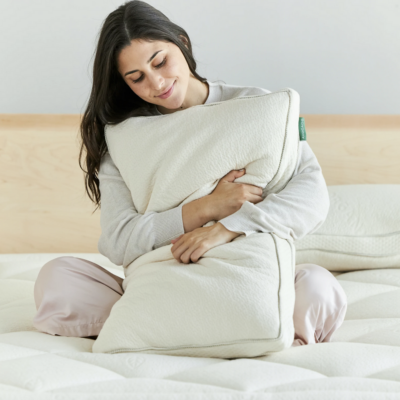 Shop Pillows
The Essential Organic Pillow Collection
Gentle, breathable, non-toxic support.
Buy Now