Zero-waste refill stores enable consumers to shop sustainably by reducing plastic and packaging waste associated with grocery items.
The typical trip to the grocery store produces a ton of waste, from grocery store bags (paper or plastic), plastic, and glass to non-recyclable, mixed-material containers for produce, snacks, and toiletries. By the time you finish shopping and head home, you're saddled with an armful of single-use materials.
Luckily, refill stores — or zero-waste shops — are popping up to tackle the problem. These eco-friendly, modern grocery stores offer the option to refill bulk goods, like flour, soap, coffee, and nuts, in reusable containers that shoppers bring from home.
In the U.S., we produce more than 82 million tons of waste from containers and packaging each year, and supermarkets are the biggest offenders. Those made of plastic are particularly problematic — the synthetic material can take anywhere from 20 to 500 years to decompose in landfills. Shockingly, even with recycling programs in place, only 10 percent of all plastic ever produced has been recycled.
Now, plastic is everywhere. Plastic and microplastic pollution has been found across Earth — from Mount Everest to the deepest depths of the ocean, to within your own blood. Chemicals released by plastic waste can also leach into the environment, contaminating groundwater, oceans, rivers, and soil and negatively impacting animals and plants.
Read more: How Sustainable Fabrics Reduce Microplastics
For environmentalists, reducing plastic waste has been an essential mission for several decades, and despite pushes for paper straws and reusable bags and water bottles, the world is still producing double the amount of plastic it did two decades ago.
While it's impossible to ditch plastic completely, individual consumers can make a difference by foregoing single-use plastics where they can. Refill stores, like package-free shop re_grocery, in Los Angeles, offer the ability to do just that.
Re_grocery sells a range of bulk foods, including dried fruits, rolled oats, pastas, lentils, oils, sugar, rice, and even bulk powder for your dishwasher and laundry needs. But they aren't the only shop trying to make a dent in packaging waste. On the East Coast, the New York area has several refill stores — like Precycle, Earth & Me, and Sustainable Village — some even offer bulk shampoos, conditioners, soaps, toothpaste tabs, lotions, and pet foods, along with produce and other typical grocery items.
Most of these stores are small and independent but a handful of larger corporations are also jumping on the refill train, following the example of classic bulk grocery stores such as Mom's Organic Market, a Mid-Atlantic bulk supermarket chain, and Canadian bulk grocery store Bulk Barn, both founded in the '80s.
Read more: Our Guide to Efficient Bulk Food Storage
In the UK, Asda, a popular British supermarket chain, opened its first refill store in 2021 as part of its mission to reduce plastic and help customers shop more sustainably. Shoppers can buy in bulk from over 100 loose products — including name brand cereals such as Kellog's, loose leaf teas, and Procter & Gamble's shampoos and conditioners — often at a cheaper price point.
Meanwhile, luxury beauty brand L'Occitane has installed refill stations at several stores across the globe that offer refills on products like the classic verbena shower gel, citrus verbena shower gel, and shea verbena liquid soap.
The zero-waste grocery store business model is a transformative one, but there are some drawbacks. Refill shops often require customers to bring in their own clean, dry containers to avoid contamination, and to reliably reuse them instead of throwing them away once they're empty. But when you consider the amount of plastic and packaging waste a simple act like shopping at a refill store keeps out of our environment, making the switch is a no-brainer.
The next time you're due for a grocery shop or a toiletry refill, look for a bulk refill store near you. Not sure if there's one around? Consult this robust list of refill stores in your state.
Read more: Why We Need to Ditch Plastic Packaging
Have feedback on our story? Email [email protected] to let us know what you think!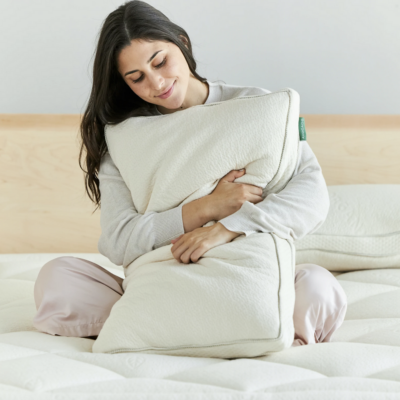 Shop Pillows
The Essential Organic Pillow Collection
Gentle, breathable, non-toxic support.
Buy Now