Straws are ending up all over the place, including the ocean. It's ridiculous, but it's an undeniable problem. Roughly 500 million plastic straws get thrown away every single day. They're not recyclable, and they are so lightweight they often blow out of garbage trucks and dumpsters, right into our planet's ecosystems.
Because they're made of plastic, straws that get used for 5 minutes literally take 500 years to biodegrade — or so scientists think. Nobody's lived for 500 years to check yet. They're showing up everywhere: in parks, waterways, and oceans, where they get entangled with nature.
There are few videos on the internet more memorable than the one of the sea turtle getting a straw pulled from its nose. Research biologists noticed the straw while examining the sea turtle and spent a grueling few minutes on camera, pulling a shriveled, brown plastic straw from the turtle's nostril. The video haunted the internet for months. People were outraged, because there it was, for all the world to see: the plastic problem, in this poor, defenseless sea turtle's nostril. It was a much-needed wake-up call.
Around the world, restaurants and bars started doing away with plastic straws. 'Available Upon Request' became increasingly popular. There were alternatives to plastic straws, but a convenient solution that was easy to always remember didn't exist. That's when one college student decided to take matters into her own hands.
Meet FinalStraw
Cue FinalStraw — the world's first collapsible, and literally unforgettable straw. Clip it to your car keys, unfold it like James Bond, and sip away. The carrying case keeps it clean, and the keychain means we're all officially out of excuses.
We caught up with Emma Rose, the CEO and Founder of Final who introduced the world to FinalStraw: her solution to the plastic straw problem.
Q: What do you think contributed to your success on Kickstarter?
Rose: When we launched the Kickstarter campaign, we had a goal of $12,500. In the first 48 hours, we raised over $200,000. By the end of the month, we had raised $1.89 million. FinalStraw's campaign was successful thanks to a lot of hard work, quite a bit of luck, and a community that rallied around the product. But ultimately, it was our timing that made the Kickstarter so successful. When we launched, Seattle had just banned straws and corporations were following suit. Starbucks, Ikea, and Alaska Airlines were all banning single-use plastic straws, but there weren't any portable, reusable solutions on the market. FinalStraw filled that gap and created a product that was convenient and fun for people to use.
Q: Why is being a member of 1% For the Planet important to you, in addition to all you are already doing?
Rose: As a member of 1% for the Planet, we donate at least one percent of our sales to environmental nonprofits every year. Being a member of 1% is important to us because it brings our dedication to our mission to life. The collaboration enables us to support others who have been working on these projects for much longer than we have. Through this partnership, we support plastic awareness campaigns, children's educational programs, and plastic pollution policy and legislation. As we continue to grow holistically, we're looking at three factors: people, planet, and profit. As consumers become more educated about the types of companies they're supporting, they seek to support companies that uphold their values. Companies that don't uphold these values will likely start to die out.
Q: Were you always interested in sustainability or is it a passion you developed later in life?
Rose: I found my passion in sustainability while in college at University of California, Santa Barbara. I felt like there was a disconnect between the higher education that I was seeking and my daily actions. I was in college so that I could contribute to the world on a greater level, so I could find my place in the world — yet I also found myself creating unnecessary waste on the weekends, using red Solo cups, straws, single-use plastic plates, and more. I began to realize the life I was living contradicted the purpose and education I was seeking. Those feelings, combined with the sight of trash everywhere, inspired me and a few friends to do a beach cleanup dressed as mermaids (we already had the outfits in our costume boxes)! We had so much fun cleaning up the beach and people responded in such a positive manner that we were ultimately inspired to create Save the Mermaids, a nonprofit that is dedicated to educating children about single-use plastic. My experience at UCSB and with Save the Mermaids helped shine a light on what truly mattered to me and made my path very clear. I went on to obtain my master's degree from Harvard in Environmental Management and Sustainability and spent four years working at Los Alamos National Laboratory.
Q: In addition to your FinalStraw, what is one other sustainable item you can't leave home without?
Rose: A reusable water bottle, coffee cup, and cutlery!
Q: What's next for Final?
Rose: We're creating an entire line of Foreverables — convenient reusable items designed to last, well, forever! Stay tuned for FinalFork!
This Is the FinalStraw
FinalStraw isn't about making you feel bad for wanting to drink with a straw. We're people, and we're imperfect, and straws keep us from getting smoothie on our upper lips. But in all seriousness, FinalStraw exists because this is a problem that doesn't need to be a problem, and it's an easy fix: Reusable straws you're only going to forget if you forget your keys. And you really shouldn't forget your keys.
What waste stream have you managed to cut out of your life in the last year? Show us on Facebook or Instagram and tag us in the post! @AvocadoMattress and @FinalStraw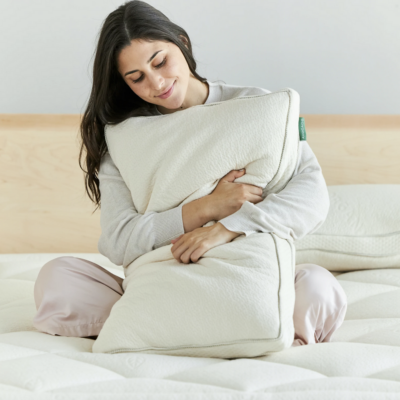 Shop Pillows
The Essential Organic Pillow Collection
Gentle, breathable, non-toxic support.
Buy Now