Screen time has defined much of our Covid-19 existence, but viewing public art is one of the few cultural experiences that can still happen in person.
I hadn't realized just how much my landscape was changing as public health orders effectively shut down most of Santa Fe. Only as I began to regularly walk trails that I'd only taken passingly did I begin to notice the sudden rise in public art. There were murals already emblazoned on cinder block walls lining a trickling Santa Fe River and metal sculptures punctuating trails, but new wheatpaste posters began to show up overnight — the medium becoming a fast, if temporary, means for both documenting the pandemic and the social unrest that seemed to be 2020's calling card.
One poster called for the "eviction" of an imperial monument. Others simply asked passersby to wear a mask and wash their hands and a few championed immigrants' rights. Then there was a mobile Black Lives Matter mural that changed locations monthly as its community of makers sought to give it more visibility. Photos of the artwork rapidly made their way onto social media, where users shared it hundreds of times. Elsewhere in northern New Mexico, empty real estate became sites for temporary art installations that could be viewed through windows. In the ski town of Taos, buildings became scrims for a weekend of nightly artist projections viewed while driving (or walking or biking) through the downtown Plaza.
According to the Association for Public Art, "Public art can express community values, enhance our environment, transform a landscape, heighten our awareness, or question our assumptions. Placed in public sites, this art is there for everyone, a form of collective community expression." The accessibility of public art has always been its strength — something punctuated even more this year with the Covid-19 pandemic. Even now, artists continue to adorn our streets.
As most art galleries and museums shut down, or drastically reduced their admissions, many outdoor sculptures, murals, and temporary installations are still occupying walls, greenspaces, and lining thoroughfares, visible to all in ways that are safe and socially distant. They are an integral part of many cities' urban ecosystems, offering the kind of embodied and self-guided viewing experience we've been craving these past several months of quarantine.
Atlanta's Beltline spans 12 miles along its west, south, and east sides like a horseshoe hemming in the city center. Its multi-use trails and greenspaces have remained open throughout Covid-19 in what the city calls a year-round public art collection that includes everything from side-by-side murals running along the old railroad tracks on the Northeast trail, to site specific installations like a gold-painted decommissioned Crown Victoria sedan and a topsy-turvy tiny house on stilts. Like other cities, the Art on the Beltline offers maps for identifying temporary and permanent artworks that are located on fully walkable and bikeable trails.
Mississippi-Choctaw artist and 2019 Macarthur Fellow Jeffrey Gibson recently installed his kaleidoscopic pyramid, Because Once You Enter My House It Becomes Our House in Long Island City's Socrates' Park. At a time when social justice advocates are calling for the removal of racist monuments across the country, Gibson's multi-tiered sculpture pays homage to pre-Columbian Indigenous architecture of Mississippian tribes and queer camp aesthetics. And the park, like all parks in New York City, is currently open (see guidelines).
The New Orleans Museum of Art Sydney and Walda Besthoff Sculpture Garden located in the Lakeview neighborhood occupies nearly 11 acres of City Park. Last year, it doubled in size and now includes some 90 sculptures. Currently open at 50 percent capacity, the Garden features the work of prominent artists like Yinka Shonibare, Robert Indiana, Hank Willis Thomas, and Frank Gehry, all tucked within a landscape of pines, magnolias, live oaks, and two lagoons. In recent years, New Orleans has also become a hotspot for muralists looking to paint sprawling images reflecting the city's past and present onto warehouse facades, garage doors of renovated autobody shops, and the sides of noteworthy taverns.
Avocado Green Mattress has also taken (and continues to take) the time to showcase local artists' works with their Beautify Earth project at their Santa Monica experience center.
Whether we seek out these urban treasures specifically or find them by happenstance, public art makes us experience our neighborhoods and outdoor surroundings just that much differently, inviting emotional responses, curiosity, critical thinking, acceptance of diversity and diverse perspectives, and even awe.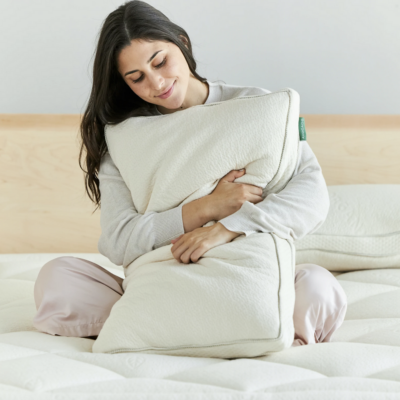 Shop Pillows
The Essential Organic Pillow Collection
Gentle, breathable, non-toxic support.
Buy Now