"Inventive and imaginative, Ultra Violet lights the way to what is yet to come… A dramatically provocative and thoughtful purple shade, PANTONE 18-3838 Ultra Violet communicates originality, ingenuity, and visionary thinking that points us toward the future." — Pantone
Thus reads the introduction to Pantone's color of the year, Ultra Violet. After years of shades that inspired derision — people had feelings about Marsala (last year's color), few of them good — Ultra Violet comes after a year of derision. 2017 was, arguably, a year when existing rifts were widened, and new cracks formed in many of our own foundations. For those fighting on the frontlines for the climate and social justice, for inclusivity and the beauty of nature, the sentiments of imagination, creativity and invention behind Ultra Violet could not come at a better time. But this gorgeous shade of purple-ish blue wasn't just selected from the ether and deemed "color of the year" arbitrarily…
A History of Color
By all appearances, it may feel as though Color of the Year should date back farther than just 18 years. In fact, the initiative was started by Pantone in 2000, when Cerulean was selected as the inaugural shade. In the years since, the Pantone Color Institute, the "Global Authority on Color" has selected everything from "Aqua Sky" (2003) to "Tangerine Tango" (2012) to carry the torch, and while the process of choosing a color to represent all the coming year has to offer may seem arbitrary to outsiders, it is, in fact, anything but.
In order to determine what each year's shade will be, Pantone combs the world searching for color inspirations and influences. Everything from pop culture to socio-economic conditions, film to travel destinations is considered, with the final result carrying more weight than the average person may realize. Pay close attention to fashion shows, musicians, branding… and even your own buying habits in the year (and years) to come, and you may just see a bit of Ultra Violet sneaking in, similar to the trickle-down effect of the fashion industry. But the color of the year is far more than a fashion plate or graphic design element, especially when it comes to alluring Ultra Violet.
The Most Enigmatic Color
"Enigmatic purples have also long been symbolic of counterculture, unconventionality, and artistic brilliance. Musical icons Prince, David Bowie, and Jimi Hendrix brought shades of Ultra Violet to the forefront of western pop culture as personal expressions of individuality." — Pantone
Purple in all its forms is a complicated shade. Perhaps not particularly popular in everyday life — a quality that only enhances its power when it does make an appearance — shades of Ultra Violet are often seen in nature as holding a magical or spiritual quality. Think of amethyst, photographs of the cosmos… in a time when people are turning more and more to the power of nature for healing, support and comfort, Ultra Violet represents the underlying mysticism of nature's gifts and what might be possible if we allow ourselves to let go, just a little bit, of our technologically-fueled lives. Similar in hue to amethyst, a stone of power and protection, Ultra Violet is a hue for the non-conformists (hello Prince, Bowie and Hendrix!), for those looking to make a powerful, creative and indelible mark on the world.
What We Can Learn from Ultra Violet
"Historically, there has been a mystical or spiritual quality attached to Ultra Violet. The color is often associated with mindfulness practices, which offer a higher ground to those seeking refuge from today's over-stimulated world. The use of purple-toned lighting in meditation spaces and other gathering places energizes the communities that gather there and inspire connection." — Pantone
It could be argued that we need colors like Ultra Violet now more than ever. Color holds power and inspiration, and can inspire not only creativity… but action. After a politically-charged year when many of us had our eyes opened to the troubles of the world, creatively-charged artists, musicians and thought leaders are in high demand. Ultra Violet is meant to inspire forward thinking, not just of the year to come, but of the decades down the road, when the marks we make today will be looked back upon, like an astronaut looking down to earth. Ultra Violet also offers refuge.
As the quote above states, there's a reason shades of purple are selected for meditation spaces, this mysterious shade hold calming powers. Try keeping a small chunk of amethyst in your pocket to touch whenever you need grounding during a stressful day, or add a tiny piece to infuse a DIY pillow spray with amethyst's creative powers.
Color is so much more than variety added to the world. It has the power to inspire emotion, creative thinking, mindfulness and action. Even if purple isn't your thing, let the qualities of Ultra Violet inspire positive action throughout your year and see where it takes you!
What are your thoughts on Ultra Violet? Share with us on Instagram or Facebook with @AvocadoMattress or #AvocadoGreenMagazine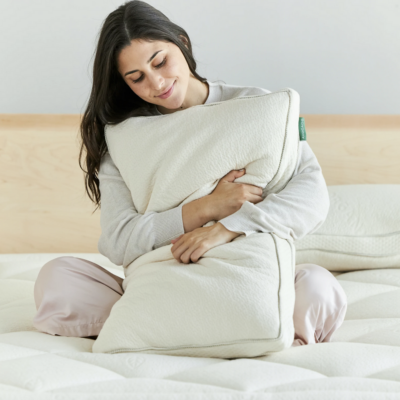 Shop Pillows
The Essential Organic Pillow Collection
Gentle, breathable, non-toxic support.
Buy Now