Virtually every single-use plastic product was created using nurdles — small plastic pellets that are causing major environmental problems.
If you've never heard of a nurdle, you're not alone. It's a silly, seemingly innocuous term that may even elicit a giggle when said out loud. But nurdles are far from harmless. The term refers to tiny, lentil-sized pre-production plastic pellets that are made up of many different kinds of plastic — and they're having serious impacts on the environment.
Nurdles are the building blocks of all plastic products; they make up everything from plastic bottles to automobile parts. During manufacturing, they get released into the environment via spills during the handling and production process and end up in our oceans and waterways through storm drains. In fact, nurdles have been found on every continent except Antarctica, with about 230,000 tons of nurdles ending up in the ocean every year.
But it wasn't until after the X-Press Pearl container ship in Sri Lanka caught fire and sank in the Indian Ocean in 2021 that environmentalists realized how seriously nurdles are impacting our oceans. A UN report estimated that nearly 1,680 tons of nurdles were released into the ocean during the fire. As a result of the spill, 470 turtles, approximately 50 dolphins, and eight whales washed ashore dead due to nurdle ingestion. And more than 20,000 fishermen had their livelihoods impacted because of the spill's toxic and devastating effects on ecosystems in the area.
Read more: 4 Plastic Pollution Solutions We're Rooting For
The process of creating nurdles — and all plastics — irreversibly impacts our climate because the processing plants where they're made usually run on fossil fuels. Fossil fuels accelerate global warming due to the massive greenhouse emissions they emit. But the problem doesn't end there. When nurdles end up in the environment, fish, birds, whales, and other wildlife often mistake them for food because they look like fish roe. The plastics have been found in the bodies of dead dolphins, and in the mouths of fish; in most cases, once the debris hits an animal's stomach, they stay there. If their stomachs fill with plastic, they'll eventually die.
Some fishermen have even reported finding nurdles in their ears after swimming. In the event that a fish does fully process a nurdle, they're highly persistent — they don't disintegrate or absorb quickly. When nurdles remain in the ocean, they act as toxic sponges and rafts, attracting other pollutants and harmful bacteria to their surfaces. And when the fish that digest the pellets are caught by fisherman, the humans who eat these fish are at risk for ingesting both nurdles and the host of toxins attached to them.
Today, nurdles are the second-largest source of micropollutants in the ocean by weight, but the International Maritime Organization has yet to add nurdles to the list of dangerous goods for safe shipping and handling. Advocates have been pushing those numbers, hoping for change. For example, after Sri Lanka's nurdle disaster, two other ships sunk and lost pellets — one in the North Sea, and one in South Africa. In those cases, 49 tons of nurdles were spilled and only 23 percent were recovered.
Read more: We Need to Cancel Plastics Now
Tanya Cox, a marine plastic specialist at the conservation charity Flora and Fauna, told The Guardian that classifying nurdles as hazardous would make a big difference for reducing their prevalence in the environment. "[With this classification], they must be stored below deck, in more robust packaging with clear labeling. They would also be subject to disaster-response protocols that can, if implemented in the event of an emergency, prevent the worst environmental impacts."
What can you do about nurdles? To start, you can join The Nurdle Hunt, a citizen science project which encourages people to hunt for nurdles on local beaches, collect them, and submit findings online. The project started when the founders of Fidra, a nonprofit working to reduce plastic waste and chemical pollution, took their children to the beach to hunt for nurdles.
"Unfortunately, it didn't take them too long to find and they were shocked by the high number of nurdles they found," says Megan Kirton, a project officer at Fidra. "Before long, a small group decided to take action and Fidra set up 'The Great Nurdle Hunt' in 2013."
Read more: The Nonprofit Reducing Plastic Waste One Community at a Time
The Nurdle Hunt is meant to raise awareness of the pellet pollution issue and to hold local governments and industry leaders accountable, says Kirton. The organization now uses data from the hunt to work with industry leaders, trade associations, and NGOs to communicate how problematic the plastic pellet supply chain is for our critical ecosystems.
Kirton suggests joining the Nurdle Hunt yourself by "heading out to your local beach or body of water, looking for nurdles, and submitting your findings to our global map of nurdle pollution."
What else can you do? Shift away from single-use plastics when possible; and, as the Ocean Blue Project reminds us, there's power in awareness — simply talking about plastic pollution and learning about nurdles can help us curb the troubling numbers and inspire others to take action.
Have feedback on our story? Email [email protected] to let us know what you think!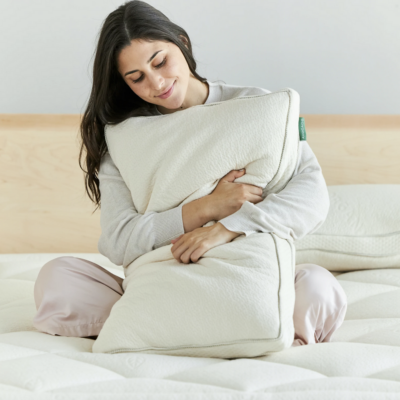 Shop Pillows
The Essential Organic Pillow Collection
Gentle, breathable, non-toxic support.
Buy Now