The Avocado Team took the pledge to reduce our plastic footprint. Here's what we learned.
People buy 500 billion plastic water bottles worldwide every year. More than 90 percent of all plastics are never recycled. The result? Eight million tons of plastic dumped in the oceans annually. The consequences are devastating — diminished ecosystems and wildlife as well microplastics in our own food and water systems.
That's why the Avocado team took the Plastic Free July Pledge. We didn't expect to be perfect, but we did want to challenge ourselves to be part of the solution and find new ways to reduce our daily use of plastics. Here's what we found.
How We Did On A Road Trip
If you decide to travel right now, please wear a mask! Although most masks aren't made of plastic, choose a more environmentally-friendly mask that's reusable, like our 100% organic Avocado Face Masks. Or, better yet, use what you already have. I use my bandana most often and think I look pretty cool doing it.
Staying away from plastic on the road is all about planning ahead and packing what you'll need so you don't have to stop at a gas station or store when hunger hits. Make a shopping list ahead of time. Don't just plan your meals, plan your snacks and beverages too, which are huge plastic packaging culprits. Try to avoid buying single serving packs of snack food and instead buy in bulk and divide your snacks up ahead of time (more on storage later). When you're at the store and buying produce, just skip those thin plastic bags. What's the point in them anyway? Your broccoli, head of lettuce, apples, and bananas can all go straight into your basket. Although some stores aren't letting you bring your reusable bags inside these days, they will let you bring your shopping cart out to your car, where you can neatly place all of your food in your reusable bags or laundry baskets before returning your cart.
For storing everything, I love our Yeti Roadie 20 Qt Cooler. This sits right on the floor behind the driver and passenger seats for quick snack and beverage access. I keep cold brew, almond creamer, seltzer, and kombucha (all in glass, paper, or aluminum bottles) and an assortment of snacks like carrots (cut and stored in water in mason jars), apples, nut butter, chips, and chocolate in our small cooler for easy access. Bigger food items for cooking and dinner go in a much bigger cooler in the truck bed or trunk. I pack anything that would go in a Ziplock bag in Stasher Bags instead. They come in all shapes and sizes, so they work perfectly for everything from food to toiletries.
Sometimes you just need a meal on the go. It's tough to avoid plastic containers for takeout food, but a little research goes a long way. We do a lot of travel in some very remote places, which can make being picky tough (which is why we plan ahead and try to pack what we need as a first choice). But, if you're smart about it, you can limit your plastic consumption even when it comes to fast food. In a pinch, we'll opt for Chipotle, which is served in a compostable cardboard bowl with an aluminum lid. Also, fries and burgers/veggie burgers are served in paper or cardboard, as if you needed an excuse to order a burger and fries over a fast food salad! And we always bring along our reusable utensils and remind our server to leave the plastic utensils out of the order. It's so simple and goes a long way! —Laura Scott
How We Did in the Bathroom
Since so many shampoos and conditioners come in plastic bottles, my bathroom was the first place I wanted to upgrade. It's always a good rule of thumb to remember to rinse all bottles before adding them to your recycling bin, but let's face it, how much of the leftover shampoo/conditioner can you really get out after you've tried to salvage every drop? This is why I decided to switch to safe-for-me-and-the-planet bars and brands that use biodegradable and/or compostable packaging.
My holy grail has been shopping with Package Free Shop. I've replaced everything from my dry shampoo to my lip balm, toothpaste, cotton rounds, and hairbrush. I also stopped using razors and instead started to make my own DIY wax from honey, lemon, and sugar (yes, it's not as convenient, but I never have to worry about replacing a razor again).
I'm lucky enough to live only a few miles away from New York City so I like to head on over to their stores to stock up. However, since their stores are still temporarily closed, I rest easy shopping online knowing that they use zero plastic in any of their packaging (I even save the boxes so I can reuse them, which my cats love!).
Next up comes my face wash, masks, moisturizers, and makeup. I started to DIY my own masks out of oatmeal, honey, and water — simple ingredients work great for my extra sensitive skin. My face wash is a little expensive but worth it in my book because it's made with nontoxic ingredients and also comes in glass bottles plus 100 percent recyclable packaging from Tata Harper. I also use their lip tint to give my face some color when I'm feeling fancy. As for mascara, I have a huge glass jar of castor oil that I use with an upcycled mascara brush that I disinfect. Et voila, natural and easy self-care without having to worry about plastic packaging.
Moisturizers were the hardest transition for me. It's taken me awhile to find a zero to low-waste alternative because I have eczema and need a lot of nourishment/balance (especially in the winter time). I've learned that less is more and I get exactly that with my YAYFOREARTH jar of gentle goodness.
Started and hand-made by the amazing Brooklyn-based sustainability advocate Stevie Van Horn, this safe and simple lotion is made with earth-friendly ingredients like organic olive oil, organic shea butter, local beeswax, and organic pomegranate seed oil — plus it comes in a really cute glass jar that I definitely plan on reusing when I run out. And that's not even the best part! You only need a little bit to last the whole day, so I can see this jar lasting me for a long time — always a bonus.
Last but not least: my menstrual cup. I've always been a little hesitant to make the switch, but I finally did and don't think I will be reverting back to disposable pads made with who knows what. —Christine Carpio
How We Did in the Kitchen
Going into this challenge, I was feeling pretty pleased with myself. After all, we'd long-ago swapped our plastic food storage for glass, favor reusable water bottles to plastic ones, and rarely get take-out.
One thing I didn't see coming was our refrigerator. Packed with individually washed and packed greens, fruits, and vegetables in — you guessed it — plastic. Even my favorite dressing, a little plastic statue, glared back at me. It definitely made me think twice during my next grocery store visit and made me realize how much easier it would be to go plastic-free at our local farmers' market. If I get super creative, I might even be able to recreate my favorite dressing (Trader Joe's Almond Butter Turmeric) myself.
Another hidden bummer: our coffee. When I checked out the package, it even had a "do not recycle" emblem on it. Yikes. I was able to find a comparable coffee (super dark roast, organic) in what seemed to be a cardboard cylinder, but it did have a plastic lid. This is definitely one I will be researching more.
Overall, I'm hopeful that by choosing to go plastic-free where I can, the places where I don't have an alternative will become fewer and fewer. I fully believe our little positive choices do add up! —Jessica Hann
How We Did While Hiking
I love snacks. And the highlight of any outdoor activity are the snack breaks. Gorp. Cheese and crackers. Chocolate. Give me all the snacks. Problem is, a lot of them come in plastic — that infinite toxin. So what to do?
Now, I am by no means a plastic-free saint. But I have a few practices that help reduce the amount of plastic that I use, while not diminishing my snack intake. I've gotten to know my local bulk aisles well. I load up on gorp ingredients for months and then mix small bags to take on each hike or bike ride my wife and I go on.
I've never brought reusable bags or jars to the bulk aisle. I can work on that. But I do reuse those plastic bags as much as I can. Sometimes we use them to wrap up a chunk of our cheese brick to take with us. They're also useful on hikes to pick up dog waste — that other infinite toxin. —John Davies
What intentional changes did you make during this year's Plastic Free July? Share your journey with us on Facebook or Instagram and tag us in the post @AvocadoMattress.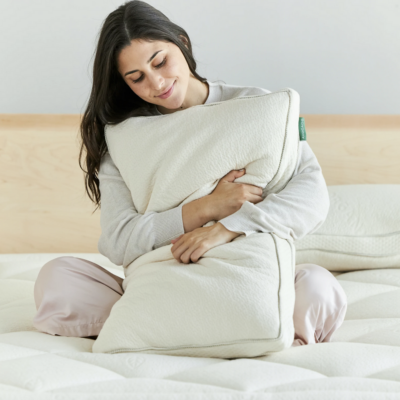 Shop Pillows
The Essential Organic Pillow Collection
Gentle, breathable, non-toxic support.
Buy Now