Feel like you need a break after your vacation? You probably have a case of travel burnout. Here's how to avoid it on your next trip.
After a decade in the industry working as a guidebook researcher, tour guide, and travel planner, Amanda Zurita knows travel burnout when she sees it. "You've done too much, packed your schedule too tight, and every monument, painting, and meal are blending together into something you're doing because you think you have to, not because it's particularly enjoyable," she says.
Amanda Zurita is a collector of experiences. She grew up spending summers in South America, setting a foundation for a lifelong infatuation with travel that culminated in a career as a travel writer and tour guide with a focus on Spain and Italy. Whether diving shipwrecks in Bali or hanging with alpacas in Peru, she is always looking for the next great story and unforgettable memory. She loves discovering under-the-radar restaurants, shopping local boutiques, and absorbing a place's history.
But losing interest in exploring, feeling overwhelmed by minor logistical challenges, or fantasizing about your own bed during a trip you've been looking forward to for months — maybe even years — doesn't make you a bad traveler. Navigating a new location and culture can be exhausting, and you may have already been on the verge of burnout from preparing to take time off — putting in more hours at work to wrap up a project, getting your home in order, making arrangements for a pet while you're away.
As travel starts to pick up again in earnest — the International Air Transport Association forecasted 150 percent as many passengers will fly in 2022 than in 2021 — even seasoned travelers have to get back in the swing of things. "Now that the floodgates have opened and we can actually travel again, we're pushing ourselves to consume so much of every experience and check everything off of our lists," says Zurita.
In 2019, Zurita and cofounder Jenny Young launched Gossamer Travel, a boutique tour company and trip design business that offers thoughtful, elevated travel experiences. Informed by thousands of miles logged and hundreds of stamps in their passports, tours are aimed at travelers interested in gaining a deeper understanding and appreciation for their destination. The group spends a half day together and the rest is free time, focusing on one activity per day to fully absorb the experience. Guests are welcome to visit other sights on their own but are also encouraged to just relax by the hotel pool with a book or find a quiet space for a nap. "When it came to planning tour itineraries, our guiding ethos has always been to maximize the experience without running people into the ground," says Zurita.
We talked with Zurita about her go-to strategies to recognize and manage burnout, the value of slowing down, and how to make your itinerary work for you, not the other way around.
Read more: 7 Sustainable Travel Tips For Conscious Adventurers
1.
What does travel burnout look like for you?
AZ: I know I'm feeling travel burnout when I'm becoming irritable (but sometimes I just need a snack). Over the years, I've learned to embrace "il dolce far niente," the sweetness of doing nothing. I have to remember that it's impossible to see and do everything and that there's actually so much value in slowing down, sitting at a park or a cafe, and just taking it all in.
2.
What are some signs of travel burnout to keep an eye out for? 
AZ: If every museum, street corner, restaurant blends into one, if you're looking at a masterpiece with apathy and bleary eyes, if you're snapping at your travel companions, or if you feel like you're eating, seeing, or doing anything because you're supposed to and not because you want to… these are all solid signs of travel burnout. Travel should be joyous. New experiences should light you up. If that's not happening, give yourself time to rest and recharge.
3.
How can you avoid burnout? 
AZ: Research goes a long way in feeling comfortable while you're traveling. I also hate taking up time while I'm traveling to do more research, so I really try to have a good sense of things before I take off.
I suggest making a list. What are the sights, activities, and restaurants that are a must-see? Do these places need reservations? Start there and then have a secondary list that would be nice to do, but aren't top priorities. I star places I'm interested in on Google Maps so I can see what's around me when I'm someplace new, and also have a standard spreadsheet that I use to plug in all the important details and leave notes about optional activities. But in general, I don't like having too much rigid structure. If there's something that needs a reservation, I'll plan a day around that.
And remember, you are still you while you're traveling. If you aren't into hiking at home, it's unlikely you'll be stoked to climb Kilimanjaro. It's good to open your mind and horizons while traveling, but don't think you'll suddenly be a different person with entirely different interests and abilities.
Read more: How to Maintain a Bedtime When You Travel with Kids
4.
What are your go-to strategies for managing burnout if it does arise? 
AZ: I will never apologize for choosing to grab some snacks or order room service, put on some trashy TV, and chill in my hotel room for a night if I need a break. This is what I mean about still being you while you travel. Sometimes you just need to indulge in the things that you know help you relax and feel normal — whether that's going to Taco Bell in Madrid or taking a bubble bath with a good book (both of which I've done on multiple occasions).
5.
How has your approach to managing travel stressors shifted or evolved due to the pandemic?
AZ: I feel like I'm a bit more patient as a traveler. I'm just so grateful to be able to go anywhere that annoying things like delayed flights or random museum closures or long lines don't get to me as much as they used to. I'm much better at being spontaneous than I used to be.
This interview has been edited and condensed.
Read more: How Unsustainable Is Flying?
Have feedback on our story? Email [email protected] to let us know what you think!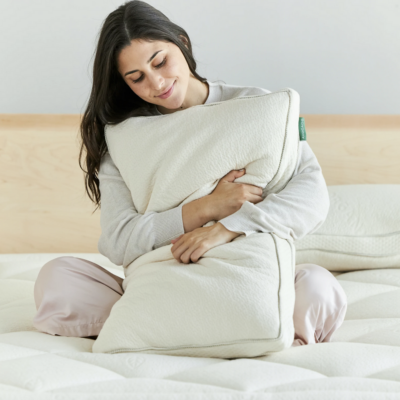 Shop Pillows
The Essential Organic Pillow Collection
Gentle, breathable, non-toxic support.
Buy Now