Over the past couple of years, since our team started our beloved giving back initiatives, we have partnered with some of the most impactful nonprofit organizations throughout the country. With missions varying from environmental conservation to educational opportunities and helping raise awareness of the importance of living non-toxic and zero-waste living, there is one particular organization that remains very close to our hearts and home.
If you've been following along on our journey to help protect our planet and build healthier communities, you may remember our past work with the gracious team at City Harvest. As a result of our last couple of donations, the group City Harvest has been able to rescue and deliver about 280,000 pounds of food that would otherwise go to waste. Yes, I did the math and just typing it out makes me feel grateful for the opportunity to work with such a special group of change-makers.
We can't let perfectly good food to go to waste when our hardworking neighbors are struggling to make ends meet and feed themselves and families. And we are excited to share that we've decided to work with City Harvest yet again (for the third time to be exact)!
To learn more about their "why," I had the chance to catch up with City Harvest for some insight on what they are working on and how they're improving their strategy to maximize the massive amounts of unused food they're rescuing and to make sure it's distributed in the most fruitful way possible. So let's get into the nitty-gritty…
With the holiday season right around the corner, the time to come together is now and the call to action is especially urgent with NYC's new federal Public Charge rule going into effect soon. Under this new rule, immigrants who receive public benefits, such as Medicare, SNAP, and housing assistance, could forgo their chances of permanent residency. With this comes the possibility of more people looking to for help to feed themselves and their families. And where do we come in? Among the number of City Harvest's initiatives, the hold Mobile Markets and deliver food to hundreds of soup kitchens, food pantries, and community food programs—our donations help them raise the funds to be able to do all this for free. Want to learn how this is possible?
Even if this doesn't affect you personally, the chances of it affecting your neighbors is extremely high—it is projected that around 475,000 New Yorkers will lose these benefits.
We stand ready with City Harvest to help feed those in need today and in the future, no matter who they are or where they come from. Every bit counts and you can join our cause!
Stayed tuned to learn what we will accomplish together with our donation this time around. (Hint: we have a few team bonding through volunteering events in the works.) And if you're not in the tri-state area, you can still help make a difference. There are many ways to fight food waste every day!
Want to continue following along our journey and learn what City Harvest has planned and achieved? Find us on social! @AvocadoMattress & @CityHarvestNYC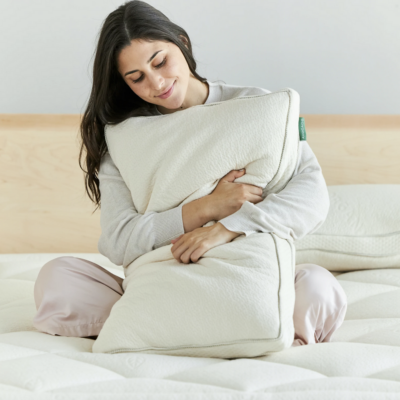 Shop Pillows
The Essential Organic Pillow Collection
Gentle, breathable, non-toxic support.
Buy Now