I have a minor obsession with sustainable home design. One day, I'm convinced that we'll all live in earth-covered hobbit houses, and pluck apples out of trees on the medians on our way home from work.

One day.

But until that day, I get my fix and scratch the itch by keeping up with the latest and greatest in sustainable home decor and design.

Aside from the LEED certified homes and eco-friendly mattresses, the market is BRIMMING with finishes and furnishings that are made more conscientiously. Buh-bye, vinyl, helllllo recycled glass countertops.

Whether you're just adding a fresh coat of paint or gutting a kitchen that's straight out of the 70s, there are so many ways to beautify and add value to your home that don't step on mother nature to do it.

#1—Use An Eco-Friendly Paint
Typical paints are loaded with toxic chemicals that off-gas and are a serious environmental hazard when disposed of. Clare paints are not.

Clare paints are zero VOC, packaged in 90% post-consumer content, and even get delivered right to your door. Head over to their website to order some peel and stick swatches to test out in your space, and dream BIG.

LEARN MORE ABOUT CLAIRE PAINTS
#2—Check Out Recycled Glass Countertops
I love recycled glass countertops because they're gorgeous, durable, and make use of a material that's really freaking hard to recycle. These recycled glass countertops by Curava are a great eco-friendly option and are available in a wide range of colors. They're also resin-based, which means you never have to worry about things like staining, etching, or sealing.

They're durable, beautiful, and one of the most sustainable ways to get rid of those salmon pink countertops from the 90s (you're welcome).

#3—Try An All-Natural Carpet
Carpet is probably one of the least eco-friendly home finishes out there, but hey man, I get it — hardwoods can be cold. If you can't live without carpeted floors, consider a 100% natural fiber option like Earth Weave. Carpet like this is hard to come by, but you won't miss the smell of the other stuff, I promise.

#4—Recycle the Carpet You Throw Out
Recycling carpet isn't the easiest, but one organization has made it their mission to keep this plastic-based material out of landfills. The Carpet America Recovery Effort has locations across the United States, especially on the east coast, where people can drop off old discarded carpet for recycling.

FIND A CARPET RECYCLING LOCATION NEAR YOU
#5—Shop Sustainable Home Goods
If you needed vases, furniture, linens — that sort of thing — then Bambeco is basically what you wish Pier 1 Imports was. This store is full to the brim with sustainable home decor, from recycled glassware to vintage Indian quilts.

#6—Upgrade Your Mattress to An Avocado
I may be tooting our horn a bit here, but it's for a lot of really good reasons. If part of your remodel involves finally replacing some flat pillows or a mattress with questionable stains, it's time to upgrade to an eco-friendly option from a company. I personally sleep on one (the pillow top version) and I LOVE it!

Our green mattresses are made with natural latex, recycled steel springs, and organic cotton, and the pillows are every bit as plush and sustainable.

Shop with a brand who puts our planet and people first, and who makes some of the best-darned mattresses and pillows in the world.

#7—Choose Linoleum Over Vinyl Floors
If you're looking at inexpensive options for flooring, linoleum and vinyl flooring are both tempting options. However, most people don't realize that they're two very different things.

Vinyl is made from petrochemicals and will never biodegrade. Linoleum, on the other hand, is made from rubber linseed oil, along with a few other generally harmless ingredients, and is actually biodegradable.

It can be safely burned without releasing toxic gases into the atmosphere, and some waste facilities will actually burn it to capture energy from the process.

#8—Dare to Go There: Try a Composting Toilet
Oh yeah, it's a thing—and it's surprisingly civilized. Composting toilets are well aware of their stinky stigma, which has prompted innovations that make these often waterless toilets both odorless and easy to maintain.

These composting toilets by Sun-Mar eliminate 90% of waste through a simple process of evaporation and ventilation, turning the rest of the waste in a composted nutrient-dense fertilizer.

Seriously—these are lightyears above outhouse quality.

LEARN MORE ABOUT COMPOSTING TOILETS
#9—Get Eco-Friendly Furniture from Medley Home
Sustainable furniture is becoming more and more of a thing, and I think it's so freaking cool. Aside from just being able to get a really swanky organic cotton armchair from Pottery Barn these days, there are also options like Medley Home.

What's really neat about Medley Home's furniture is that it's made from natural materials inside and out, from the natural matte wood sealant to the natural latex cushions.

#10—Try a Solar Water Heater
Solar water heaters can often depend on a sunny climate to really make a difference, but they've come a long way over the years. If your water heater is ready to be replaced anyway, look into getting a solar-powered replacement. Solar water heaters usually have back up electric heating elements installed in them, so they can even be suitable for cloudier climates.

In other words, you can install a solar water heater, and you may not always wind up with solar-heated water, but you'll still always have hot water.

What kinds of eco-friendly improvements are you making to your home this year? Share with us on Facebook or Instagram, and tag us in the post! @AvocadoMattress #AvocadoMattress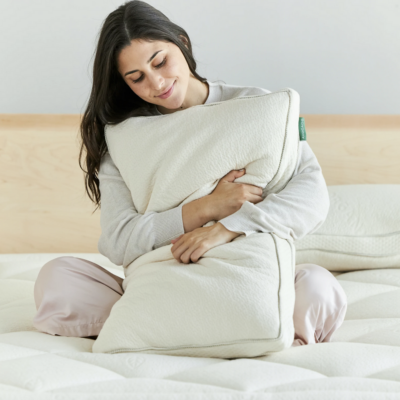 Shop Pillows
The Essential Organic Pillow Collection
Gentle, breathable, non-toxic support.
Buy Now