A lot of parents have become frustrated with the materialism of the holidays, and a big part of that is the constant waste — mountains of plastic and electronic toys consuming cash and resources.
I LOVE shopping for kids, and thanks to these amazing companies, I don't have to compromise my ethics to make sure everyone gets what they need to have an amazing Christmas morning. From clothes to bedding to feeding supplies, I've compiled the ultimate green gift guide for you to ensure your shopping this season is as sustainable as it is fun.
Green Toys
For Babies
Hevea is a great company making tough, non-toxic, all natural rubber toys. They sell some great teether and pacifiers, too!
I love all things Apple Park, and this adorable musical turtle is the perfect gift for the newest addition to your family! He's even made with organic cotton corn fiber filling!
This teether is completely biodegradable (in addition to being completely adorable), finished with vegetable seed wax, and filled with food-grade beans.
For Toddlers
For the kid that dreams of a dollhouse, this playset (as are all Green Toys) is made from 100% recycled plastic and built to last!
Plantoys uses a unique rubberwood material to make biodegradable and durable toys that stimulate learning, sans AA batteries. This playset is great for inquisitive little mechanics!
Decorated with water based paints, this all-wood work bench features colorful tools and hardware that are great for refining those motor skills!
For Kids
There's something incredibly satisfying about watching marbles roll down a track. This Amish-made all wood set from Lehman's will last long past your kids' graduation.
A great science project for aspiring solar engineers, kids can build their own solar powered car with this easy to build kit!
Whether you have a treehouse or not, this sturdy pulley set is a great way to get kids outside when the weather gets mild again.
Green Games & Puzzles
For Toddlers
Another great toy from Green Toys made from recycled plastic milk jugs, this puzzle is chunky enough for little hands to enjoy.
Get kids familiar with recognizing their moods with this great memory game from Plantoys.
Little gardeners will love building their own blooms with this creative kit! Mix and match the pieces while you wait for the ground to thaw, and get kids excited about gardening in the spring!
For Kids
Ideal for kids a little older because of the small pieces, this game requires the fine motor skills of something like Operation, but with sustainable materials like rubberwood.
This kit includes three different kinds of organic seeds, pots, a trowel, a planter tray, and soil pods, so your kids can start growing indoors before spring breaks!
If you have a kid that really loves puzzles, check out the line by Springbok. They're made from 100% recycled materials, and even vegetable-based inks!
Green Dinnerware
These bottles can be used interchangeably with the silicon spouts to make them sippy cups, straw cups, or even sports bottles! 100% plastic-free and built to last, they're my favorite bottles of all time.
These plates are great for kids, and made from 100% recycled milk jugs!
This beats the pants off of endless mountains of tupperware. These stainless steel lunchboxes are even customizable with custom magnet sets!
Green Clothes
For Babies
From the sustainable shoe company Oliberte, these little moccasins are made with free-range goat hide by the world's first Fair-Trade certified shoe factory.
We spend a lot of time in pajamas, so make sure little ones aren't coming into contact with pesticides and go organic with these organic cotton pjs from Apple Park.
This incredible wool snowsuit is perfect for new winter babies!
For Toddlers
A great way to actually KEEP a hat on a toddler, this hooded scarf is made from 100% GOTS-certified organic merino wool.
Who says holiday PJs can't be organic? Get them in sizes from baby to kid, and you can even spring for personalization!
For Kids
Vivo Barefoot makes soft-bottomed shoes that are PERFECT for developing feet, and this thermal lined boot is perfect for winter. Made with wild hide and recycled bottles, it's one of the most sustainably made winter boots for kids you'll find.
My son has several of these socks, and they are so soft, and made from 98% organic cotton!
Crazy warm and made from ethically sourced down feathers and recycled polyester, Patagonia doesn't disappoint in this coat for toddlers and kids.
Beru Kids is a company doing some amazing work to make the fashion industry more sustainable. In addition to using organic fabrics, they use materials known as "deadstock", which are fabrics already purchased by fashion companies going unused. When I saw this bomber jacket made of deadstock fabric, I knew I had to have it for my little man (along with some pomade and a comb). Ayyyyyy!
Natural Snacks & Treats
Skip the artificial colors and flavors with these handmade candy canes from Hammond's!
That's right — no fillers, no junk, and no guilt. Let your kids make a gingerbread house this year without sacrificing on the quality of the ingredients.
This dairy, gluten, soy, and peanut free advent calendar is a hot commodity — make sure you get on the waiting list so you don't miss out!
Better Sleep
For Babies
Because every baby should get to be a mermaid. This organic cotton sleep sack even unties at the bottom for easy diaper changes!
These GOTS-certified organic cotton swaddles from Aden + Anais are extra big to make swaddling easier for first-timers.
Another adorable gift from Apple Park, this blankie owl is the perfect lovey for babies, and filled with their organic cotton corn fiber filling.
For Toddlers and Kids
Because toddlers LOVE sleeping in their own bed — when it's a teepee. This one's made from organic cotton canvas and even has windows!
Pottery Barn Kids has a wide variety of eco-friendly products, and this OEKO-TEX and GOTS certified organic cotton duvet cover has me swooning!
Because if you buy your kid an Avocado Green Mattress, the last thing you want to worry about is accidents. This protector is made from natural latex and organic cotton.
Green Books
One of my favorite books for kids, this book teaches kids about the acceptable ingredients for great compost.
An adorable book by Dr. Seuss on simple things kids can do to help the planet every day — learn more about it in our feature on environmental books for kids!
This kid-friendly version of Mel Bartholomew's popular book has something to teach everyone, and is a FANTASTIC resource for homeschooling parents.
Want more? Check out our favorite Sustainability Books for Kids.
What kinds of green gifts are you getting for the little ones in your life this holiday season? Share it with us on Facebook or Instagram, and be sure to tag us in the post! @AvocadoMattress or #AvocadoGreenMagazine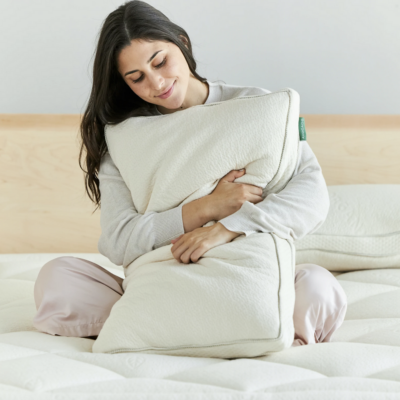 Shop Pillows
The Essential Organic Pillow Collection
Gentle, breathable, non-toxic support.
Buy Now