And exclusive discount codes so you can save on your holiday shopping.
#1 — MATE The Label Loungewear
Cozy and loungewear go hand-in-hand. But with the explosion of loungewear into fast fashion it can be tough to find the right set that's not only cozy and cute but that's also good for the planet. That's why we love MATE, a clean essentials brand made sustainably with organic fabrics and low-impact dyes in Los Angeles.
Our favorite giftable set: The Fleece Relaxed Sweatpant and the Fleece Crop Sweatshirt. 
#2 — Keap Candles
Nothing sets the mood for a cozy evening like a candle. In fact, nothing sets the mood for anything like a candle, which is why they make for the perfect gift for any occasion.
Unfortunately, conventional candles are made from unsustainably sourced wax and other materials that can be toxic when burned — not so cozy! Luckily there's Keap, a sustainable monthly candle subscription based in Kingston, New York, with a regenerative approach to materials and packaging. Keap's candles blend the scents of acclaimed master perfumer Christophe Laudamiel, and trust us, they are incredible!
#3 — Four Sigmatic Cacao Mix
Good-for-you decadent hot chocolate?! Yes please! Enjoy Four Sigmatic's Mushroom Cacao with Reishi for an elevated evening ritual that's the perfect soothing sweet treat to sip on before you head to bed. Not only are Four Sigmatic's blends delicious and nutrient dense, their ingredients are clean, organic, and ethically sourced. 
#4 — Onda Wellness CBD Oils
The benefits of CBD oil are seemingly endless. We love them because they promote better sleep, reduce anxiety, and support general coziness. Not all CBD is created equal though. We're forever fans of Onda Wellness. They make full spectrum, whole plant CBD products that are sourced from a regenerative, certified organic, and biodynamic farm. Their CBD Oil Capsules are wonderful for sleep and their Hemp Immunity Infusion supports wellness, especially during these cold months of winter.
#5 — Avocado Luxury Wool Throws
We couldn't resist including our Luxury Wool Throws to round out our cozy Holiday Gift Guide. Luxurious and sustainably made with the finest fabrics, our limited edition merino wool, cashmere, organic cotton, and recycled cotton throws are an elegant, warm gift for anyone on your list!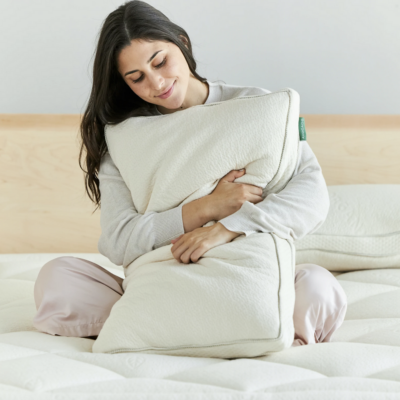 Shop Pillows
The Essential Organic Pillow Collection
Gentle, breathable, non-toxic support.
Buy Now