I was recently introduced to Onda Wellness through our partnership with 1% for the Planet and as I've come to know Stephen, one of Onda Wellness's co-founders, and his mission of healing people, empowering farmers, and regenerating the earth, I've been hooked and inspired to help get his message out to the world.
Onda Wellness makes full spectrum, whole plant, CBD products that are sourced from regenerative, certified organic, and biodynamic farms, but Onda Wellness is also so much more. The people behind the brand and their beliefs are inspirational. They believe in community and the discussion of ethics, politics, sustainability, and the healing properties of our products. I sat down with Stephen to discuss all of this and more…
Q: Hey Stephen! We're big fans of you and of course of Onda Wellness. Tell us a little bit about you and your background before we get into the weeds (pun intended) of farming, soil health, and the climate crisis:
Some of my earliest and most fond memories are from my grandparents' farm in rural North Carolina. Spending my days romping around the woods, fishing, building forts, and helping my grandmother with her farming duties, truly helped to set the course of my life. I knew that being close to the dirt was a must for me. When much of life didn't seem to make sense, I knew that peace and sanity could be found in the woods and the fields.
My relationship to the natural world began to organically evolve from a connection by way of outdoor recreation, to that of agriculture, when I apprenticed with an organic grape grower, winemaker, and dynamic polymath. This led me to work for the first organic distillery in the U.S. and the first biodynamic farm in Colorado, Jack Rabbit Hill Farm. I worked as the director of business development selling the products produced on the farm.
After my experience with Jack Rabbit Hill, I worked as a ranch hand on an 80,000-acre cattle ranch, learning a bit about large scale land management and animal husbandry before figuring out my next move.
Q: So with a background in farming and ranching, it's clear that your experience opened your eyes to large scale land management. How has that shaped the way you grow your product?
From the beginning, the dream was to create healing hemp products from plants that were being grown as a part of a biodiversified ecosystem. But it doesn't happen overnight and we are still transitioning. From my experiences, I saw firsthand how animals play such a crucial role in the vitality of the farms I worked on prior to Onda. We wanted to work with farms that were willing to use hemp as a rotation crop alongside other veggies or herbs, and ideally integrating animals for food production and to build soil health. As a small self-funded startup, we knew we needed to find farming partners that were up for the challenge and create a relationship that was symbiotic and built for the long haul. Remember, when Annie and I started this company over 3 years ago, it was all an experiment, so this has been a dance the entire time, working hard to piece it all together based on the master vision and values.
Q: That's incredible. Tell us more about regenerative farming.
To use the words of one of our farmers, Jim Fullmer, "Regenerative is a farming system that generates its inputs out of the living dynamic of itself. An organic farm, a biodynamic farm, should be creating natural resources, not depending on it. It is just an interplay between the sun and the Earth." The concept is to make the land healthier, more resilient, and productive by farming and ranching in this way.
Our goal is to partner with farms that honor the same concepts that are paralleled across each element of our mission. From the person to farm to earth we are inspired by and striving toward being whole, healthy, and vital from within. The concept of "sustainable" just isn't enough anymore. We are past the point of sustaining on this planet with the way things are going. We need not just neutral existance but proactive and beneficial action and participation from all beings to try to heal the damage to the Earth. Farming in a way that considers the long-term benefits of building soil health and restoring ecosystems seems like the best way to positively address the degradation of the land. It has not been the path of least resistance for us to pursue, but it feels like we can be a part of the solution and hopefully less of the problem.
Q: Does it really help us fight the climate crisis?
I am not a scientist or climate expert. But if a farm is minimizing its off-farm inputs, therefore less reliant on trucking in mulch, fertilizers, and composts, then they are in theory minimizing their carbon footprint. Also, most hemp farmers seem to use plastic "mulch" around their hemp plants to suppress weeds, which is another input coming from oil. If they are more self-sufficient and growing crops that help sequester carbon, then they are certainly helping to positively address the climate crisis instead of contributing to it.
For example, one of our farmers has 10-foot spacing between hemp rows of undisturbed grass, which is being grazed, providing food for animals, which are leaving their fertilizers in the form of manure. We hope that these sorts of practices, if scaled, can continue to have a beneficial impact on the climate. Supposedly, hemp can sequester 25 times the amount of carbon as trees per acre.
If you're on a sinking ship and the boat is taking on water you can throw your hands up and say screw it, or start bailing our water. Even if you are using a cup, you are making a difference. We aren't just going to throw our hands up and have a cocktail, you know? We are trying.
Q: As consumers, how do we ensure we're supporting regenerative farming or just better farming practices in general?
Ideally, connect with your farms and ask some questions. Stay connected to brands like Avocado and Onda to learn about other brands fighting the good fight!
There are some folks working on creating a network for consumers to connect with brands sourcing from regenerative farms. The certifications are a mixed bag it feels like. In my opinion, if you can buy Demeter Certified Biodynamic products you are supporting regenerative farming. Also, the Savory Institute is doing great things with their Land to Market Program. There are plenty of exceptional farms and ranches that are not certified that are doing amazing work!
Q: These are great resources, Stephen, thank you and thank you for the work you're doing with Onda Wellness.
There is a huge opportunity here to make a difference and we want everyone on board!
Header Image Matthew Brodeur
How are you using Onda Wellness products? Share your tips with us on Facebook or Instagram and tag us in the post! @AvocadoMattress and #AvocadoGreenMagazine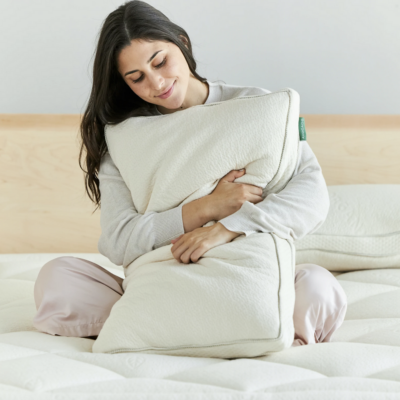 Shop Pillows
The Essential Organic Pillow Collection
Gentle, breathable, non-toxic support.
Buy Now