Perhaps L.M. Montgomery, author of Anne of Green Gables, said it best "I'm so glad I live in a world where there are Octobers."
Yes, the most colorful month of autumn has arrived and with it, the delights of this chilly, cozy time of year: pumpkin spice lattes (sure, they've been around since August, but now we can drink them minus the eye rolls of baristas everywhere), county fairs, and of course, all that gorgeous fall foliage. Now that the weather has (mostly) transitioned from humid summer days to autumnal glory, the chilly nights, occasionally rainy days, and crisp, sunny afternoons have created the perfect conditions for nature's peak performance, when the leaves turn from green to vibrant hues of orange, red, and yellow.

If you happen to live in a region that experiences this incredible display, you know how magical and coveted the sight of fall foliage can be. Hiking beneath a canopy of rich colors, kicking through fallen leaves — it's just as enchanting as one might expect. So much so that it's often taken for granted by locals! But if you live in a region that doesn't see as much transformation, it's worth taking a "leaf peeping" trip at least once to see autumn — and October — in its prime.
While foliage is difficult to predict each year — leaves change color based on a variety of factors, including temperature, soil conditions, and light levels — most regions of the US provide handy foliage maps to help you plan your trip around peak season — typically now through early November. The only question that remains is — where will you go? Lucky for most of us, foliage can often be found a mere hop, skip, or jump away from most major cities and regions in the US. Below we've rounded up some of the best places in the US to view foliage this fall. Whether you're planning a day trip, a weekend excursion, or a full-on autumnal adventure, there's bound to be a locale within reach.
Vermont
View this post on Instagram
Perhaps the most well-known state for fall foliage, according to the Vermont Tourism Instagram, the time to plan your Vermont excursion is now. Offering rolling farmland and lush forests (and of course, the Ben & Jerry's factory tour), Vermont is the perfect place to view autumn in all its glory. Use the Vermont Foliage Forecaster to determine when to go.
Maine
View this post on Instagram
If ocean views are more your thing, Maine is a relatively short drive from Vermont (by new England standards, at least) that offers similar vistas with the added bonus of rocky coastline. Use the Maine foliage map to find out when to go (Maine and New Hampshire foliage typically reaches its peak after Vermont), then plan your trip. With plenty of fall festivals and most county fairs in Maine planned in autumn, there's no shortage of things to do.
New Hampshire
View this post on Instagram
Home to the White Mountains and many, many moose, New Hampshire is the ideal leaf peeping location for adventurers who want to take in some hiking while they look at leaves. Use the New Hampshire Foliage Tracker to plan your trip. Not to be missed: the winding Kancamagus Highway, a dizzying two-lane road (not exactly a modern idea of what a highway is) that offers stunning views of the White Mountains and surrounding areas.
Michigan
View this post on Instagram
With over seven million acres of trees (yes, we said seven MILLION), Michigan's Upper Peninsula is a leaf peepers dreamland. Take in the shoreline of the great lakes, tour a lighthouse, or plan a fall hike (or do all three in a day!) – there's no shortage of adventure. Use this interactive map to plan your visit.
Colorado
View this post on Instagram
Fall happens fast in Colorado. In fact, forecasts in parts of the state are already calling for snow! But that doesn't mean you can't still find foliage in the form of vibrant aspens. Check out this handy map that showcases drone footage from different parts of the state to determine where and when to go.
Georgia
View this post on Instagram
Foliage? In Georgia? Yes! The southernmost state on our list, Georgia has plenty of state parks where you can view peak fall foliage. Use this site to find a park near you, and even discover some "hidden gems" where you can see incredible displays of vibrant leaves while you explore Georgia's unique terrain.
Tennessee
View this post on Instagram
If mixing music with adventure is more your thing, a visit to Tennessee and the Great Smoky Mountains may be in order. Take a drive or hike during the day, then seek out some musical excitement in the evening. With Tennessee's foliage typically taking place later in the year, there's plenty of time to plan using the Smoky Mountains foliage map.
New Mexico
View this post on Instagram
Offering stunning views of shimmering, golden aspen, oak and cottonwood trees, fall in New Mexico is not to be missed. Take one of New Mexico's many "trails", such as the Aspen Trail, to view autumn in New Mexico from a variety of vantage points. New Mexico road trips can be found here, or use the US Forest Service site to plan your trip.
Oregon
View this post on Instagram

Perhaps better known for its evergreen ponderosa pines than vibrant autumnal displays, Oregon does indeed offer several vantage points from which to view surprising displays of fall colors. Use this site to plan your visit to the many arts of the state where foliage takes place — from Portland to Mt. Hood.
Will you be making the trek to see foliage this fall? Share your favorite places to see autumnal colors with our community by tagging us on social with @AvocadoMattress and #AvocadoGreenMagazine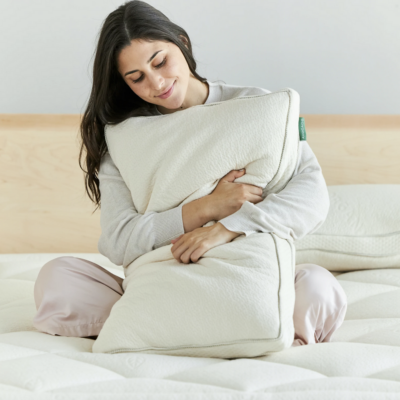 Shop Pillows
The Essential Organic Pillow Collection
Gentle, breathable, non-toxic support.
Buy Now