Few things signify the change of seasons quite like the arrival of pumpkin spice everything. Second only to vibrant fall foliage, the spiced pumpkin latte has reached near-cult status and has come to represent the arrival of chilled air and frosty mornings. In other words, autumn.
Anything But Healthy
The only drawback? Turns out, those spiced pumpkin lattes available at the corner coffee shop and the pre-mixed powders now available on grocery store shelves aren't exactly filled with real, pumpkin-y goodness. Instead, that comforting pumpkin flavor is achieved with ingredients that are anything but: synthetic flavorings, stabilizers, preservatives, and lots of sugar. Not exactly the wholesome autumn drink you were hoping for!
The good news is, creating a healthy spiced pumpkin latte in the comfort of your own home is incredibly easy and a great way to use up leftover pumpkin puree from holiday festivities. And the best part? Your mug will be filled with only the good stuff: Fibre-rich pumpkin, healthy fats, real warming spices, and any extra add-ins you feel like throwing in – no fake flavors in sight.
The Benefits of Pumpkin
Pumpkin is more than just a tasty autumnal flavor. This bright orange squash variety is rich in Beta-carotene and vitamin A, both of which can support healthy, luminous skin and strong vision. An excellent source of fibre, pumpkin can soothe the digestive system and acts as a prebiotic, feeding the good bacteria in your gut and helping to keep your entire system happy and thriving.
And don't toss the seeds! Pumpkin seeds are rich in immune-boosting zinc, heart-healthy magnesium, Omega-3 fats and free-radical scavenging antioxidants. When paired with autumnal spices, like the cinnamon and nutmeg commonly found in pumpkin pie spice; healthy fats and raw organic honey, pumpkin can help support the immune system during cold-weather months, when the body is more susceptible to viruses.
A Better Alternative
Today I'm sharing how to make a healthy version of the classic spiced pumpkin latte that harnesses the nutritional goodness of real pumpkin – it's the perfect thing to sip on a chilly November morning when the trees are frosted over and you've got a fire crackling in the woodstove. Try topping it off with a little coconut whipped cream to make it truly decadent (but still secretly healthy). Read on to learn how to make your new favorite drink.
Healthy Spiced Pumpkin Latte
Ingredients:
8 oz. freshly brewed hot coffee
1 tbsp canned pumpkin puree (not pumpkin pie filling)
1 tbsp ghee or grass-fed butter
1 tbsp coconut butter or coconut oil
½ tsp pumpkin pie spice
½ tsp raw organic honey
Optional add-ins: Collagen peptides, adaptogenic powders
Tools:
High-speed blender
Directions:
Combine all ingredients in a high speed blender – make sure the lid is locked tight! Blend on high for 30 seconds. Pour into a mug and sprinkle with extra pumpkin pie spice, if desired. Enjoy!
Do you have a go-to healthy latte recipe? Be sure to share with us on Instagram or Facebook with @AvocadoMattress or #AvocadoGreenMagazine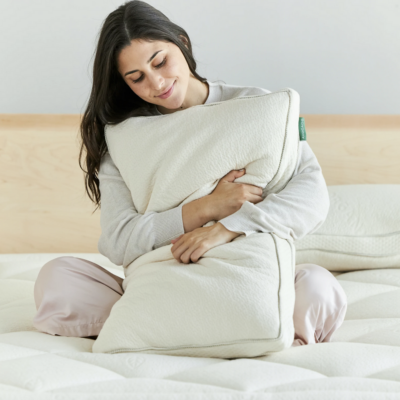 Shop Pillows
The Essential Organic Pillow Collection
Gentle, breathable, non-toxic support.
Buy Now