From tinted formulas to sun protection that will stay on during the sweatiest outdoor activities, these sunscreens are reef safe and good for your skin.
Walk down the skincare aisle at your local drugstore and you'll spot upwards of a dozen sunblock choices or at least some iteration of moisturizer with SPF. When it comes to choosing sunscreen, there's a lot to consider — including ingredients, environmental footprint, and, importantly, whether the brand relies on chemical absorbers or physical blockers to perform its job (more on that later).
There are also personal preferences to weigh, like the sunblock's texture, fragrance, cost, and how it interacts with your skin. Is it oil-free? Good for sensitive skin? Non Comedogenic? These details matter. That's because while choosing a sunscreen that's tinted or lightweight may seem like a superficial choice, it's important to buy something you like enough to consistently wear.
Skin cancer is the most common cancer, and exposure to UV rays plays a big role in how likely you are to develop it. Current estimates show that one in five Americans will develop skin cancer in their lifetime, and, as most of us know by now, the likelihood of a diagnosis increases with sun exposure. For instance, your risk of developing melanoma, one of the more aggressive skin cancers, increases by 80 percent if you sustain five or more blistering sunburns between ages 15 and 20.
So, where should you start when selecting an SPF? Let's break it down.
Read more: 3 DIY Face Masks to Soothe End-of-Summer Skin
Choosing a Sunscreen
It's helpful to first understand the ingredients in your sun protector. There are generally two ways sunscreens protect your skin from the sun — they either rely on chemicals that absorb UV rays or they include physical ingredients that block them. A few benefits of the former are that they typically rub in clear, absorb quicker, and generally are lighter weight. However, some of these sunblocks contain chemicals that can harm the environment. Steer clear of brands containing oxybenzone and octinoxate, which damage coral reefs. Some people also worry about the potential health effects of chemical sunscreens, though more studies need to be conducted to understand them fully.
Physical blockers, on the other hand, rely on ingredients like zinc oxide to shield your skin from UV rays. The downside is many mineral formulations are thicker and leave a white cast (think white lifeguard nose). Once you have an idea of the type of sunscreen you prefer, you'll want to decide what level of protection you need. Most dermatologists recommend wearing at least SPF 30.
Now, it's time to take into account more personal preferences. Do you want a tinted SPF to add a little color to your face? Is your skin sensitive to fragrances or oils? Do you need something that will complement your makeup or stay put during sweaty activities? Or do you prefer a no-frills, budget-friendly SPF? Whatever your preference, there are options. To aid with your decision-making, we rounded up a few of our favorite skin protectors, from lightweight formulations to our ride-or-die SPF for lips.
Read more: 5 Natural Ways to Soothe Sunburned Skin
1.
Favorite Active Sunscreen: Skinnies Sungel
The best sunblock for active days varies depending on what you're up to. Maybe your day involves laps in a pool. Perhaps it includes a sweaty bike ride or a jog in the sun. Or, it's a day of running after your kids, and you need something that will last longer between reapplications. While you should tailor your sunscreen to your daily needs, we suggest Skinnies Sungel for days when you're on the go.
We stumbled upon this sunblock while on a quest to find something that stayed put during the sweatiest of activities: summit pushes in the sun, late-summer runs, and outdoor beers in July. This vegan, reef-safe sunblock offers lasting protection, dries quickly, rubs in clear, and won't leave you feeling greasy. And especially sweaty exercisers will appreciate that should this run into your eyes, it won't leave them stinging. It's also water-resistant, and a little goes a long way.
2.
Favorite Budget-Friendly Sunscreen: Alba Botanica Sensitive Mineral Sunscreen
Alba's sensitive mineral sunscreen has everything you might want in an SPF — its formulation rubs in clear, it's reef safe, water resistant, and provides broad-spectrum protection. Plus, Alba doesn't test on animals. For about $12, you really can't beat it. And ingredients like aloe vera, green tea, and chamomile soothe the skin, while its fragrance-free formulation reduces risk of irritation. On a personal note, I was pleasantly surprised this formulation didn't exacerbate my typically oil-prone skin (though, as always, this can vary person to person).
Read more: 5 Natural Sunless Tanners for the Perfect Summer Glow
3.
Favorite Tinted Sunscreen: Elta MD's UV Glow Tinted Broad-Spectrum SPF
If you're looking for a daily sunscreen that adds a touch of color to your face, look no further than Elta MD's UV Glow Tinted Broad-Spectrum SPF. This mineral UV blocker is reef safe, non comedogenic, and free of parabens, alcohol, and oil. It's also made with vitamin B3 (an anti-inflammatory antioxidant that helps reduce redness) and minerals that brighten the skin. It glides on smoothly and adds just enough color for a subtle glow. I typically use mine in lieu of foundation — it adds enough moisture to keep my skin happy and a hint of color to give me a healthy shine. My only caveat: It can appear shiny upon application. Don't worry, though. Once it dries, the finish is more dewy than oily.
4.
Favorite Sunscreen to Wear Under Makeup: Supergoop Unseen Sunscreen
You don't have to forfeit skin protection to look your best. Our favorite sunscreen to apply under makeup is Supergoop's Unseen Sunscreen. This SPF has a texture similar to a makeup primer. It looks like a gel, feels like powder, and provides a matte finish that serves as the perfect base for makeup. Because this sunscreen is on the pricier side, we recommend saving it for occasions when you're wearing makeup that you want to last all day. What you want to avoid is applying less of this sunscreen simply because you want to extend the life of the product. The purpose is to protect your skin, so using enough is critical.
5.
Favorite Sunscreen for Lips: EltaMD UV Lip Balm Broad-Spectrum SPF 36
Protecting your pucker from the sun is just as important as safeguarding the rest of your face. But finding an SPF in balm form can be tricky. Some can be drying. Others leave a white residue that, while harmless, may discourage you from wearing it as often as you should. Enter: EltaMD's UV Lip Balm. This water-resistant, reef safe sunscreen meets all the criteria: it's moisturizing (even after a long bike ride or run), absorbs clear, and, most importantly, provides adequate protection during a long day in the sun. Note: This sunscreen does initially look white. But it quickly absorbs, leaving only a subtle sheen.
6.
Favorite Lightweight Sunscreen: Innisfree Daily UV Defense
This SPF lacks the bells and whistles of sunscreens like Elta MD's UV Glow and Supergoop's Unseen Sunscreen, but that's exactly why I love it so much. Innisfree's Daily UV Defense doesn't feel thick or oily, and I don't have to worry about matching the tint to my skin color. Instead, this reef-safe chemical 'screen feels like you're slathering on a high-quality lotion — one that provides enough moisture to quench thirsty skin but not enough to leave behind sticky residue. Sure, it's not providing a glow like an Elta MD SPF or leaving a velvety finish like a Supergoop sunscreen. But we like to think of this pick as an old faithful — a dependable block that checks all the necessary boxes for the no-frills individual.
Read more: The Mind-Body Benefits of Vitamin D
Have feedback on our story? Email [email protected] to let us know what you think!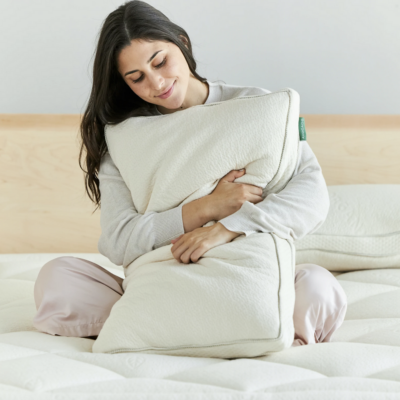 Shop Pillows
The Essential Organic Pillow Collection
Gentle, breathable, non-toxic support.
Buy Now