By now, we should all be well aware of the dangers of UV rays and too much sun exposure. Premature aging, skin cancer… the list goes on and is scary enough to send even the most devoted sunbather swimming to shade. Gone are the days of oiling up and competing for the deepest tan, instead we diligently slather on our SPF (or zinc), wear our light summery layers and avoid the sun at all costs… Right? While there may be some sunscreen saints among us, I'm willing to bet many out there have also lamented the absence of a tan of any kind.
Perhaps you've even committed summer sun transgression #1 and "forgotten" your sunscreen on a trip to the pool or beach, only to come away looking more overcooked than perfectly toasted. Maybe you're someone who simply doesn't tan, opting instead to slather on a drugstore self-tanner and accept the streaks and blotches that appear 4-12 hours later as part of the process (hey, at least it's color?). Just as most of us have walked away at some point from a seemingly "innocent" tanning session looking like a tomato — whether stretched beneath the sun's ray or in a tanning bed, both count, BTW — many can also claim status in the self-tan disaster club… the kind of club no one wishes to be part of.
In a perfect world we'd all accept our skin tones — and our beach bodies — just as they are — pale, deep-as-night, and everywhere in-between. But the world's not perfect and it's hard not to wish for just a touch of sun on our shoulders and cheeks. Trouble is, most drugstore self-tanners leave you looking streaky and aren't great for the environment either, thanks to synthetic chemicals. Thankfully, more and more eco-friendly and natural self-tanners are hitting the market and the best part? These earth-friendly options typically work worlds better than that drugstore orange goop that left your legs looking more zebra than Ibiza. Discover a few of our faves below.
#1 — Suntegrity Natural Self Tanner
Believing that skincare and suncare go hand in hand, Suntegrity is a leader in the natural suncare industry, so it's only, ahem… natural… that the brand's devotion to protecting skin spills over to achieving the perfect faux tan. The 5-in-1 Natural Self Tanner provides a golden glow while supporting skin wellbeing with botanical extracts, like goji and acai, antioxidants and hydrating oils. Using sugar beet-derived DHA, the product is buildable, leaving a sun-kissed glow after the first application, and getting deeper with each subsequent layer so you can easily control just how much sun it appears as though you got.
SHOP SUNTEGRITY'S 5-IN-1 NATURAL SELF TANNER
#2 — Vita Liberata Sunless Glow Latte
A favorite among celebs and beauty bloggers (so it must be good, right?), Vita Liberata Sunless Glow Latte combines the instant gratification of a body makeup with a self tanner – perfect for when you needed a tan, like, yesterday. Formulated to reflect light and naturally enhance skin while your tan develops, Vita Liberata Sunless Glow Latte is made with organic and natural extracts to support and hydrate skin while imparting a just-back-from-the-beach dose of color. Perfect for those who wish to minimize the appearance of blemishes, veins or scars and who want to look tan instantly. Just don't forget the SPF — Vita Liberata looks so real you may trick even yourself.
SHOP VITA LIBERTA'S SUNLESS GLOW LATTE
#3 — TanOrganic Self Tan Oil
For those who prefer a body oil over a cream, TanOrganic's Self Tan Oil is an easy to use and mess-free option and one of the only faux tan oils on the market. Gliding on as smoothly as your favorite body oil, the Self Tan Oil is simple to apply and leaves behind a glow only you'll know is faux. Boasting zero parabens and made from natural ingredients, this eco-certified option lasts for up to a week and fades evenly, no splotchy-ness in sight.
SHOP TANORGANIC'S SELF TANNERS
#4 — Coola Sunless Tan Mousse
From our Cali-cool friends at Coola Suncare comes a quick and easy way to achieve golden results in just a few hours. The Sunless Tan Express Sculpting Mousse goes on easily, smoothing and firming skin in the process. Perfect for when you're in a hurry, smooth it over skin on Monday morning to trick your coworkers into thinking you spent all weekend at the beach, (instead of laboring over this month's expense reports). All Coola products are certified Ecocert COSMOS, considered an international standard for organic and natural products and created to with the best interests of the planet and its people (that is, you) at heart.
SHOP COOLA'S ORGANIC SUNLESS TAN MOUSSE
#5 — Eco Tan Face Tan Water
If you've ever used a self tanning product, you're familiar with the scenario: you achieve a perfect full body tan… only to be left with a face as pale as the moon! Eco Tan's Face Tan Water solves that with an easy to apply formula made specifically for faces. Certified vegan and cruelty free — and all natural — this gradual tanner adds a hint of buildable color to the face, neck and décolletage. Eco Tan offers a full range of tanning products — from buildable to near-instant — making it easy to stay sun safe year-round (try the Winter Skin option for a more gradual tan in the off season).
What are your tips for staying sun safe but still sun-kissed? Share with us by tagging us with @AvocadoMattress or #AvocadoGreenMagazine on social!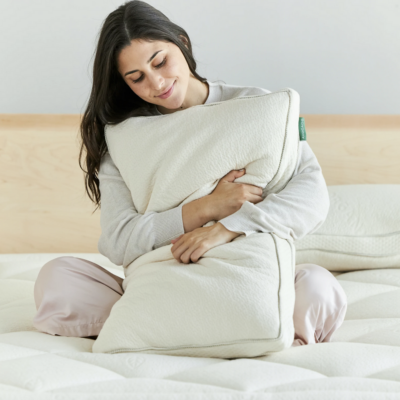 Shop Pillows
The Essential Organic Pillow Collection
Gentle, breathable, non-toxic support.
Buy Now