We throw away a LOT of stuff. Plastic wrappers, moldy tomatoes, holey underwear, and so much more. But if there's one thing we know, it's that nothing lasts forever—except plastic, apparently.
As the world drowns in a sea of its own waste and sizes the Pacific Garbage Patch for a Hefty bag, people are crying out for solutions and demanding better options than use it and lose it.
Putting Refuse to Good Use
The waste problem doesn't just stem from people using things and throwing them away. Making new materials creates waste during those processes, in addition to using massive amounts of energy. As a result, some of the world's most innovative geniuses have been inventing a slew of new materials, products, and manufacturing processes that are improving the imprint we leave on this planet.
From recycling fishing nets into sunglasses, to turning plastic milk jugs into toys, waste streams are getting reused and reintroduced back into the supply chain, saving the planet from the environmental impact of creating the raw materials all over again.
Photo by Michael Louie on Unsplash
Turning Waste Into Taste—Meet Coconut Bowls
Coconut husks are a natural part of the farming of coconuts. The waste is typically discarded and usually burned by farmers. On average, about 20 billion coconut husks are estimated to be thrown away or burned every single year. It wouldn't be such a big deal if people weren't buying so many new things, but Jake McKeon saw this waste stream and knew there was a better use for it than just giving it a spot in the burn pile.
So he founded Coconut Bowls, a company that repurposes discarded coconut husks by paying farmers to collect them, and then sands and refinishes them to be used as bowls and candles.
The result is a beautiful, all-natural, biodegradable bowl, sealed with coconut oil, saved from the landfill, and providing more income for coconut farmers. Now that's a practice we can get behind.
We Tried It
Coconut Bowls sent me their GORGEOUS vegan cookbook, a set of their bowls, their straws, and their utensils to try. And I've gotta say, now I wish all of my bowls were made out of coconuts.
I was worried about putting wetter foods in the bowls, despite the fact that they were sealed with oil, but they have shown no signs of getting funky, after multiple salads with too much dressing, a bowl or two of Greek yogurt, and even one accidental run through the dishwasher.
The straws are great for smoothies, but a little strange in terms of texture—kind of like sucking on a popsicle stick. However, they're still a great reusable alternative to plastic straws, and as long as you clean and dry them correctly of course.
Although I'm not vegan, the recipes in this cookbook looked delicious and gorgeous. It's pretty enough to be a coffee table book, and practical enough that I'm building a grocery list with it now. I can't wait to try the Rainbow Nice Cream!
Photo by Chen Mizrach on Unsplash
Turning a Waste Stream Into a Sensible Product
Not only are these coconut bowls extremely aesthetically pleasing, but more than that, they eliminate the need to make raw materials to make dishes. By utilizing a waste stream, Coconut Bowls is providing another revenue stream for coconut farmers, and reducing the carbon footprint of just one more product that is being mass-produced.
Now that's what we call sustainably amazing!
Tell us what you love about your Coconut Bowls on Facebook or Instagram, and tag us in the post! @AvocadoMattress and @CoconutBowls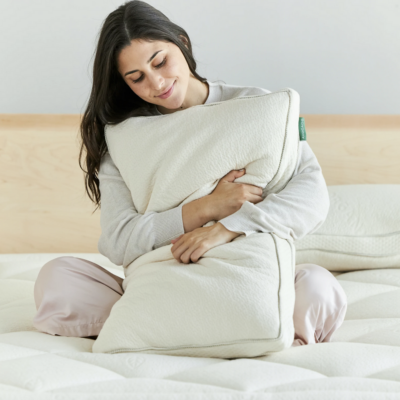 Shop Pillows
The Essential Organic Pillow Collection
Gentle, breathable, non-toxic support.
Buy Now