Wow everyone at the Fourth of July festivities with this creamy, fruit-topped vegan cheesecake you can whip up in minutes. 
With July 4th just around the corner, why not make that dessert as aesthetically pleasing as possible by coordinating your ingredients with the colors of the season? Using local, seasonal fruit, like strawberries, blueberries, and raspberries ensures you're using the best-tasting and most nutrient-dense produce available — it also means a smaller carbon footprint. When you buy local, the produce only travels a few miles as opposed to a few thousand, everybody wins.
With the fruit and berry selection at your local farmers' market at an all-time high, the only question that remains is what will you make?! If you're wracking your brain for what to bring to all those July 4th potlucks, picnics, and barbecues, consider the cheesecake. Or should I say "cheese" cake. Because this isn't your ordinary dairy-filled dessert. This is a cake that will satisfy almost everyone on the guest list, vegan and paleo friends, alike (our apologies to folks with nut allergies).
So, what is this magical cake created with? Cashews! These versatile nuts offer the perfect neutral base for a deliciously creamy cheesecake, with no cream cheese or milk in sight. The best part? Aside from a little prep and time to set, it comes together in a flash and cleanup is a breeze.
Ready to get started? Make this cheesecake once and you'll quickly learn just how easy it is to customize. Play around with different ingredients and add-ins, like peanut butter, a berry swirl, or even cocoa powder. Happy 4th!
Read more: Easy Tips For an Eco-Friendly 4th of July
Raw Vegan Cheesecake with Seasonal Berries
Ingredients
Crust:
1 cup raw almonds
6 fresh pitted Medjool dates
3 Tbsp coconut butter
1 tsp cinnamon
½ tsp ginger
¼ tsp cardamom
¼ tsp flaked Maldon sea salt or kosher salt
Filling:
2 cups raw cashews (soaked in cold water for at least 6 hours but ideally overnight – this is a must as it ensures a creamy filling)
¼ cup coconut cream
⅓ cup pure maple syrup
1-2 Tbsp freshly-squeezed lemon juice
1 Tbsp vanilla extract
Pinch or two of Maldon salt or sea salt
Topping:
Fresh berries (blueberries, raspberries, strawberries)
Unsweetened shredded coconut
Tools:
Blender or food processor
8" springform pan
Parchment paper
Directions:
Step 1
Trace the bottom of the springform pan onto the parchment and cut out the circle you traced. Place the circle of parchment inside the springform pan. This will make removing the cake from the pan super easy.
Step 2
Add all crust ingredients to the blender or food processor. Pulse until sticky and well combined (it should have the texture of rough sand and come together when pinched). If your crust is too dry, add a few more dates and pulse.
Step 3
Press the crust mixture into the bottom of the pan. Set aside while you make the filling.
Step 4
Add all filling ingredients to the blender or food processor and blend until smooth and creamy, about 2 minutes. Taste the filling and adjust the flavor accordingly by adding more sweet, more lemon, more vanilla, or more salt.
Step 5
Pour the filling into the pan and smooth with a spatula. Sprinkle coconut flake over top. Place in the freezer until set – at least four hours.
Step 6
Remove from the freezer and take the "cheese" cake out of the springform pan. Top with berries. Allow to sit for 10-20 minutes before slicing and serving. Tip: run a sharp knife under warm water to make slicing easier. Enjoy!
Read more: Eco-Friendly Alternatives to Fireworks
Do you have a favorite July 4th dessert? Share with us by tagging us with @AvocadoMattress or #AvocadoGreenMagazine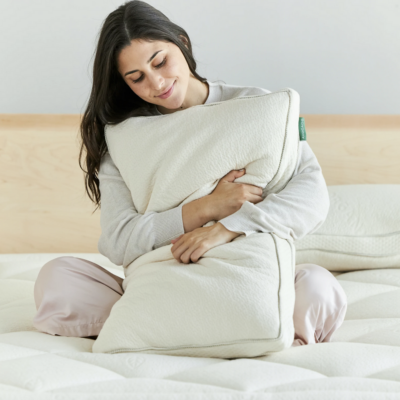 Shop Pillows
The Essential Organic Pillow Collection
Gentle, breathable, non-toxic support.
Buy Now