Celebrating the 4th of July doesn't have to cost the planet. Here's how to reduce waste, ditch the plastic, and still have fun on Independence Day.
Fourth of July get-togethers in the US are the stuff of summer childhood memories. Plastic cups full of fizzy drinks. The best frosted cookies from the grocery store. A sulfurous haze that hangs over neighborhoods with the morning dew. It's a hodgepodge of guilty pleasures that many of us look back on and struggle with a bit. The nostalgia doesn't wear off, but it feels a little less warm and fuzzy in the face of the grown-up issues we know about now.

Pollution.

Plastic waste.

Sugar addiction.

Taxes.

Okay, maybe not taxes, but the point is, being an adult makes you feel old and cynical. You don't want to be a buzzkill. You don't want to squash your kids' chances at those sweet Independence Day memories.
Luckily, there are plenty of ways you can make 4th of July memories without being a pushover when it comes to your values.
Carpool to Family Get-Togethers

Have a family member with a Suburban? Make the most out of those miles per gallon by ensuring a butt in every seat! You'll save some gas money, cut down on carbon emissions, and get to have the uncomfortable "Are you leaving soon" conversation at the end of the night. (You've been warned).
Read more: Easy Ways to Use Less Gas This Summer

Use Reusable Decorations

Fireworks may not be reusable, but there's no sense in buying the same red, white, and blue decorations every Independence Day. Use craft store ribbon in place of streamers, spring for some cloth tablecloths once, and be done with annual trips to the party supply stores.
Make Your Own Decorations

Seriously, it's the era of Pinterest — if you can't find a tutorial for a chalk paint mason jar centerpiece, you're not even trying, man.

In all seriousness though, DIY decor beats the pants off of the gawdy foil junk that never lasts more than a day. Make a centerpiece, a wreath, a prop — even a selfie booth! Check out some of my favorite inspirational pins to help get the creative juices flowing:

Use Compostable Dishes

Skip the Solo cups and go for compostable dishes (which are no longer as fringey as they used to be). Verterra makes some really beautiful ones out of fallen palm leaves that are totally compostable.

Go to a Fireworks Display Instead of Putting On Your Own

I'm going to let you in on a little secret — if you live in the 'burbs, you don't need to buy fireworks. Like, ever. When we moved to a neighborhood in Tacoma, WA, we felt bad for not buying fireworks for the kids, but were set on not contributing to the waste and smoke that would inevitably result.

That being said, we didn't have to miss out on fireworks — there was more than enough to see between big displays at local parks and what our neighbors were doing.

Skip the fireworks, catch a community fireworks show, and save your money for a whole mess of snacks instead.
Read more: Eco-Friendly Alternatives to Fireworks
Use Biodegradable Confetti

When I was a kid I LOVED those little plastic party poppers full of confetti. As an adult, I love confetti about as much as I love ants and hard water stains.

But if you're a mess-loving, shameless confetti fan, there are plenty of biodegradable options you can buy en masse, without contributing to the microplastics problem.

Pollution-Free Patriotism

There's nothing wrong with loving fireworks. There's nothing wrong with craving some noise and soda and crummy potato salad from the grocery store. But if your inner grownup and your inner child are having it out over a fun family Fourth of July, there's no need to feel like you're copping out or being uptight. Have fun, make with the explosions, and find that balance between what you want to do and what you know is best. And in the morning, break out the donuts and help your neighbors clean up the aftermath in the street.
What are some of your favorite ways to celebrate the 4th of July in an eco-friendly way? Show us on Facebook or Instagram, and tag us in the post! @AvocadoMattress and #AvocadoGreenMagazine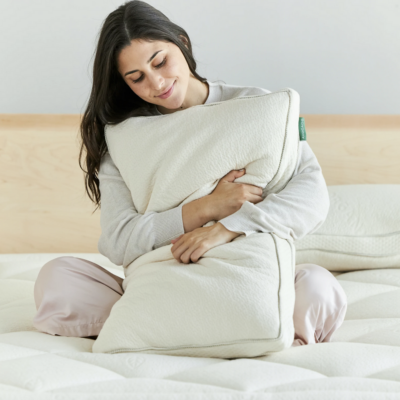 Shop Pillows
The Essential Organic Pillow Collection
Gentle, breathable, non-toxic support.
Buy Now