More brands than ever are developing healthy, non-toxic nail polishes made without harmful chemicals. These are our favorites.
Formaldehyde. Toluene. Camphor. Shellac. This roster of chemicals sounds like something you'd use to finish a deck or strip paint. But approximately 58 percent of us are exposed to these toxins on a regular — sometimes even daily — basis. Just where are these pollutants lurking? Nail polish.
That's right. The gorgeous color you or your nail technician swipe on your fingers and toes more often than not contains all of these chemicals and more.
Why these chemicals are so dangerous:
Formaldehyde: Chronic exposure to this colorless, odorless chemical can cause everything from asthma to allergies and put you at greater risk of sinus cancer and certain types of leukemia.
Toluene: A common ingredient in degreasers, persistent exposure to toluene is associated with nose and eye irritation, dizziness, headache, nerve damage, skin inflammation and kidney and liver damage as well as a higher risk of a variety of cancers.
Camphor: While camphor oil is often used to treat skin irritation, pain, and itching, synthetic camphor is made of turpentine. When it is inhaled, ingested, or comes in contact with broken skin, the chemical is toxic and has the potential to cause difficulty breathing, nose and throat irritation, and headaches.
Shellac: Often used in gel manicures — as well as a finish for wood — shellac is a resin that can cause allergic reactions and can weaken nails. UV light is also required to cure gel nail polish containing shellac and exposure to UVA radiation from nail lights is linked to skin cancer.  
And while nails are hard to the touch, they're actually porous, so they soak up whatever we put on them. When we paint our fingernails or toenails with toxic polish, the chemicals within can leech through the nail and into our bodies, causing very real threats to our health. Nail artists and technicians, who are around polish day in and day out, are particularly at risk.
Humans aren't the only ones harmed by the chemicals hiding in nail polish, either. When we throw away half full or old bottles of polish we no longer want, those toxins end up in our environment, causing harm to the soil, plants, and animals.
Read more: 12 Non-Toxic Replacements For Things You Use Every Day
What to do with toxic nail polish
How do you dispose of chemical-laden nail polish you no longer want? Unfortunately, it can't be recycled.
The EPA considers nail polish to be household hazardous waste due to the toxic chemicals swarming within that bottle of shimmer and shine, so they must be disposed of accordingly. Don't toss bottles of polish in the trash or down the drain where it'll end up in our waterways and the environment. 
Instead, consult this search tool to find a Household Hazardous Waste facility near you to bid those old polishes goodbye. Once you've rid your nail polish supply of harmful chemicals it's time to find a new shade or two that's better for you and the planet. 
Healthier Nail Polish
The good news is, there's demand for healthy, non-toxic nail polish and brands have stepped up to answer the call. When searching for a healthier nail polish, the word you want to look for is "free." Whether you're on the search for the perfect shade of ballet pink or sunset orange, finding a bottle that boasts "5-free" — or better yet "9-free" — indicates that particular polish doesn't contain formaldehyde, toluene, camphor, or shellac, plus a handful of other chemicals known to cause harm.
Even better, finding nail polish with healthier formulas is easier than ever. Here are a few brands we trust.
Read more: How to Ditch Your Toxic Deodorant & Why
1.
Smith & Cult
Smith & Cult: Featuring formulas with daring names like Forever Fades Fast, Suburban Warrior, and Color Me Curious, the shades at Smith & Cult were made to stand out. But that's not the only thing that sets this brand apart from the polishes at the local pharmacy. Their nail lacquers are quick-drying, long-lasting, vegan, and 8-Free, so you can rest assured they don't contain nasty chemicals.
2.
Spela
If neutral nail polish is your style, look no further than Spela. The cosmetic brand offers a lineup of 9-free nail polish that's vegan, cruelty-free, made in the USA, and 100 percent trustworthy. Plus, they come in low-key, yet stunning shades like Moon Bath, a soft, translucent white, Squad Goals, a pale, putty pink, and Blissed Out, a high-pigment pale blue.
3.
Côte
A clean nail polish that's chip-resistant, high-shine, vegan, cruelty-free, and 7-free may seem too good to be true, but this Los Angeles brand created it. And when you've used the last drop of your favorite color, mail the bottle back to them — they'll make sure it's properly recycled and you'll receive 10 percent off your next purchase. Even better, proceeds from select colors like Soft Fuschia, Apricot Orange, and Light Cool Creamy Mint support nonprofits like the Trevor Project and Habits of Waste.
4.
Suite Eleven
After experiencing allergic reactions from toxic chemicals in cosmetics and nail polish, the founder of this new-to-the-scene company decided to do something about it. Enter: Suite Eleven, a non-toxic luxury vegan polish brand whose colors are 10-free, handmade in the USA, and absolutely striking. In need of a pick-me-up? The brightly yellow hued Sunny Side Up has you covered. For a classic red, try on From Brooklyn With Love and when you're in the mood for an understated, yet elevated look, Lilac It Like That will do the trick.
While more and more eco-friendly nail salons are popping up across the country, if there isn't one near you, bring your own polish the next time you make an appointment. You may even inspire your manicurist to look into non-toxic polish brands.
Read more: Our Favorite Reef Safe Sunscreens
Have feedback on our story? Email [email protected] to let us know what you think!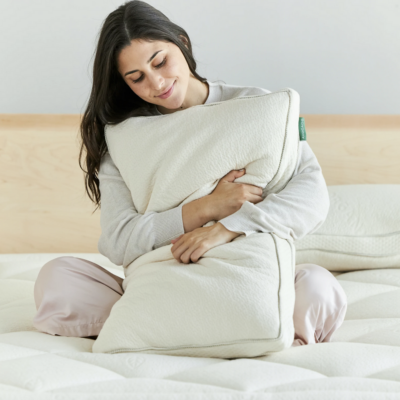 Shop Pillows
The Essential Organic Pillow Collection
Gentle, breathable, non-toxic support.
Buy Now