Break up with mayonnaise-based slaw and make our light No Mayo Cilantro Lime Coleslaw recipe that fuses tangy zest with a hint of spice.
It's a universal truth that the best part of any summer gathering is the sides. While we love a savory potato or pasta salad, no get together is complete without a bowl of classic slaw. But if you could do without the heavy hand of mayo — we hear you.
So the next time you head to a neighborhood block party or backyard barbecue, whip up this No Mayo Cilantro Lime Slaw recipe. Fresh and crisp, with just the right amount of tang, it's a side sensation guaranteed to send you home with zero leftovers.
Read more: In Appreciation of Local Food
Why You'll Love This Cilantro Lime Coleslaw
No mayo. Sure, mayonnaise is an excellent source of vitamin E, but it's also high in sodium, calories, and unhealthy saturated fat. Our recipe skips the mayo and replaces it with a creamy and delicious herby dressing that's made with a base of plant-based yogurt and avocado for the base.
Simple ingredients, big flavor. A recipe doesn't have to be complicated to be a homerun in the flavor department. This homemade slaw comes together quickly with just a few wholesome ingredients and still delivers when it comes to wow-worthy taste.
Gut-friendly. Both the fiber from the cabbage and probiotics from the plant-based yogurt support overall gut health, which may also improve digestion over time. Win-win.
Benefits of Our Cruciferous Coleslaw
If your goal is a good-for-you side dish that's also totally craveable, this slaw is a must. It features crunchy, healthy cabbage and a mouthwatering dressing that enhances the overall nutritional value of the cabbage. Here are the benefits of our No May Cilantro Lime Coleslaw's star ingredients.
Cabbage: This vegetable falls into the category of cruciferous varieties like broccoli, cauliflower and brussels sprouts. And like the majority of veggies that fall into this category, cabbage is especially high in vitamin C, fiber, and antioxidants like polyphenols and sulfur compounds. These particular antioxidants help prevent chronic disease risk, while both the soluble and insoluble fibers found in cabbage help feed the good bacteria in your gut.
Plant-Based Yogurt: Always check the label of plant-based yogurt to make sure it contains active cultures or probiotics that support overall gut health by adding to the population of good bacteria in our gut.
Avocado: This popular green fruit adds a dose of creaminess to our recipe's dressing. It's also loaded with monounsaturated fats which promote heart health.
Read more: The Tiny Seed That's a Nutritional Powerhouse
Cilantro Lime Coleslaw (Serves 6)
Ingredients
4 cups shredded green cabbage
1 jalapeño, thinly sliced (remove seeds for less spice)
3 scallions, thinly sliced
Cilantro Lime Dressing
⅓ cup unsweetened, plain, dairy-free yogurt
1 clove garlic, pressed with a garlic press
½ avocado
Juice of 1 lime
1 tsp dijon mustard
⅓ cup cilantro, stems removed
¼ tsp salt, plus more as needed
Fresh cracked pepper
Instructions
Add cabbage, jalapeno, and scallions to a large mixing bowl.
To a mini food processor, add yogurt, garlic, avocado, lime juice, mustard, cilantro, salt, and a few cracks of black pepper.
Blend ingredients until the mixture is mostly smooth and the cilantro is finely minced. Taste and add more salt if needed.
Pour the dressing over the cabbage and toss the slaw together to fully coat.
Dig in!
Read more: Nutrient-Rich Kale Caesar Salad Recipe
Did you try out our No Mayo Cilantro Lime Coleslaw recipe? Share it with us by tagging @avocado.green on Instagram or Facebook. You can also follow Catherine @plantbasedrd for more delicious, nutritious recipes.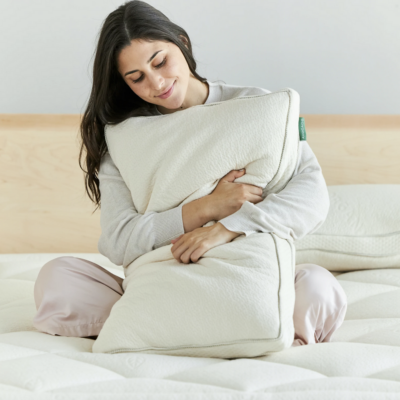 Shop Pillows
The Essential Organic Pillow Collection
Gentle, breathable, non-toxic support.
Buy Now