Getting enough morning light creates a distinction between day and night and is crucial for setting our sleep clock and regulating our mood and focus.
Before I started freelancing full time, I walked about five blocks every day to catch the 7:20 am bus from my neighborhood into Downtown Seattle. When I started working from home, I didn't miss the commute. I did, however, notice how many days I headed straight to my computer, got caught up on work, and didn't step outside until noon, squinting as though I'd just walked out of a darkened movie theater. I also noticed that my energy, focus, mood, and sleep patterns suffered almost immediately.
When I researched the effects of morning light on sleep and mood, I found that my commute had been more important than I realized. Light is the most crucial factor in aligning our circadian rhythms — internally driven cycles that rise and fall throughout a 24-hour period, and exposure during the day has an outsized impact on our sleep. Sleep is the foundation of our mental and physical health — it can be a trauma release, immune booster, stress relief, emotional stabilizer, and can enhance memory and cognitive function.
Andrew Huberman, Ph.D., associate professor of neurobiology and ophthalmology at Stanford University, is a vocal advocate of viewing sunlight for at least 10 minutes within an hour of getting out of bed — increase the time to 20 minutes if you can on overcast days. The morning light activates melatonin, a hormone that makes us sleepy, and cortisol, which makes us more alert, allowing us to reset our circadian rhythms each day.
Read more: Why Listening to Your Circadian Rhythm is Essential to Good Health
It might sound counterintuitive, but Huberman recommends leaving your sunglasses off to avoid the glass filtering out ultraviolet light. This is why sitting inside in front of a window isn't as effective as natural light. Artificial light from a phone, TV, or computer screen won't do the job, either.
"We were designed to get a lot of ultraviolet light on our eyes during the day and little during the night," he says. "The more of these cues to the time of day and night you can give your body, the better off you'll be," Huberman told Scope, Stanford Medicine's blog.
But it's not just mornings that can affect your sleep and mood — light exposure in the afternoon and evenings is part of the equation, too. Here are a few tips for managing it.
Take a Sun Break in the Late Afternoon.
Going outside again in the late afternoon or early evening before sunset helps signal our internal sleep clock and encourages the production of melatonin.
Avoid Bright Lights Before Bed.
Bright lights can disrupt our circadian rhythms and leave us feeling alert instead of tired. Use only as much artificial light as you need in the evenings, keeping overhead lights dim if you can. Avoid devices with screens at least an hour before you head to bed. Blue light — a wavelength emitted by electronic devices, as well as LED and fluorescent lights — suppresses the release of melatonin and tricks our brains into thinking it's daytime. If you do use electronics in the evening, dim the brightness or use "night mode" to reduce blue-light emissions
Have a late work night ahead? Getting morning sunlight is especially important — exposure to natural blue light from the sun in the morning can help protect your circadian rhythm from getting as disturbed.
Resist Checking Your Phone Between 10 pm and 4 am
A quick check of the time on the way back from the bathroom in the middle of the night is enough light to disrupt your circadian rhythm (think artificial jet lag) and prevent you from entering deeper stages of sleep. This can cause fatigue during the day, and over time, chronic sleep deprivation can lead to worrisome health issues.
Read more: How Sleep Affects Metabolic Health
The Connection Between Light and Mental Health
Light also has a significant impact on our mood. Proper exposure to light stabilizes our circadian rhythms, which in turn allows our limbic system to better regulate emotions. Additionally, exposure to sunlight is connected to an increase in the release of serotonin, a hormone connected to improved mood, calm, and focus.
Low levels of serotonin are associated with anxiety-related disorders and major depression with seasonal patterns (formerly known as seasonal affective disorder), caused by seasonal changes that typically start in the fall or winter when sunlight is in short supply.
Light therapy, or phototherapy, is one of the main treatments for this form of depression. Exposure to artificial light through a lightbox or lamp that mimics natural sunlight balances the activation of serotonin to help with mood regulation and limits the production of melatonin to increase alertness and help stabilize sleep patterns so you can enjoy restful nights and productive days.
Read more: Sleep Supplements We Swear By
Have feedback on our story? Email [email protected] to let us know what you think!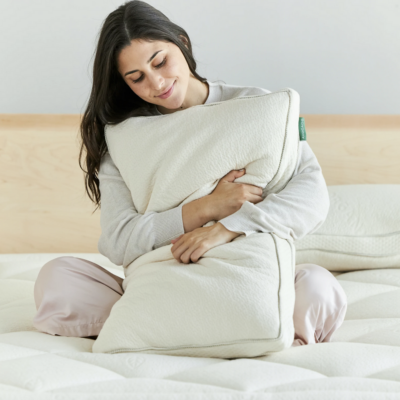 Shop Pillows
The Essential Organic Pillow Collection
Gentle, breathable, non-toxic support.
Buy Now