Avocado isn't your ordinary mattress company. As thinkers, believers, and innovators, we've made it our mission to bring wellness to everyone. We want you to join us on a quest to conscious collectivism — working together to inspire one another through education and open-mindedness.
If you have been following along our journey, you know that one impactful way that we are cultivating this mentality is through communicating, partnering with, and learning from forward-thinking organizations. While searching for our giving partner for the month of March, I had the pleasure to chat with the team at Breast Cancer Prevention Partners (BCPP). After reading and learning about their group, I knew our visions were aligned which is why we are dedicating this Women's History Month to Andrea Ravinett Martin, the founder and leader of their movement.
"Andrea gave us important words and actions that guide us to this day—from the first climb of Mt Aconcagua with 16 other breast cancer survivors to her belief that 'with teamwork and perseverance anything is possible—if taken one step at a time.'"
The group of scientists and activists are researching and working to prevent exposure to the unsafe chemicals that can be found in the products we are using every day. They have made it their mission to raise awareness of potentially toxic chemicals found throughout the environment.
If you were to browse their website, you'd see for yourself all the knowledge and easy-to-digest tips you can readily introduce into your home and actionable health tips you can use to be your best self. Today we're sharing their top tips and how you can get involved with them!
Read ingredient labels:
You know that insanely long and highly scientific ingredient you can barely pronounce? If you're like us and are googling them while at the grocery store, we applaud you because it is so important to know what you're introducing to your body and home! Our friends at BCPP have created a Glossary of Exposures that lists out ingredients that might be found in some not-so-clean products, so you know what to look for (and what not to look for) while shopping.
Avoid fragrance:
Try and avoid using personal care and cleaning products that list "fragrance" as an ingredient. We would suggest sticking to clean brands that don't use artificial scents and parabens — check out our favorite personal care and cleaning products here.
Say goodbye to single-use plastic:
We are huge advocates for helping save our planet by reducing waste and BCPP agrees that not only are these plastic bottles, bags, and straws not friendly for the environment but there is also a potential for exposure to BPA and phthalates. Ready to make the switch to reusable straws? Here are some alternatives.
Now if you are feeling extra inspired and want to help join the movement to conscious consumerism, you can donate to the cause today:
They're also an adventurous bunch and have plenty of opportunities to get outside and get involved! What better way to make every month Women's History Month and enjoy the feeling of accomplishment and endurance with one another?
Look at all these outdoor activities coming up!
It is truly our honor to have the chance to donate to nonprofit organizations like BCPP! We hope that our community continues to grow and work together to help protect one another and our planet! Want to learn more about our past initiatives? You can read more here!
What organizations and nonprofits do you support and want to see Avocado join the cause? We'd love to hear where your heart is! Share with us and let us know your partner picks by tagging us with @AvocadoMattress and #AvocadoGreenMagazine on Instagram!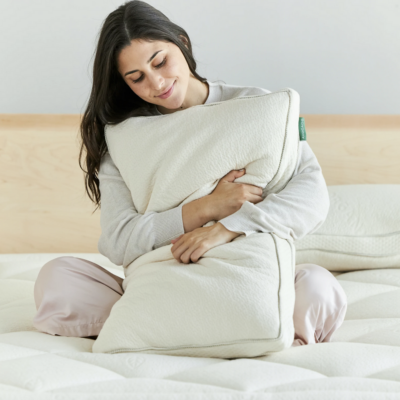 Shop Pillows
The Essential Organic Pillow Collection
Gentle, breathable, non-toxic support.
Buy Now