From better sleep to happier skin, humidifiers deliver huge health benefits. These are the best eco-friendly options.
Dry air happens. And when it does, you'll likely find yourself waking up with chapped lips, a sore nose and throat, or dry skin. Ideally, the humidity in your home should fall somewhere between 30 percent and 50 percent. (If you're not sure about your home's humidity, you can check using a hygrometer — you can find these online or at your local hardware store.) But dry air is fairly common, particularly if you live in a dry climate or experience dry winters.
The good news is a humidifier can help alleviate the issues that come along with dry air. The extra moisture can also hydrate your plants and even prevent the spread of airborne particles that cause illness. Plus, the gentle hum of your misting machine is the perfect amount of white noise to lull you to sleep.
There's some upkeep required to reap the full benefits of humidifiers. For instance, experts recommend that you clean your humidifier daily, fill it with distilled water instead of tap water and avoid running it for long periods of time (which can cause condensation that leads to mold). But the benefits far outweigh the effort it takes to maintain your device.
Here's why humidifiers have so many health benefits.
Read more: How to Improve Your Home's Air Quality
Fight Respiratory Infection
Respiratory infections are the worst, and fighting one can take weeks. Dry air can compound your symptoms by making it difficult to expel mucus. That's where a humidifier comes in handy. Upping the humidity in your home can help alleviate some of your symptoms, allowing your body to fight off infection more efficiently. While it's not a cure, it could help you feel better in the short term. 
Relieve Congestion
The research is mixed here, but some studies show that higher humidity levels can help clear mucus from nasal passages. This is welcome news for anyone who struggles with congestion. Just be careful not to increase moisture in the air by too much — levels above 50 percent can aggravate some people's airways.
Prevent the Spread of Viruses
In a 2013 study, researchers simulated a cough in environments of varying humidity levels to test whether moisture altered the infectiousness of a flu virus. Their findings: The contagion became significantly less potent when in spaces of at least 40 percent humidity. Of course, take this research with a grain of salt. A humidifier shouldn't replace other preventative measures like getting a vaccine or wearing a mask in crowded spaces, but using the device is another tool to consider in the effort to stay healthy.
Read more: 5 Pet-Friendly Houseplants For Cleaner Air
Soothe Dry Skin
Adding moisture to the air can combat dry skin. One obvious benefit of this is a hydrated epidermis. But it can be especially helpful for those who struggle with inflammation from eczema or psoriasis. Using a humidifier in your home can prevent flare-ups, according to the American Academy of Dermatology Association.
Your home heating system may have a humidifier already (though you'll want to double-check that it's working). However, you can also add a portable one to your home if the air still feels a little dry. Keep it in your room, so you can run it at night while you sleep.
Help Indoor Plants Thrive
You're not the only one who enjoys the health benefits of a humidifier — your plant babies will appreciate the extra moisture, too. Some indoor plants thrive in a more humid environment. Ferns, fiddle leaf figs, air plants, monsteras, orchids, and snake plants are among those that need a little more vapor in the air.
Improve Sleep
The many benefits of using a humidifier — easier breathing, soothed skin, a healthy immune system — all add up to an even bigger advantage: A solid night's rest. While some studies show that higher humidity levels can keep you awake, if you maintain the right amount of moisture in the air and use the humidifier to remedy problems like dry skin and nasal congestion, you may just find that sleep comes easier.
Ready to purchase a humidifier? Here are a few eco-friendly options we recommend:
Read more: The True Cost of Air Pollution
Have feedback on our story? Email us at [email protected] to let us know what you think!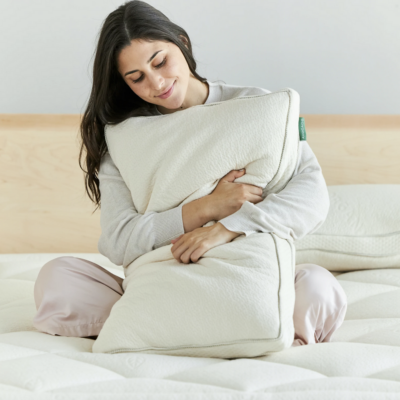 Shop Pillows
The Essential Organic Pillow Collection
Gentle, breathable, non-toxic support.
Buy Now