Black Friday. Originally coined to describe the day after Thanksgiving, when most stores go from operating at a loss (in the red) to a profit (in the black), Black Friday has gone from busy shopping day to all out spend-fest over the past several decades. If you're not into crowds, the words alone have the power to send chills down your spine.
Around this time is when your email inbox begins to be flooded with messages of Discounts! Sales! And One-Day-Only! The stores beckon for your attention and vie for your energy, enticing you to leave the comfort of your bed at an unreasonable hour, simply to stand in line to buy something. If you think about it, the whole thing is a little intense, especially if you consider things from the perspective of the store employees who are often required to leave their families on Thanksgiving eve to ready their establishments for the impending bargains.
When Companies Say "No"
Yes, Black Friday has garnered quite the reputation over the past several decades, but more recently change has been afoot, beginning in earnest with REI's #Optoutside campaign, which encouraged people to spend their Black Friday enjoying the great outdoors with their family and friends instead of in a crowded mall. To put their money where their proverbial mouth was, the store closed all locations that day, allowing their employees to spend the day doing as they wished. It was a groundbreaking decision (that they continue to honor years later), and one that dozens of other companies have mirrored in the years since. But despite the fact that a few stores have chosen to close or cut back on ridiculous hours required of their employees on Black Friday, the majority still boast crazy sales and even crazier hours on this day.
Green Friday — A Better Way?
But it doesn't have to be this way. With the advent of online sales, and many sites posting their Black Friday bargains before the day even arrives, it's easy to scoop up the items you're eyeing with enough time to take full advantage of the day after Thanksgiving in another, more meaningful way. After all, it's the kickoff to the holiday season, a season about more than just gifts… do you really want to spend it indoors or waiting in line? Use the ideas below as a jumping off point for your day-after-Thanksgiving plans, then get creative and think outside the big box store.
3 Ways to Celebrate "Green Friday"
#1 — Host a Friendsgiving Leftovers Brunch
Everyone ends up with leftovers the day after Thanksgiving. Instead of eating leftovers for the next week straight, invite friends to your place for a leftover potluck to use up what remains from the day before. Make it low-key and stress-free (no fancy dress required), and give a prize for the most creative re-imagining of a classic dish. Cranberry sauce quick bread? Gravy and stuffing-topped waffles? Extra points for mimosas (or sparkling cider and OJ) and festive music. You'll be reducing food waste and connecting with friends all at once!
#2 — Get Outside & Be Active
Studies have shown that the great outdoors plays a huge role in reducing stress levels and increasing happiness — even the simple act of looking at the color green could do the trick! — and the start of the holiday season is the perfect time to take an active role in reducing stress. Plan a fun hike with family or friends, or go out solo to explore and decompress from all the festivities (just be sure to bring a map and tell someone where you're headed). If staying in town is more your thing, sign up for a post-Thanksgiving Turkey Trot to get your blood flowing.
#3 — Go Green
If you're looking for another way to enjoy the great outdoors, spending time volunteering for eco-friendly causes or doing local trail work is a great way to get moving and lend a hand. Search your local listings for opportunities to get involved, or gather a group to do a beach or park cleanup. Picking up debris before the snow flies will keep all that trash from ending up in local waterways once the snow melts in spring. You'll be beautifying your town, spending time with loved ones and helping the planet all in one fell swoop!
Of course, this doesn't mean you can't snatch up a bargain! Many websites — and even brick and mortar stores — are beginning their big sales ahead of time. If you have gifts to get, make a list of the sites and stores you want to check out beforehand (like our 19 favorite green companies to shop this holiday season) so you can quickly grab the gifts you plan to give and move onto more important things, like beautifying your town, enjoying nature and spending quality time with the ones you love.
How are you spending Green Friday? Be sure to share with us on Instagram or Facebook with @AvocadoMattress or #AvocadoGreenMagazine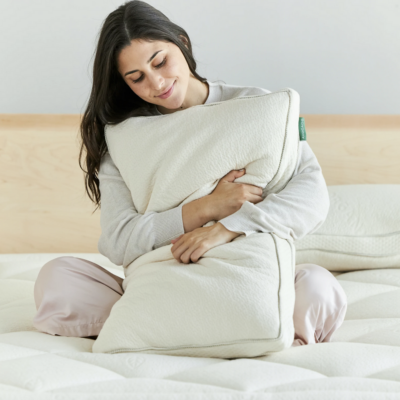 Shop Pillows
The Essential Organic Pillow Collection
Gentle, breathable, non-toxic support.
Buy Now