I have a theory about holiday shopping. We have this love/hate relationship with it for a variety of reasons, but more than anything, I think we really loathe it because we associate it with mountains of trash and items that are opened on day one, and forgotten by day two.
Whether you choose to participate in gift swaps this year or not though, everyone needs to know — there is definitely a better way.
These companies may not be in your Black Friday ads, but they have incredible products to offer, made with sustainable materials and sold with minimal packaging.
Don't let guilt or the consumer mindset ruin the fun for you — here's a whole LIST of fantastic shops that are changing the game with sustainable products you can actually feel good about buying.
For the Home
1. Bambeco
Think of it as the sustainable version of Bed Bath and Beyond. Bambeco is a treasure trove of beautiful gifts for the home, ranging from dishes to furniture, all of which are sustainably and ethically produced. Even more amazing still, Bambeco donates 1% of their profits to environmental organizations, and even gives its employees five paid hours per month for volunteer work.
2. Avocado Green Mattress
Trust me — there isn't a person alive who wouldn't love getting a new set of pillows this holiday season, and Avocado's are some of the most sustainable you'll find. Made with organic cotton and luxe kapok filling, we're happy to toot our own horns here. Polyurethane- and flame retardant-free like our mattresses, these pillows are reserved only for those at the tippy top of your Nice List.
3. Under the Canopy
One of my favorite places to shop textiles for the home, Under the Canopy sells the softest linens and rugs you can imagine, all sourced from sustainable practices (and at great prices, to boot). With six different certifications under their belt, like Fair Trade and OEKO-TEX, Under the Canopy is another company you can feel good about shopping with this holiday season.
4. The Beeswax Co.
Candles are my go-to gifts for the people I don't know well enough to buy something more personal for, but there's nothing impersonal about these handcrafted candles from the Beeswax Co. Each one is carefully made with antique tools from locally harvested beeswax by a family-owned business, and they make perfect gifts.
For the Kids
5. Green Toys
As an eco-conscious parent, plastic toys are kind of the bane of my existence, but Green Toys are the ones I can feel good about buying. Made of 100% recycled plastics right here in the US, these toys are durable and range from working recycling trucks to puzzles, and even tea sets! Even their packaging is biodegradable!
6. Plantoys
Plantoys are another sustainable brand that you can feel good about stashing under the tree this year. Made from the wood of natural rubber trees that no longer produce latex, these toys give a second life to those resources, producing durable, chemical-free toys for a variety of ages.
7. Hape Toys
Made from sustainably sourced materials, Hape has a HUGE line of high quality wooden toys that beat the pants off the flimsy plastic stuff on most stores' shelves. Their toys are designed to stimulate imagination and offer a ton of activities for babies and children to enjoy, from rattles to marble runs!
For Beauty
8. Honeybee Gardens
I call this one Ipsy for crunchy chicks. Honeybee Gardens sells incredible all natural makeup and beauty products, and they even have their own subscription box! Made from ingredients like mica and thyme leaf and sold in packets compatible with their reusable compacts, this is a great way to scratch the beauty itch, sans petroleum-based products.
9. 100% Pure
Another favorite cosmetics company of mine, 100% Pure sells some of the most natural makeup I've ever found, and with the coverage and pigment, you'd never know any better. Cruelty-free and free of artificial preservatives and other nasties, this makeup line primarily comes in metal and glass packaging to reduce plastic waste.
10. Raw Hair Organics
Started by the owner of a beauty salon frustrated with the ingredients in products marketed as 'natural', this line was born from the desire to stop dumping cancer-causing carcinogens on our heads every week. Raw Hair Organics features certified organic ingredients, and is completely free of harmful chemicals and preservatives.
For Fashion
11. PACT Apparel
Another favorite store of mine, PACT Apparel is all about organic, featuring surprisingly affordable organic clothing for men, women, and kids. Their undies are soft, their customer service is fantastic, and they literally have something for everyone in their line of plush organic cotton clothing.
12. prAna
prAna is another company leading the way in more sustainable apparel, with a focus on some of the most lush yoga clothing you'll ever wear. Selling both athletic and casual apparel for men and women, eco meets luxury in this incredible line made from sustainable materials like organic cotton, recycled polyester, and wool.
13. Patagonia
Patagonia has a long history of putting planet and people above profits. Their products are second to none, made with sustainably sourced materials whenever possible, and the company frequently puts its might behind big environmental causes, like their latest Protect Public Lands movement. The latest in their amazing innovations? Their hemp workwear line (trust me, you've gotta see it).
For Pets
14. Wet Noses Organic Dog Treats
I love treating my dog this time of year. We all get to open presents, why shouldn't he? These organic dog treats are great if you're not keen on making your own, and are made from 100% organic ingredients.
SHOP WET NOSES ORGANIC DOG TREATS
15. Earth Doggy
This online store features nothing but eco-friendly dog products, and the selection is insane. From hemp beds to bamboo collars, this store sells a little bit of everything for the environmentally conscious dog-lover!
For Baby
16. Nui Organics
Specializing in sustainably produced natural fibers like wool and organic cotton, Nui Organics produces baby and children's clothing that is impossibly soft, sustainable, and perfect for bundling up tiny tots the holiday season.
17. Apple Park
Another company with a focus on sustainable materials, Apple Park sells everything from layettes to baby toys made from materials like organic cotton and muslin. My favorite products of theirs are definitely their organic toy line of Farm Buddies — hopelessly soft and adorable, and so much better than the polyester versions you find in big box stores.
18. Finn + Emma
From babies to toddlers, this adorable company sells toys, clothing, and accessories made from non-toxic, sustainable materials like organic cotton and gorgeous Indian hardwood. Their products make stunning and unique gifts, and there's a certain whimsy to their style that you won't find anywhere else.
19. Hevea Planet
Hevea Planet specializes in toys and pacifiers made from 100% natural rubber — no plastic, and no dyes. They even have a program that allows you to send in your used Hevea pacifiers to be upcycled with their innovative sterile process in exchange for a discount in their shop!
Do you have a favorite store you'll be shopping at this holiday season? Share it with us on Facebook or Instagram, and tag us in the post! @AvocadoGreenMagazine or #AvocadoGreenMagazine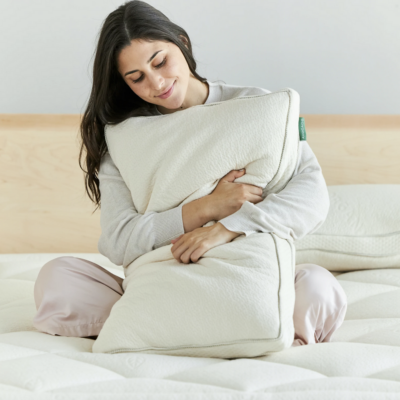 Shop Pillows
The Essential Organic Pillow Collection
Gentle, breathable, non-toxic support.
Buy Now