We love Patagonia for their focus on sustainability. Since the 1970s, this company has been changing the game with a sensible approach to apparel and tools that anyone outdoors needs to get the job done, and at long last, they've broken into the workwear market.
Move over Carhartt, Patagonia has new double-knee work pant in town, which is part of their tough-as-nails sustainable Workwear line. And we don't mind saying, it's pretty awesome.

Made from a special hemp blend called Iron Forge Hemp Canvas, this material has all of the toughness of traditional workwear, but feels much softer right off the rack, and is made of a blend of sustainable materials.
With 55% industrial hemp, 27% recycled polyester, and 18% organic cotton canvas, Patagonia's new workwear line is tough enough to go the distance, but makes use of the millions of pounds of cast-off polyester clothing with its special fiber blend, saving landfill space and petroleum.
Patagonia Men's Iron Forge Hemp Canvas Barn Coat
The result is a fabric that's 25% more abrasion-resistant than traditional cotton canvas, without sacrificing any of the durability that gritty people need to get through their day. Plus, it's tough, but breathable.

It doesn't just stop with the fibers, though — this new workwear line is even Fair Trade certified, which means that the people on the other end of things are paid living wages in safe working conditions, and your clothes are made without compromise.
Patagonia Women's Tin Shed Jacket
Cut generously for better movement and reasonably priced so you can get a good arsenal in your wardrobe, we're really impressed by this new line, and by the sustainable initiative that has become the trademark of Patagonia.
"Our workwear line is built to meet the needs of the men and women who are putting real environmental solutions in place on the ground, redefining what progress really means." — Ed Auman, Patagonia Business Director for Workwear
"The company's early roots in iron forging, our ongoing commitment to conservation and our forward-looking investments in organic regenerative agriculture have us well-placed to build the best product for the folks who require true workwear, backed up by our Ironclad Guarantee."
Why we love everything about Patagonia: Founded by Yvon Chouinard in 1973, Patagonia is based in Ventura, California. A certified B Corp, Patagonia's mission is to build the best product, cause no unnecessary harm and use business to inspire and implement solutions to the environmental crisis. The company is recognized internationally for its commitment to authentic product quality and environmental activism, contributing over $89 million in grants and in-kind donations to date. We will admit it — they are our role model.
Every product we suggest is selected by editorial team because of its merits. We receive no affiliate commissions or compensation.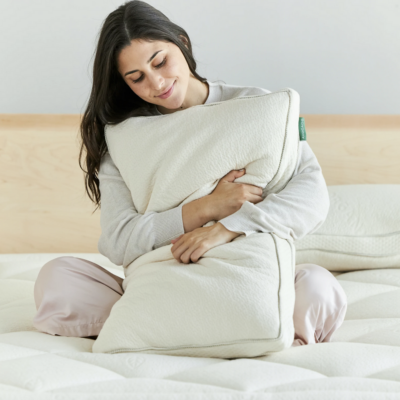 Shop Pillows
The Essential Organic Pillow Collection
Gentle, breathable, non-toxic support.
Buy Now