Physical and digital clutter affects our productivity, creativity, and can bog us down mentally. Here's how to spring clean your mind for better mental clarity.
It's spring, and maybe you, like me, are feeling overrun by the clutter in your life. We're all clearing out from a weird winter, a pandemic, and a host of other life matters that make our brains feel crowded. Categorically, we've been spending too much time at home and online. We've been doing too much online shopping and internet browsing — even though our stuff isn't bringing us joy. We're burned out, and we're overburdened by the things around us.
If you're feeling overwhelmed by everything piling up in your life, you're not imagining it. A 2016 study in the Journal of Environmental Psychology found that clutter raises cortisol levels, and puts people in a constant state of fight or flight. When you're perpetually stressed out by your space (or, say — your inbox), your whole body is working harder to adapt and process information, even if you don't realize it. That makes it hard to relax — we have trouble processing bigger questions or focusing on the tasks or people that are actually important to us.
Our mental attitude is reflective of our physical space, so it's important to give yourself some physical breathing room to achieve mental clarity. Especially when, for instance, you're in the midst of a confusing global pandemic and geopolitical strife.
But moving away from more stuff runs counter to some classic American narratives about consumerism and achievement. It's hard to fight that mindset, particularly when there are ads, distractions, and Instagram posts flashing at us from every direction. However, researchers say that more stuff doesn't bring us more joy. And more social media platforms don't actually make us feel more connected.
So how do we fight the pile on and find some physical and mental calm? By decluttering your physical, digital, and emotional space. Here's how to do exactly that so you feel less stressed.
Read more: How to Turn Anxiety Into a Positive
Spring Clean Your Space
Physical clutter can lead to emotional exhaustion, stress, and burnout, which can, in turn, lead to more clutter. Researchers from DePaul University recently dug into the ways crowded workspaces impact productivity and discovered a significant negative correlation between the two, along with some unexpected side effects. They found that "an overaccumulation of items may impede an individual's well-being and connection with their environment because of the stress and negative stigma associated with excessive possessions."
When our spaces are less cluttered, we feel better about our work, our place in the world, and ourselves. But they also found that we consider our possessions to be a reflection of ourselves — that's why it's emotionally hard to let go of physical objects, even if they're stressing us out.
This isn't exclusive to our workplaces, either. Another study from researchers at UCLA found that mess makes our homes — which should be places of respite — feel stressful and overwhelming. Disorder makes our living spaces feel less emotionally safe and secure and exacerbates a feeling of needing to be productive. Clutter also constantly signals to our brains that our work is never done — and it spikes our cortisol levels and makes it hard to sleep — which can lead to more clutter, as we try to catch up or compensate.
So how do you address that mess? Dr. Joseph Ferrari, who led the DePaul study, says a good place to start is with things you know you definitely don't use anymore, like old technology or outdated paperwork. Then, you can move on to more emotionally charged items, like workout equipment you thought you'd use or presents from a parent that you kept out of politeness.
Tell yourself it's a sunk cost. The object you've saved isn't making you happy, even if you feel bad because you spent money on it or someone gave it to you. Start small so you can be consistent, and keep moving. Try to flip the script on what you're doing. Instead of saying, "I hate tidying my desk," consider, "I love having a clear workspace" to remind yourself why you're doing it.
Read more: How to Boost Your Mental Fitness
Declutter Your Digital Life
Digital clutter, like crowded home screens or pinging phones, also creates stress, but is insidious in a different way. According to a 2017 study published in Current Psychology, digital and mental clutter — and the wide array of internet distractions that are at our fingertips — impede our focus. The digital noise seeps into the brain spaces that allow us to focus, be creative, and solve deep problems. When we give away our attention, it makes us feel even more scatterbrained, which lessens our creativity or productivity.
To combat these distractions, try to focus on one thing at a time. Don't scroll Instagram while you watch movies or read the news in the bathroom. Build the muscle that lets you concentrate through small steps. It might feel impossible at first, but it will make you more productive and happier in the long run.
Then, says Dr. Ferrari, get rid of the digital things you don't use much. Start with the easy ones. Unsubscribe from promotional emails and delete excess apps. Turn off notifications. Don't let yourself be a slave to red bubbles or pop-ups.
Take some time to go through your email, desktop, and folders. Like with physical goods, don't get emotionally attached to things you don't use. If you haven't touched something in a year, let it go, or back it up somewhere and then let it go. We overestimate our need to look back at things and that sentimentality keeps us mired in stuff.
Read more: How Social Media Harms Our Brains
Clear Your Schedule
Think about when and where you can give yourself some space and time. Temporal clutter and constant obligations add to the same feelings of stress that physical clutter does. It's easier said than done to get off the hamster wheel, but consider what you actually need and want to fill your days with. Maybe it's time to meditate, move, sleep, or just be quiet and breathe. That's valid. All of those restful activities are crucial to our physical and mental well-being, but they can be hard to fit in when our schedules are crammed.
Block out time in your calendar or choose to prioritize those activities (or, just as important, lack of activity) early in the day so you're not thinking about it later — and inevitably causing further anxiety.
The results won't be instant, you're setting new patterns in place after all, so remember to be patient with yourself, too.
Read more: 8 Tips to Form Healthy Habits That Last
Have feedback on our story? Email us at [email protected] to let us know what you think!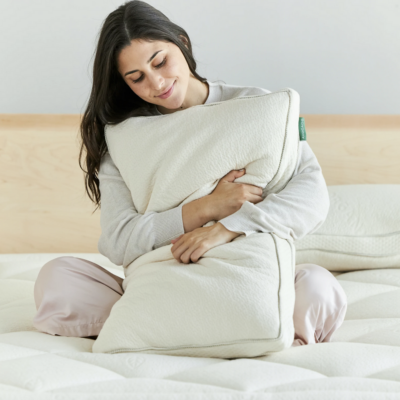 Shop Pillows
The Essential Organic Pillow Collection
Gentle, breathable, non-toxic support.
Buy Now