Fill your home with the nostalgic scent of winter with this DIY holiday simmer pot.
Ever caught a whiff of freshly baked gingerbread cookies or the savory aroma of chopped herbs and been immediately transported to childhood or another cherished time and place? You're not alone. In fact, so many of us hold those classic holiday scents near and dear that companies have gone to great lengths to recreate them. Peruse the candle aisle of any major retailer during the holidays and you'll come face to face with customized candles boasting aromas of pine, "snow", pumpkin pie, gingerbread — you name it.
But what if filling your home with the classic scent of the holidays — spicy clove and ginger, warm orange and allspice, or star anise and cinnamon — didn't require an army of candles with potentially toxic synthetic scents? Well, get ready to ditch candles for good.
Introducing the simmer pot, a fresher, natural alternative to chemical-laced holiday candles. Crafted from vibrant spices, citrus, herbs — and really, anything else you feel inspired to throw in — simmer pots are filled with water and placed on the stove to infuse the air with natural aromas.
You can easily customize the combination of ingredients to suit your preference, but we've provided the steps below to create a pot that perfectly captures the scent of the holidays. Warm, sweet, and a little spicy, place this combination on the stove while you prepare your home for the celebrations to come and you'll be filled with fond memories in no time.
Ready to get started? Here's how to make a holiday simmer pot.
Read more: Why You Should Detox Your Home of Toxic Synthetic Fragrances
DIY Holiday Simmer Pot (makes 1)
Ingredients
2 cinnamon sticks
1 tsp. whole allspice
2 star anise
1 bay leaf
Orange rind from 1-2 oranges
2 sprigs fresh rosemary
1 tbsp. cranberries
1 tsp. whole cloves
1 tsp. fresh ginger, grated
Instructions
Combine ingredients in a small saucepan. (Feel free to tinker with the amount of each to customize the scent. Love cinnamon? Add more cinnamon sticks. Not a fan of cloves? Leave 'em out!)
Cover the spices with 1 inch of water. 
Place on the stovetop and heat until simmering.
Lower heat and allow to simmer, adding more water as needed.
Enjoy, and allow your home to slowly fill with the comforting scent.
*Be sure to keep an eye on the water level so your simmer pot doesn't burn.
Read more: Air Fryer Baked Apple Recipe For Fall
Have feedback on our story? Email [email protected] to let us know what you think!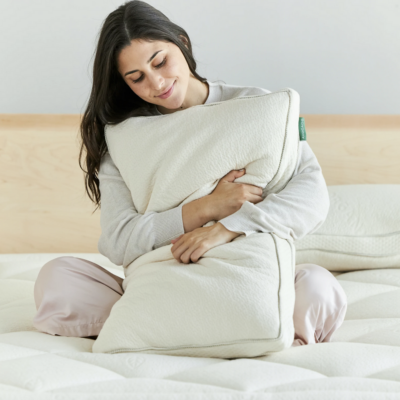 Shop Pillows
The Essential Organic Pillow Collection
Gentle, breathable, non-toxic support.
Buy Now