Avoid the daylight saving time slump with these easy tips for preparing and adjusting your sleep cycle.
Without fail, daylight saving time shows up every spring. And even though the date is never a mystery — offering us plenty of time to slowly adjust our routine in preparation — daylight saving somehow always sneaks up on us. Inevitably, our sleep schedule is thrown into disarray, our energy slumps, and it's weeks before we feel like ourselves again.
But why does adjusting our clocks by as little as an hour have such an effect on our mental and physical health? Turns out, the answer is biological. Our bodies have an internal clock known as the circadian rhythm, and it controls hormones that are associated with hunger, mood, and — you guessed it — sleep. When this 24-hour clock is disrupted by daylight saving, it throws off our body's established sleep cycle, which can affect our energy, cause headaches, an increase in appetite, and negatively affect our mood.
The good news is that if you find the impacts of daylight saving time hard to shake, it's easy to limit its influence. Here are five simple ways to adjust to daylight saving time.
Read more: How Sleep Affects Metabolic Health
Ensuring you get plenty of sunlight during the day — and limiting your light exposure when it's dark outside — will help you drift off more easily when it's time to go to bed. The reason? Sunlight suppresses the production of melatonin, the sleep hormone, so you won't feel as groggy when you're still trying to adjust to the time change. Sunlight also increases serotonin, so exposure can give your mood a boost, too.
2.
Create a Sleep-Friendly Environment
While sunlight limits melatonin production, darkness increases, so a sleep-friendly environment will help you fall asleep more easily and stay asleep. Invest in light-filtering curtains, shut your bedroom door, put your phone in another room, wear a sleep mask. All of these adjustments create a sleep environment that will enable you to bounce back more quickly during daylight saving.
Read more: 4 Ways to Feng Shui Your Bedroom For Better Sleep
Bump up your bedtime by 15-20 minutes in the week leading up to daylight saving time. This small change will allow your body to slowly acclimate your circadian rhythm, making an earlier wakeup time less of a shock to your body and mind. An earlier bedtime is also a good practice for kids. Instead of a few minutes, try moving their bedtime up by an hour.
No matter how groggy you feel in the days and weeks after daylight saving time, resist the urge to nap. You may feel better in the short term, but naps will further disrupt your sleep cycle and make it more difficult to establish a new routine.
Coffee is fine in the morning, but avoid indulging in an afternoon or early evening cup. The caffeine in coffee can affect your ability to fall asleep even if you drink a cup hours before bedtime. Staying away from alcohol is also a good rule of thumb. Although alcohol helps us drift off more easily, our quality of sleep suffers, which is why we feel sleep deprived even after getting a solid eight hours.
Read more: How Food and Alcohol Affect Sleep
Have feedback on our story? Send us an email at [email protected] to let us know what you think!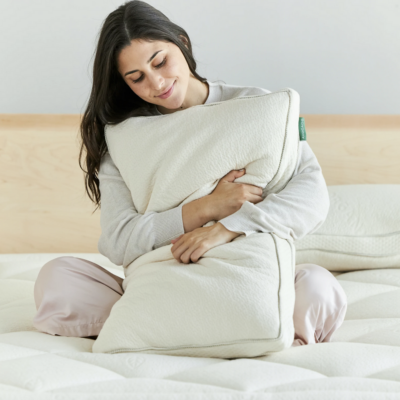 Shop Pillows
The Essential Organic Pillow Collection
Gentle, breathable, non-toxic support.
Buy Now