With the rise of indoor air pollution, chemical sensitivities, asthma, and allergies are also escalating. Here are a few tips for that home-healthy paint job you've been dreaming about.
From the onset of the Covid-19 virus, staying at home has, for better or worse, become the equivalent of staying healthy. Even before the pandemic, studies revealed that a majority of Americans already spent a good chunk of their day indoors, some upwards of 90 percent, according to the Environmental Protection Agency. While outdoor emissions have been regulated since the establishment of the EPA in 1970, what we breathe indoors, especially in our homes, remains an open question. It wasn't until I was diagnosed with asthma at age 23 that I began to think specifically about the effects of indoor allergens on my new-to-the-East-Coast lungs. And it wasn't until I bought my house just two years ago and started making small home renovations with my asthmatic lungs that I really considered the relationship between overall indoor air quality and a healthy home.
Consider this: Your house is a reactor, and everything you do, from mopping and making Thanksgiving dinner to adding new flooring and painting an accent wall, is a chemistry experiment. Volatile organic compounds, or VOCs, are that nebulous class of carbon-based chemicals used to manufacture products that range from particle board to paint. Those chemicals — formaldehyde being the most well-known — evaporate, or off-gas, at room temperature into the air and account, for instance, for that new paint smell. Some, however, have no smells at all. Regardless, many VOCs have been known to cause headaches, dizziness, respiratory issues, and nausea within weeks of application. And in the long term, they can have a cumulative effect, making the inside of our homes and really any indoor environment two to five times more polluted than the outdoors and even more so when we get the DIY itch. When put that way, painting a wall can feel like starting a dumpster fire in your kitchen.
Though daunting, it's still possible to revamp high-traffic spaces on a budget without flooding them with multisyllabic and harmful chemicals. For me in particular, painting is one of my go-to ways for updating a room without doing a full DIY makeover. It's really important before starting to research companies that are transparent about their ingredients, as well as knowing the difference between no-VOC and low-VOC paints. According to the EPA, if a latex paint product is below 250 grams per liter of VOCs, it can be listed as "low VOC." Because standards are still uneven, chemically-derived colorants added to the paint can be high in VOCs even when the paint base itself is not. Oil-based paints, and exterior paints, are even higher in VOCs.
My first introduction to the world of asthma-friendly paints came when I bought a can of AFM Safecoat paint, a brand which sells everything from paint and furniture finishes to sealants designed to form a protective barrier over off-gassing surfaces. The company was founded almost four decades ago in consultation with environmental medicine physicians specifically in response to patients with asthma and chemical sensitivities. Their paints and pigments are all zero VOC and provide a rich, durable finish without the chemical fixatives.
As I've graduated in my skills of chemical discernment, I've developed a rule of thumb for other painting projects: looking for companies that use all natural pigments, including ECOS Paint, an organic paint brand whose products are free of herbicides, fungicides, and pesticides. They even have a line of paints, primers, and varnishes that are specifically engineered to filter the air of other harmful VOCs. A gallon of this paint is not cheap, but consider that it's doing double duty. And maybe an accent wall in the most inhabited room (aka your bedroom) is all you need, especially, if, like me, your space is barely one step above a tiny house.
If you're feeling like going extra old-school DIY, take a look at the Real Milk Paint Co., founded by an antique furniture restorer who was looking to recreate historical paint finishes. The recipe has remained basically the same from antiquity to the colonial era (even King Tutankaman's tomb had traces of milk paint): the milk protein casein, earth pigment, and lime. This paint, sold in powder form and mixed with water, is so earth friendly that it is biodegradable and compostable and can be applied on a variety of surfaces, including drywall, raw wood and wooden furniture, and unsealed walls.
Another great option is Clare. They disclose 100% of their ingredients on their labels — something that's pretty much unheard of in this industry — and every paint they sell is zero VOC.
What are some of your beloved non-toxic home brands? Share with us on Facebook or Instagram and tag us in the post! @AvocadoMattress and #AvocadoGreenMagazine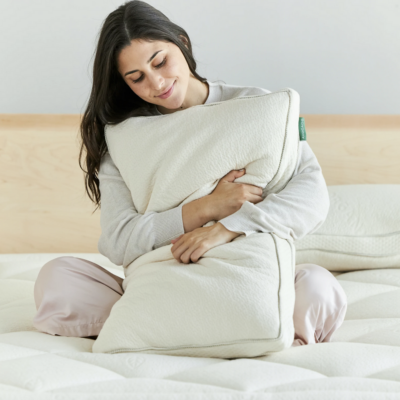 Shop Pillows
The Essential Organic Pillow Collection
Gentle, breathable, non-toxic support.
Buy Now