An in-the-works update to the FTC Green Guides aims to reduce greenwashing and improve consumer trust.
One of the main ingredients of a successful brand is consumer trust. And as interest in sustainability and corporate responsibility grows — 66 percent would pay more for a sustainable product while 70 percent want the brands they support to care about social and environmental issues — today's consumers expect more transparency than ever.
But for many buyers, it can be hard to tell which companies follow through with their sustainability claims and which are exaggerating their environmental credentials — ahem, greenwashing. It's not uncommon for businesses hoping to cash in on an eco-conscious industry to leverage terms like 'natural', 'eco-friendly', and 'green' to market their products and sustainability efforts when the reality is they may be doing more harm than good. For example, major oil and gas companies like Shell, BP, and ExxonMobil were recently accused of using deceptive marketing techniques and greenwashing tactics to mislead consumers about their efforts to combat climate change.
Read more: Why Creative Agencies Are Boycotting the Fossil Fuel Industry
So how do consumers sort through the pseudo-sustainability declarations to determine who is doing right by the planet and who is riding the greenwashing wave? The Federal Trade Commission is stepping in to help. The agency is in the process of updating its Green Guides, which offer marketing guidelines for brands that want to avoid making false or misleading eco-friendly claims.
First issued in 1992, the FTC's Green Guides advise against making environmental assertions with no scientific backing, how words like natural, compostable, and biodegradable can be reasonably interpreted, and how to handle terms like carbon reduction and offsets. The last time these Green Guides were updated was in 2012. Since then, the sustainability landscape has rapidly changed, resulting in a lack of marketing guidance for newly developed products and initiatives — and more opportunities for eco-minded consumers to get duped by false advertising.
In fact, as recently as 2022, the FTC prosecuted companies for making deceptive green claims. Last year, Kohl's and Walmart paid a $5.5 million civil penalty for saying their bamboo-based textiles were free of harmful chemicals and used clean, non-toxic materials — neither of which was true. Meanwhile, Volkswagen and Porsche were ordered to repay billions of dollars to customers after deceiving them into thinking their cars were low-emission and environmentally friendly.
That's why the FTC's move to update its Green Guides is so essential. The updates are likely to provide guidance on terms like net-zero, carbon neutral, low carbon, and sustainable — newer phrases that are often thrown around in corporate discussions and environmental advertising. The FTC is also expected to clarify claims associated with climate change and renewable energy. Not only will this provide guidelines about the appropriate use of eco-jargon, but updates to the Green Guides will also add an extra layer of transparency and accountability for consumers and businesses alike.
Read more: Why Blockchain Is Essential For Brand Trust
In the meantime, it's good practice to look for trusted third-party certifications, like B Corp, GOTS certified organic, MADE SAFE®, and Climate Neutral, to ensure the brand you're buying from meets the standards of social and environmental performance it advertises. (Psst. Avocado holds all of these certifications.)
And do some digging to see how transparent a company is about its operations and climate promises. Does the website list environmental goals? Is the brand actually reducing its carbon emissions? Product quality is also often a dead giveaway — are the materials natural, renewable, recyclable, biodegradable, or synthetic? Do the companies pay their workers a living wage? A transparent impact report is another good indicator of how serious a brand is about sustainability.
Of course, when in doubt, consulting the FTC Green Guides now and once they're updated is never a bad idea, either.
Read more: How Sustainable Are Clothing Rental Services?
Have feedback on our story? Email [email protected] to let us know what you think!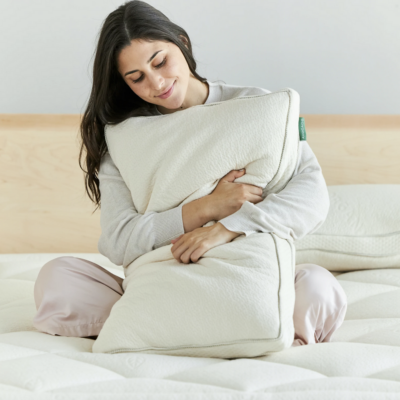 Shop Pillows
The Essential Organic Pillow Collection
Gentle, breathable, non-toxic support.
Buy Now